Publié le par Bernard Duyck
The explosive eruptive activity continues at the Klyuchevskoy.
On March 19, KVERT reports an ash plume reaching 5,500-6,000 meters asl, dissipating eastward over 52 km.
On March 20, the ash plume was reported at 5,000-5,500 meters asl., before spreading east for 58 km.
Thermal anomalies are reported by Mirova, between high and medium.
Sources: KVERT, VAAC Tokyo and Mirova.
Over the past week, HVO seismometers have recorded approximately 87 small magnitude earthquakes under the upper altitudes of the Mauna Loa volcano. Most of these events occurred at shallow depths less than 5 km (~ 3 miles) below ground level.
The strongest earthquake during this period was a magnitude 2.3 event on the morning of March 19. This earthquake was located in the area of ​​the radial vents to the west of the summit caldera within the volcano.
Global positioning system (GPS) measurements show continued slow inflation of the summit, consistent with magma supply from the volcano's shallow storage system.
Gas concentrations at the sulfur cone monitoring site in the southwest rift zone remain stable. The temperatures of the fumaroles measured both at the sulfur cone and at the top did not change significantly.
The volcanic alert remains at Advisory and the aviation code at Yellow. Mauna Loa is not erupting.
Source: HVO
In Papua New Guinea, VAAC Darwin issued an orange aviation code this March 20 for Manam.
Ashes are observed by satellite at a flight altitude of 100, moving east.
Sources: VAAC Darwin & Sentinel-2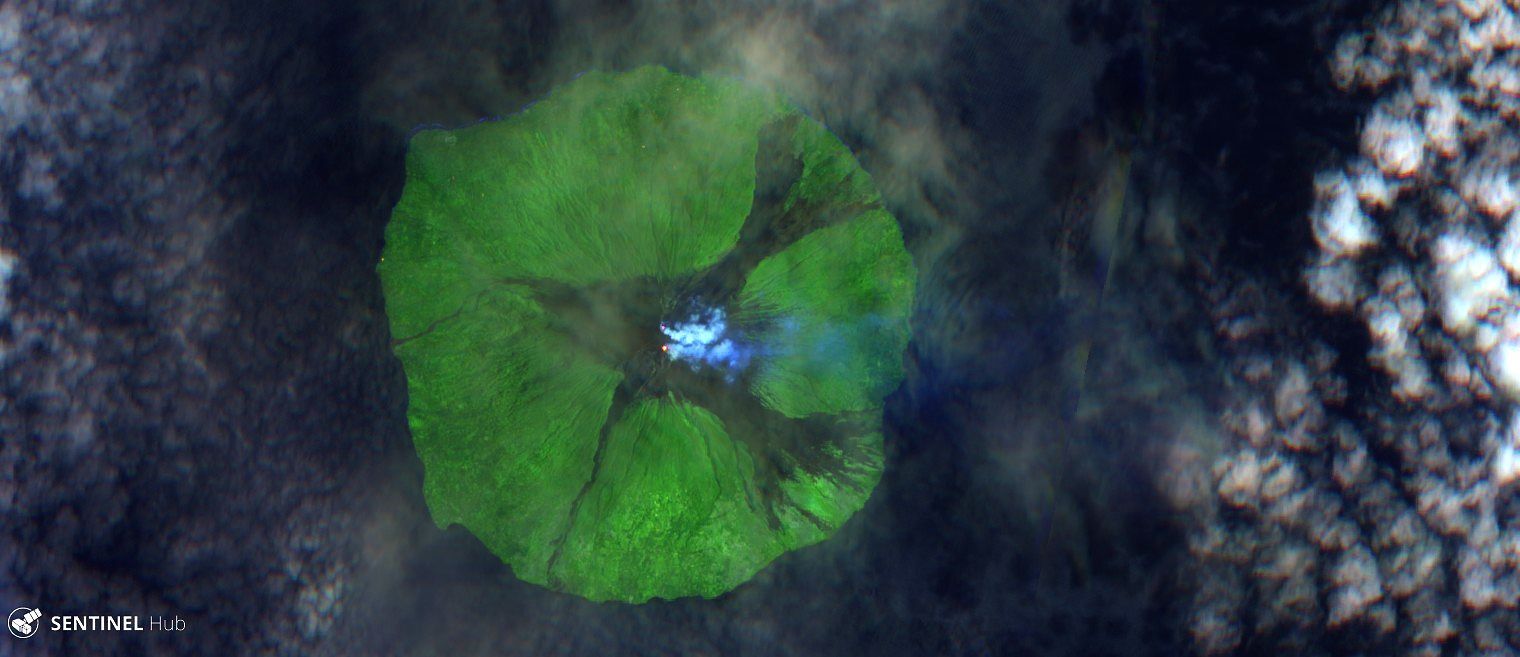 Manam - summit thermal anomaly on this image Sentinel-2 L1C bands 12,11,4 of 10.03.2020 (last image with the summit cleared) - one click to enlarge
In the Reykjanes Peninsula, this March 19 at 16 h 53, an earthquake of M3.3 was detected approximately 3 km NW of Grindavik. Few aftershocks followed. The IMO has received feeling reports from the Reykjanes Peninsula.
On March 18 at 03:42 am, an M3.0 earthquake occurred approximately 5 km VNV from Grindavík.
The uncertainty phase due to the uprising in Reykjanes is still valid according to the Ministry of Civil Protection.
The latest distortion results around Mount Thorbjorn on the Reykjanes Peninsula indicate that inflation causing an uprising in the region has resumed. The uprising is slower than when it was measured in January, but seems to be in the same place. The most likely explanation for the signal is that the influx of magma has started again.
Source: IMO / report written by a specialist on March 19 5:11 p.m. GMT