Publié le par Bernard Duyck
After the Merapi's eruption of March 27 at 10:56 a.m. loc. (see yesterday's article), a second eruption occurred in the evening, around 9:40 p.m. local, less strong and accompanied by a plume culminating at 1,000 meters, before being knocked down by the winds to the west of the volcano. The trace on the seismogram has an amplitude of 40 mm and a duration of 180 seconds.
The PVMBG also informs for this day two avalanche earthquakes, 20 blast earthquakes, and three hybrid earthquakes.
VAAC Darwin maintains a red aviation code, ashes may be present at flight altitude 230.
The activity level remains at 2 / waspada.
Sources: PVMBG, Magma Indonesia, BPPTKG and Vaac Darwin.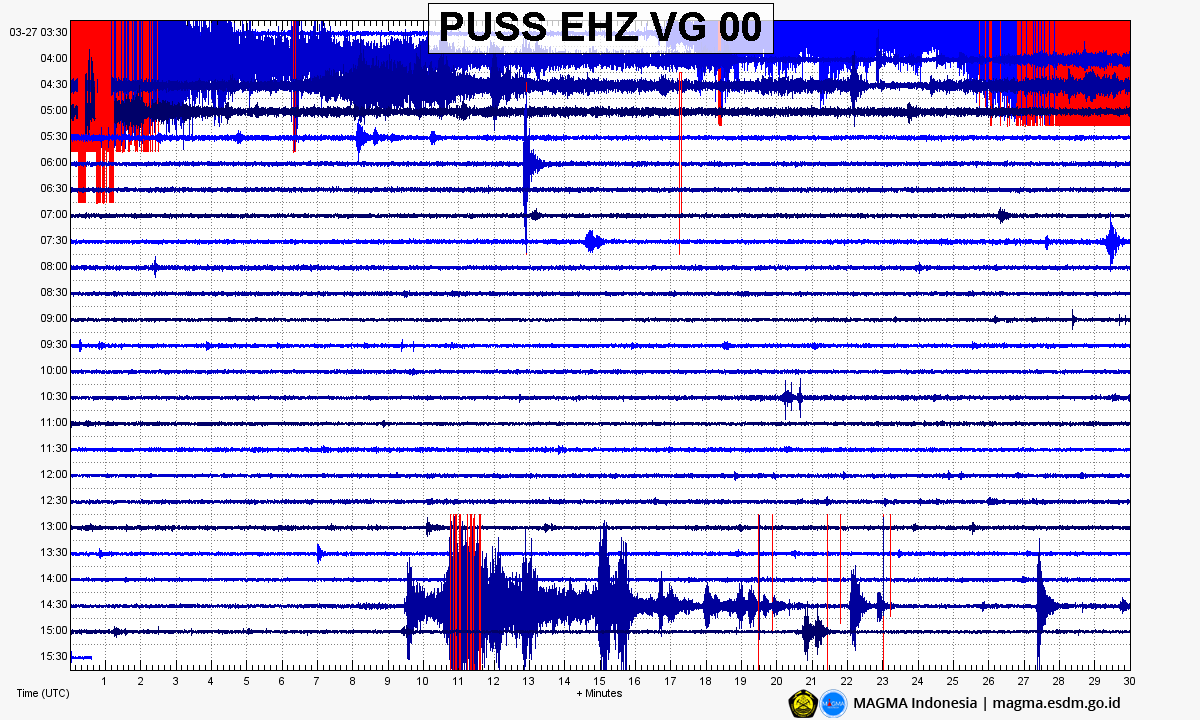 Merapi - seismogram of 27.03.2020, showing the 2 eruptions of 03.54 and 14.40 UTC - Doc. Magma Indonesia
Seismicity remains high at Shishaldin, with low level continuous tremor recorded in the past week.
A weak gas plume was commonly observed on webcam images when the views were clear, and high surface temperatures were observed on satellite images.
Eruptive activity appears to be confined to the summit area during this latest period of unrest, which began in mid-March. However, activity could increase with little or no warning, causing lava flows outside the crater, lahars and ash emissions.
The volcanic alert is Watch, and the aviation code orange.
The Shishaldin is monitored by local seismic and infrasound sensors, satellite data, web cameras, a geodesic and rangefinder network, and remote infrasound and lightning networks.
Source: AVO
A moderate explosive eruption of the volcano continues at Klyuchevskoy ; a strombolian activity and gas-vapor emission was noted all week.
Vulcanian activity was noted on March 20 and 25, ash plumes extending east and northeast of the volcano, over 130 km.
Satellite data showed a brilliant thermal anomaly over the summit volcanic crater all week.
This moderate explosive eruption of the volcano continues, and ash explosions up to 5-7 km a.s.l. could happen at any time. The current activity could affect low altitude aviation. The aviation code remains orange.
Sources: KVERT & Mirova