Publié le par Bernard Duyck
桜 島 爆 発 的 噴火 2020 年 03 月 25 日 05 時 39 分 (Sakurajima explosive eruption March 25, 2020 05:39)
An explosion occurred at the Minamidake crater of Sakurajima on March 25, 2020 at 5:39 am. It was accompanied by a gray plume 1,400 meters above the crater, and fallout of incandescent materials on the high slopes. The ash cloud has moved north northeast.
Sources: You Tube / 暇 な 親 父 & VAAC Tokyo
This Aso 阿蘇山 (Aso Volcano Museum) Timelapse (25/03/2020) video was created by https://volcanoyt.com/camera/172 Source: RKK
Still on Kyushu, Asosan has been emitting ash plumes, quite diluted, since March 24, observed by webcams and ground observers at an altitude of 1,300-1,500 meters above the summit.
No aviation code has been issued by VAAC Tokyo
Source: VAAC Tokyo
In the Reykjanes Peninsula, activity in Grindavík remained high during the week of March 16 to 22 after a swarm of earthquakes that started on March 12. This is the same area as where previous earthquake swarms occurred earlier this year.
About 1,000 earthquakes have been located on the Reykjanes Peninsula.
The biggest earthquake of the week was M4.2 on March 18, about 5 km NW of Gunnuhver on the Reykjanes Peninsula. The earthquake was widely felt in the southwestern part of Iceland. On March 19, an M3.5 earthquake occurred 3.5 km NW of Grindavík. An M3.0 earthquake occurred on March 20 by Kleifarvatn on the Reykjanes Peninsula, where a small swarm of earthquakes occurred on the same day.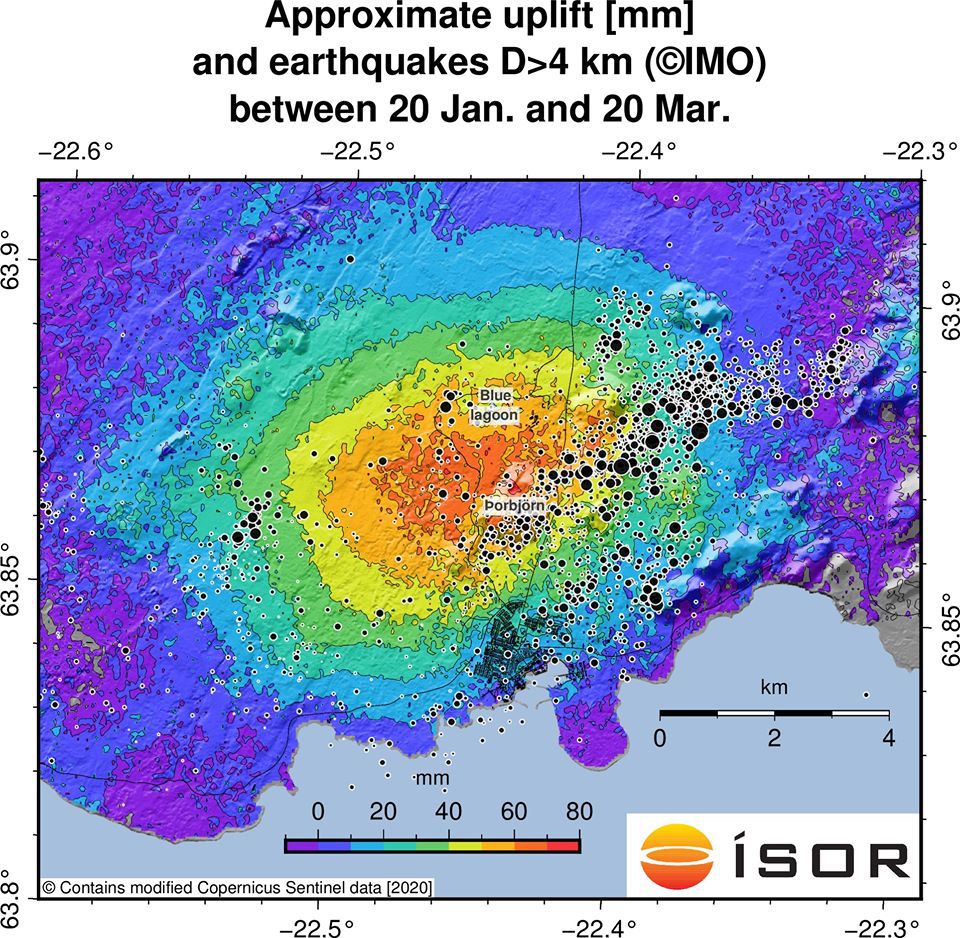 Mt. Þorbjörn - inflation and earthquakes more than 4 km deep between January 20 and March 20, 2020 - Doc. ISOR Iceland GeoSurvey / Twitter
On March 25, at 9:44 am, an M3.4 earthquake occurred just north of Grindavík. The earthquake was felt in Grindavík. Considerable seismic activity has continued in the region in recent weeks due to the deformation of the region. The phase of uncertainty due to the uplift by Mt. Þorbjörn that declared civil protection is still in force
Sources: IMO, ISOR / Iceland Geo Survey