Publié le par Bernard Duyck
AVO reports that the increased seismicity of Semisopochnoi is in transition to continuous tremor, with small explosions. Satellite images show a robust plume of steam and minor ash deposits in the vicinity of the northern edge of the Cerebus crater.
The volcanic alert level is Watch, and the aviation code is orange.
Source: AVO
The Geophysical Institute of Peru (IGP) reports that the eruptive activity of the Sabancaya volcano remains at moderate levels
Between March 9 and 15, the IGP recorded and analyzed the occurrence of approximately 1,384 earthquakes of volcanic origin, associated with the circulation of fluids (magma, gas, etc.) inside the volcano. In addition, 24 daily explosions of medium to low intensity were recorded on average, accompanied by columns of gas and ash up to 3.5 km high above the summit of the volcano, which were mainly dispersed towards the sectors south, southeast and northeast of Sabancaya.
Monitoring the deformation of the volcanic structure records significant anomalies
Satellite surveillance enabled the presence of 3 thermal anomalies with values ​​between 11 MW and 14 MW, associated with the presence of a body of delava. inside the crater of the volcano.
The volcanic alert level remains orange.
Sources: I.G. Peru, Mirova and Tropomi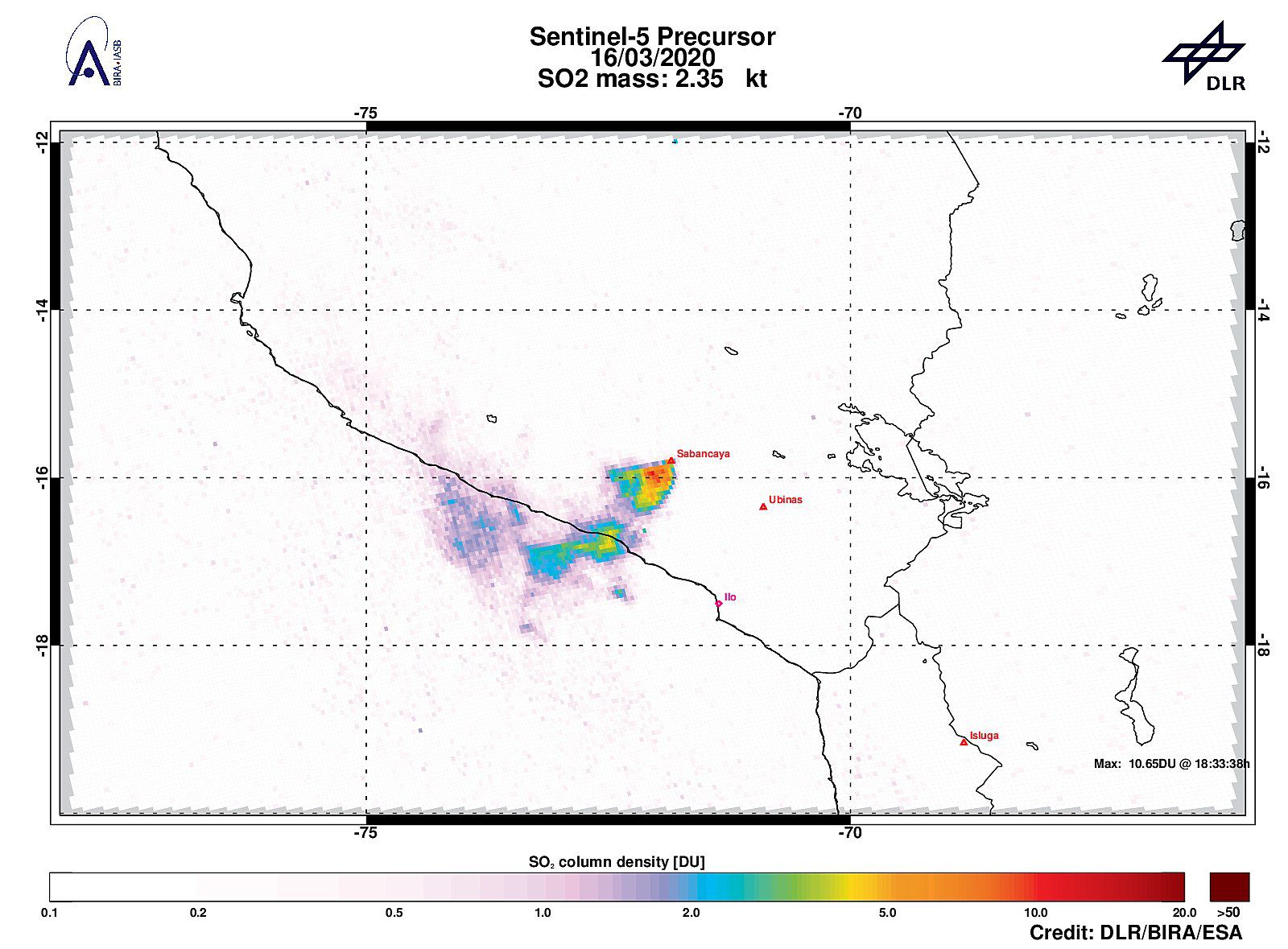 Sabancaya - emissions of sulfur dioxide on 16.03.2020 - Doc. Sentinel-5 P Tropomi SO2 - DLR / BIRA / ESA
The Geophysical Institute of Peru (IGP) reports that the eruptive activity of the Ubinas volcano remains at low levels.
Sporadic emissions of bluish gases (of magmatic origin) and water vapor are recorded. MIROVA satellite surveillance did not record any thermal anomalies.
The IGP recommends reducing the level of volcanic alert from orange to yellow
Sources: I.G. Peru and Mirova
Etna's activity remains within last week's standards, with an increasing thermal anomaly spotted by Mirova, with 246 MW on March 17 at 01:25.
Sources: Sentinel-2 and Mirova