Publié le par Bernard Duyck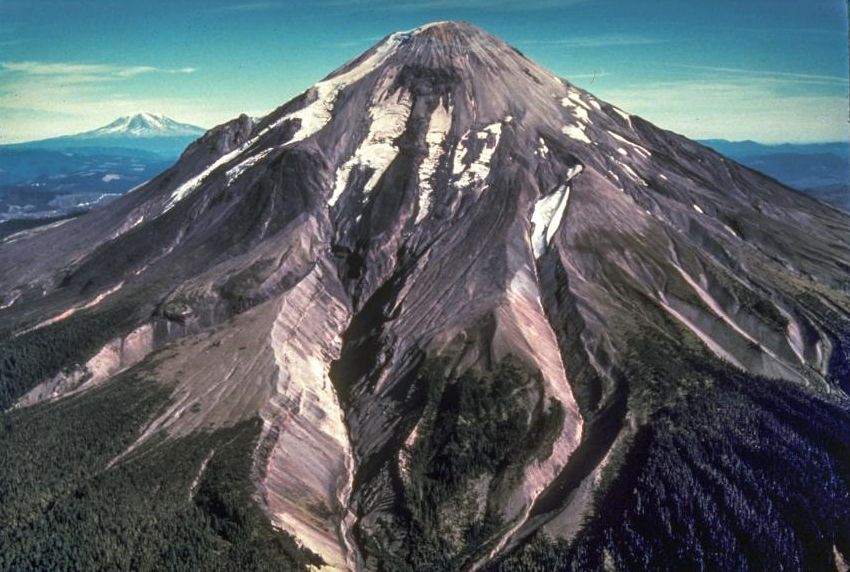 St Helens, seen from the west, with Mt. Adams in the background; in the center, the S.Fork Toutle river valley - photo Rick Hoblitt 1979 - USGS
40 years ago, a striking eruption started at St Helens.
The Global volcanism Program characterizes it by an VEI of 5, and a duration from March 27, 1980 to October 28, 1986 ± 3 days.
Here is the activity at the end of March:
At dawn on March 28, pulses of dark, dense ash rise 3 km above the summit and some blocks are ejected. Small mudslides move in impulses and surge along the northeast flank, reaching the timber line in the middle of the afternoon. Occasional periods of rhythmic ash emission, lasting from 45 minutes to 1 hour, occurred throughout the day, and more low-temperature ash avalanches traveled the N and NE slopes. Many earthquakes have occurred, including one of M 4.2, concentrated in an area about 2 km deep in the northwest quadrant of the volcano.
As of that evening, the water level in the reservoir of Swift Lake was lowered by at least 8 m as a precaution, to take into account any runoff of snowmelt or mudslides induced by the eruption.
A new crater 30 to 50 m in diameter, about 10 m from that formed on March 27, was discovered during overflights on March 29.
A blue flame was observed in the vents, sometimes flickering and jumping from one crater to another. No strong ash pulse was reported between the explosions on March 28 at 11:00 p.m. and March 30 at 4:10 a.m.
During this period, the earthquakes appeared to migrate to the SSE along a linear trend of 25 km, extending from 2 km deep in the northwest quadrant of the volcano 15-20 km deep below the Swift reservoir, at the S foot of Mt. St. Helens. However, continued analysis of the seismic data indicated that apparent migration could be an artifact of the data reduction and of the crustal model used. The refinement of the epicenter determinations is in progress.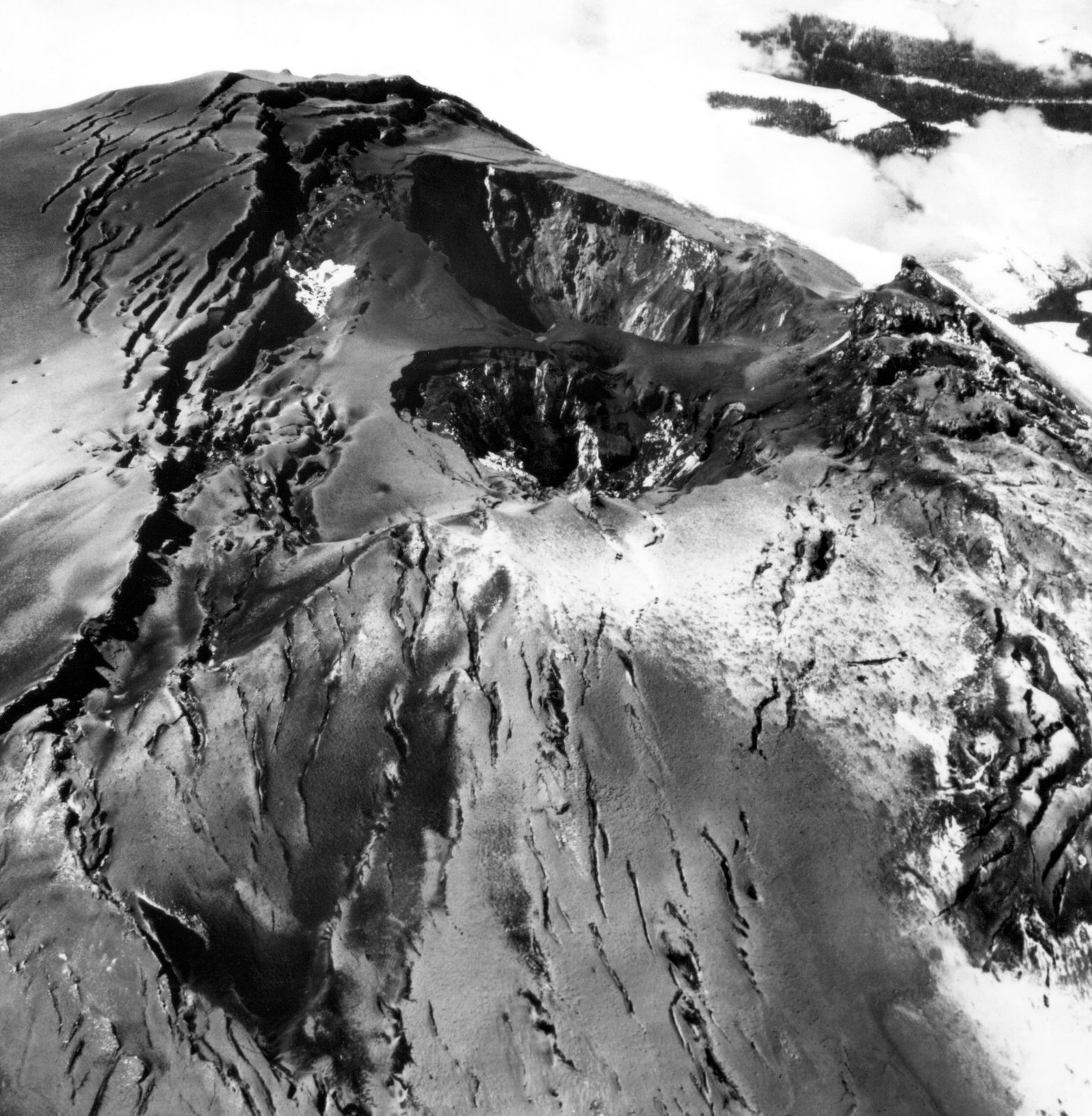 The summit of St. Helens after several small eruptions: two small pit craters formed on March 27, 1980 - photo Robert Krimmel 30.03.1980 / USGS
Reporters appear in three-piece suits with letters of reference from the Washington Post, New York Times, Los Angeles Times and National Geographic, chatting with each other about other volcanoes they had covered in the Aleutian Islands of Alaska and Guadaloupe . The media is ready for a disaster, for another Pompeii or Atlantis, perhaps lava flows invading Portland. But the apocalypse refuses to cooperate. There is no lava.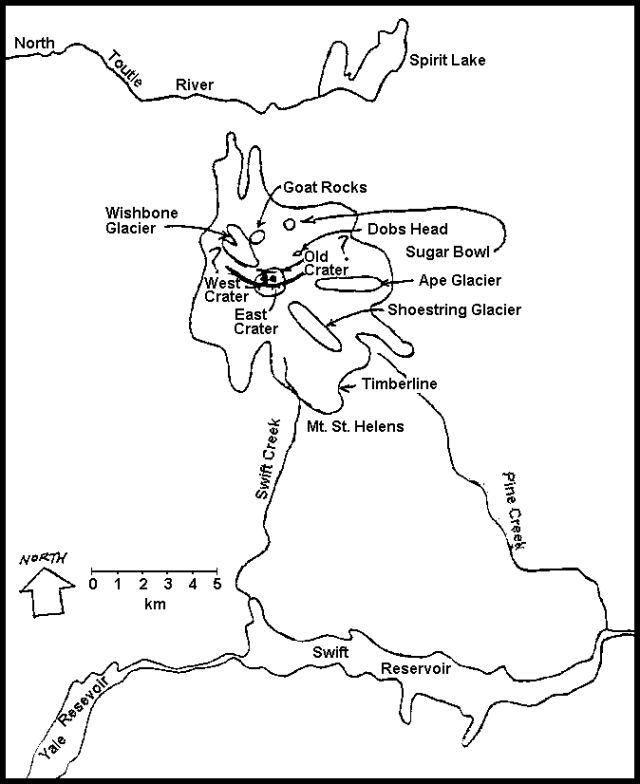 Sketch of the map of Mt. St. Helens. The positions and lengths of the arched top cracks are approximate, as indicated by question marks at each end. The old summit crater is shown to be about 0.5 km larger than its actual diameter. The two active vents have merged to the surface, but retain their distinct identities. - March 1980- Courtesy of Robert Christiansen and Robert Tilling / GVP
Strong activity resumed on March 30. At 0740 hrs, an anvil-shaped cloud of ash and vapor developed, producing ash falls as far as Bend, Oregon, about 250 km south. The cloud can be seen on high resolution NOAA weather satellite images, but the altitude of its top could not be estimated from satellite data.
An AP photo, probably of this explosion, clearly shows a veil of ash moving almost all along the SE flank. Described as an "important avalanche of ash" in the original report, it was in fact nothing but a veil of ash that moved slowly by gravity and deposited very little material. Six other explosions project ash more than 1.5 km above the summit of 30.
A change of wind on March 31 sends ash from the continuous explosions of the volcano on more populated areas. The ash fall started around noon in the Kelso-Longview area (75,000 inhabitants), about 65 km to the west, leaving a thin layer of light colored abrasive material. Only slight ventilation occurred during the night of March 31 to April 1; three earthquakes of M 4.5-4.7 were recorded, with foci only 1 km below the summit. The ashes of a large explosion on April 1 were collected at Spokane, 500 km east.
To be continued ...
Sources:
- USGS - Cascades Volcano Observatory - Mount St. Helens 1980
- Global Volcanism Program - St. Helens