Publié le par Bernard Duyck
In Popocatépetl, in the past 24 hours, 74 exhalations have been identified thanks to the surveillance system, accompanied by volcanic gas emissions, small quantities of ash and sometimes incandescent fragments. Night glow is observed.
During the day, we see the constant emission of volcanic gases and sometimes slight amounts of ash, which are dispersed to the northwest.
The activity was a little more intense in the evening, with an explosion at 10:40 pm, and the ejection of incandescent materials on the upper slopes.
This activity remains under the Amarillo Fase 2 alert.
Source: Cenapred & WebcamsdeMexico.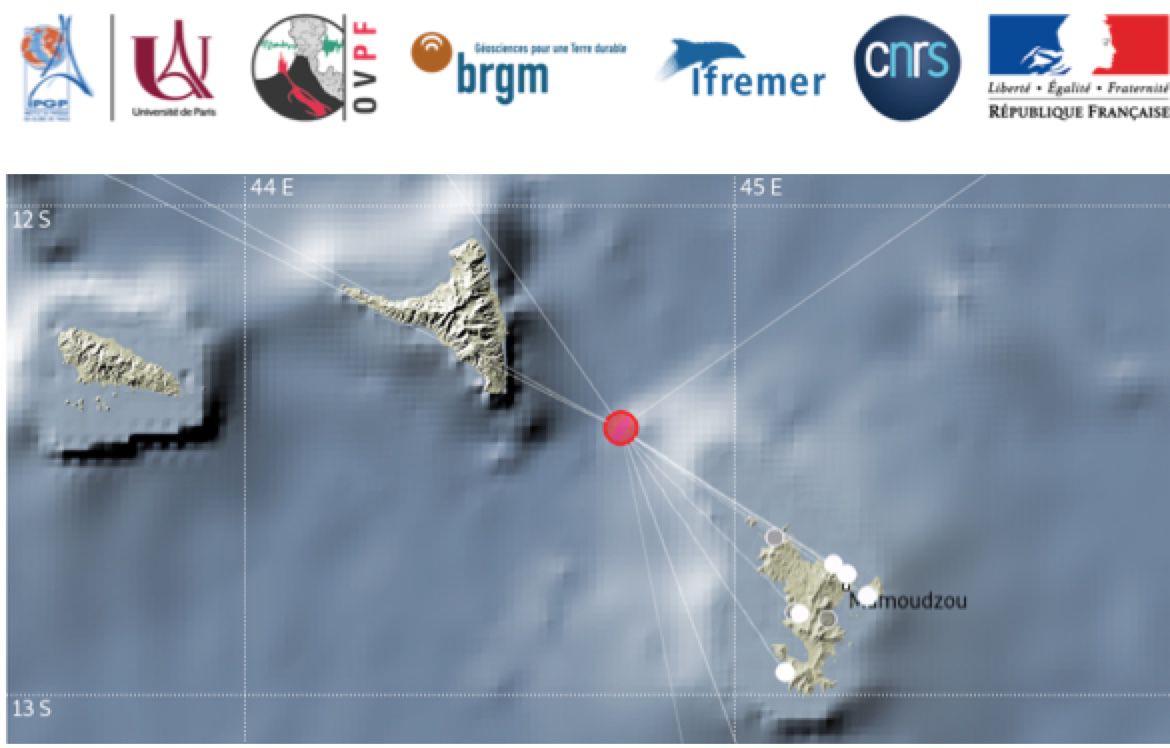 Mayotte - Earthquake between Mayotte and Anjouan on 21..03.2020 / 9h46 loc. M 5.8 (red dot epicenter) - Doc. REVOSIMA
A strongly felt earthquake in Mayotte in the order of M5.8 was recorded on March 21, 2020 at 06:42 UT (09:46 local time Mayotte) by the Mayotte volcanological and seismological monitoring network (REVOSIMA). The epicenter was located this time between the islands of Mayotte and Anjouan, 50 km NW of Mayotte and 30 km deep.
To illustrate the order of magnitude, it had the same intensity as the strongest earthquake felt in May 2018. It was less felt, due to the distance and its depth.
Up to now, the epicenters of earthquakes have been located east of Mayotte, and originate from two areas of magmatic flux emission.
We can notice the alignment between Comoros, the new earthquake zone, Mayotte and the earthquake zone since 2018 at the SSE of the island.
It remains to determine the exact nature of the earthquake
Sources: REVOSIMA, OVPF and Journal de Mayotte
In the Reykjanes Peninsula, on March 20, at 8:30 p.m., an earthquake swarm started with Krysuvik. By midnight, 60 earthquakes had been detected in the region. The biggest M3 happened at 9:21 p.m. No reports were received. Then the activity decreased.
The uncertainty phase due to the uprising in Reykjanes is still valid according to the Ministry of Civil Protection.
The latest deformation results around Mt. Thorbjorn indicate that inflation causing an uprising in the region has resumed. The uprising is slower than when it was measured in January, but seems to be in the same place. The most likely explanation for the signal is that the influx of magma has started again.
Source: IMO / March 21 00:18 GMT
Uplift at Yellowstone and how it does NOT mean an eruption is coming - Dr. Janine Krippner and Mike Poland.