Publié le par Bernard Duyck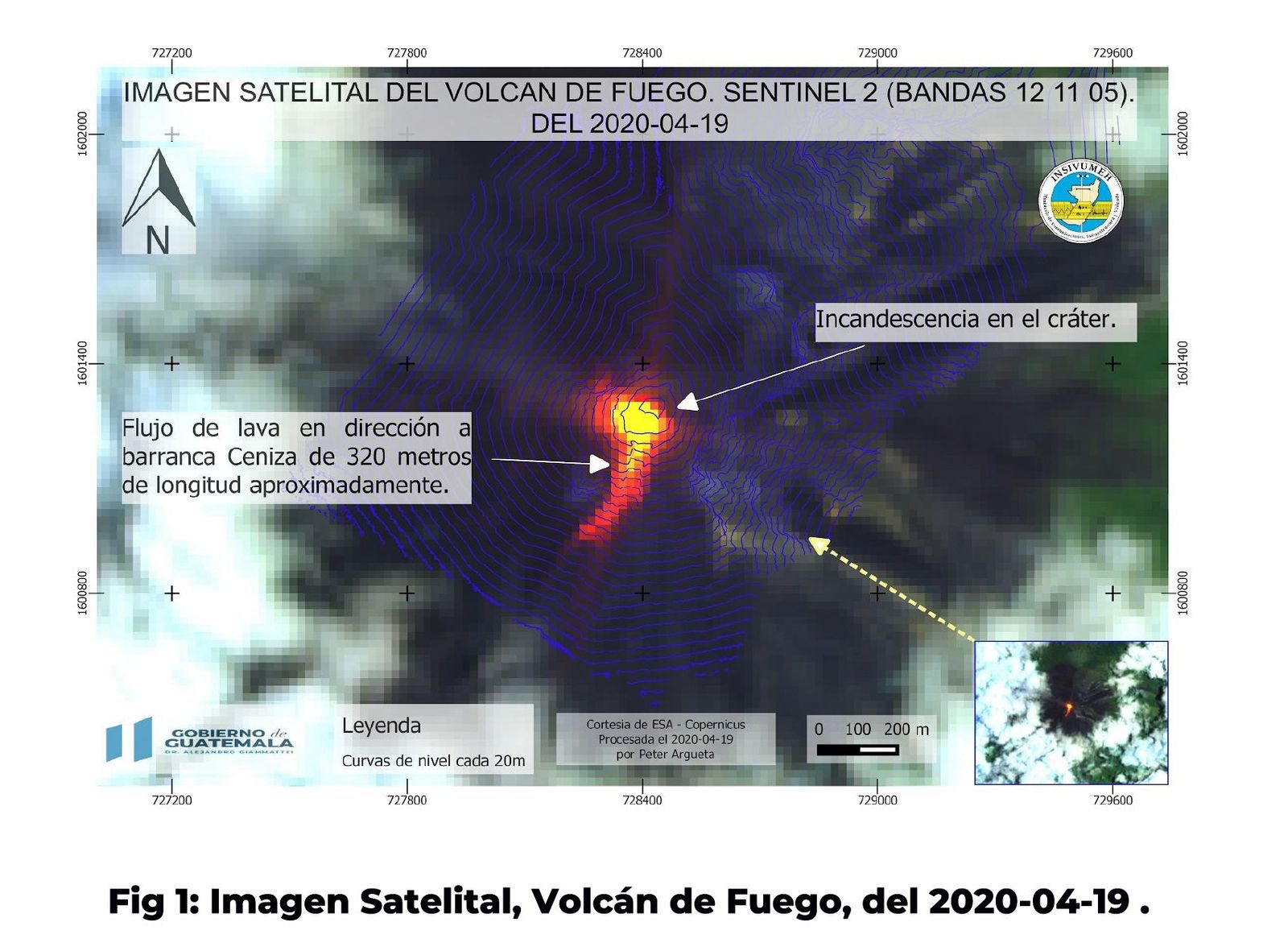 Fuego - lava flow on this satellite image bands 12,11,5 dated 19.04.2020 - Doc Insivumeh / Gobierno de Guatemala
Insimumeh recorded on the night of April 18 on the seismic and acoustic network of Fuego a change in the type of activity. Climatic conditions made it impossible to visualize the lava flow, but analysis of satellite images helped to obtain its characteristics.
The flow to Barranca Ceniza on April 19 was approximately 320 meters long. The activity was accompanied by almost constant incandescence at the crater and avalanches over 1 km, reaching the level of vegetation.
It is reminded not to stay in the barrancas around the volcano, this activity can intensify.
Mirova recorded thermal anomalies between 19 and 185 MW from the 17th and the 20.04. It should be considered that the thermal anomalies can be masked or attenuated by the cloud cover.
Source: Gobierno de Guatemala, Insivumeh and Mirova
The Klyuchevskoy continues its eruptive activity, with ash plumes rising to 5,000 meters asl. approximately this April 20 and 21, and a lava flow which is maintained.
The aviation code remains orange.
Sources: KVERT and VAAC Tokyo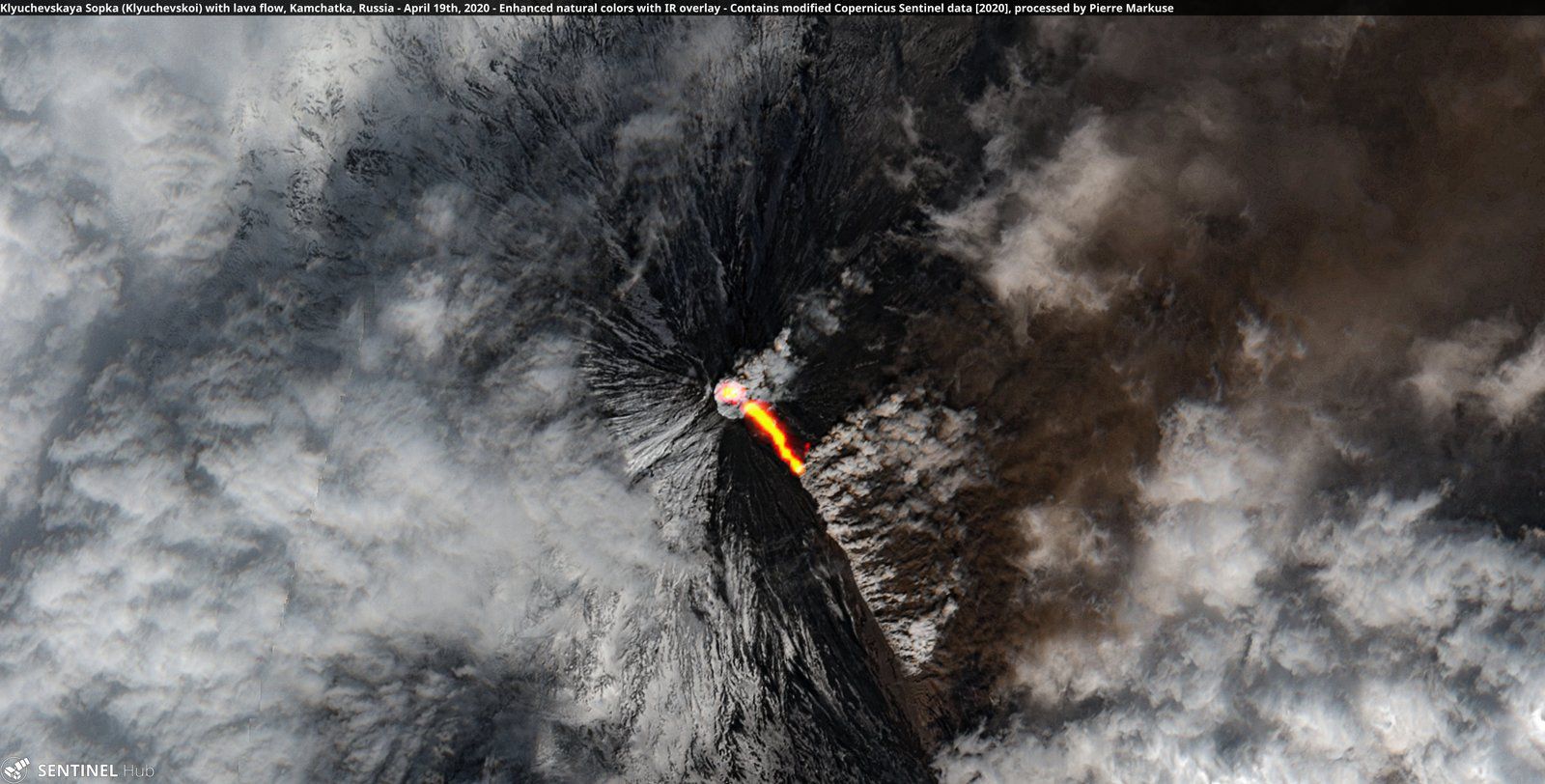 Klyuchevskoy - 19.04.2020 - Sentinel-2, Enh image. nat. collar. + IR overlay, worked by P.Markuse / Twitter - one click to enlarge
Also delayed following the eruptive episode of Etna ...
In Costa Rica, a hydrothermal eruption occurred this April 19 at 10:14 am local to Rincon de La Vieja, and produced a vapor column at 1,500 meters above the crater. It lasted about a minute.
The expelled materials, solid and liquid, reached a height of about 300 meters above the crater, and produced a lahar on the north face, which did not affect the populations around the volcano.
The Ovsicori reports several small eruptions of the same type in the past hours (including one at 5.30 am), which however did not exceed the edge of the crater.
Sources: Ovsicori and Guanacaste conservation area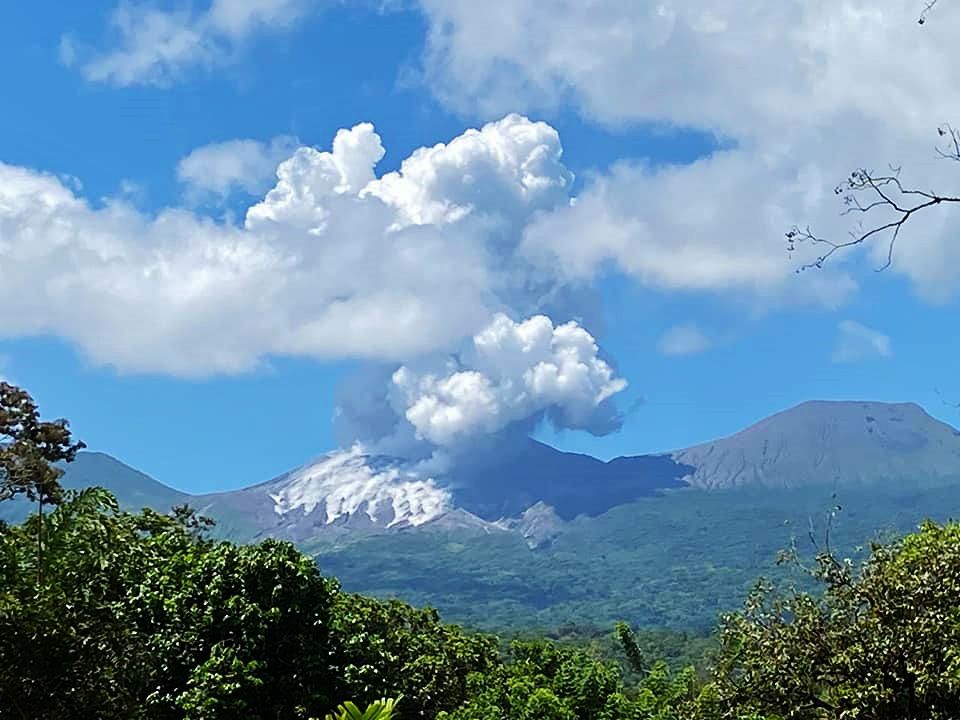 Rincon de La Vieja - eruptive plume and materials expelled on the flanks on 19.04.2020 - photo Área de Conservación Guanacaste / FB
Images on the ground and from the sea support the satellite images (taken on April 17) of the morphological changes made to the Anak Krakatau during the eruption of April 10, 2020: disappearance of the crater lake, lava flow forming a delta at sea.
Source: authors of attached photos and videos.
Anak Krakatau - the volcano after the episode of lava fountain - Video Doni Janskulo