Publié le par Bernard Duyck
April 12, 2020, ~ Series of Explosions ~ Volcan de Fuego, Guatemala The time for the explosions are 02:42, 02:56, 03:55, 04:12, 04:30. Fuego is at a heightened activity level.
In Fuego, Guatemala, the beginning of the day on April 12 was marked by 4 strong explosions, with expulsion of incandescent materials on the flanks of the volcano, respectively at 2:42, 2:56, 3:55 and 4:12
Today, the sector is cloudy and the atmosphere is warm, disturbed by sounds in a train locomotive, and moderate fallout; a lava flow of 200 meters wide follows the barranca Ceniza.
Many thermal anomalies are reported by Mirova (see below)
Sources: RSN / William Chigna & Crelosa.com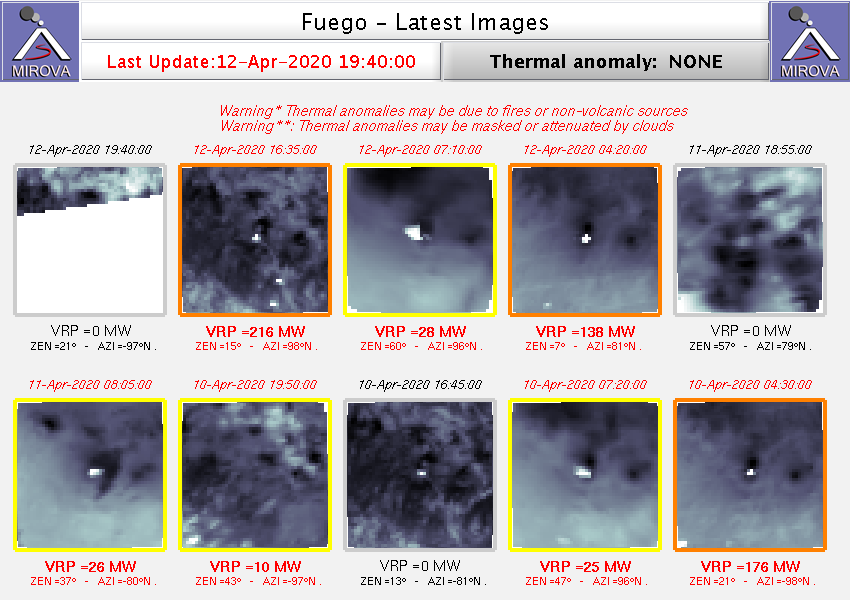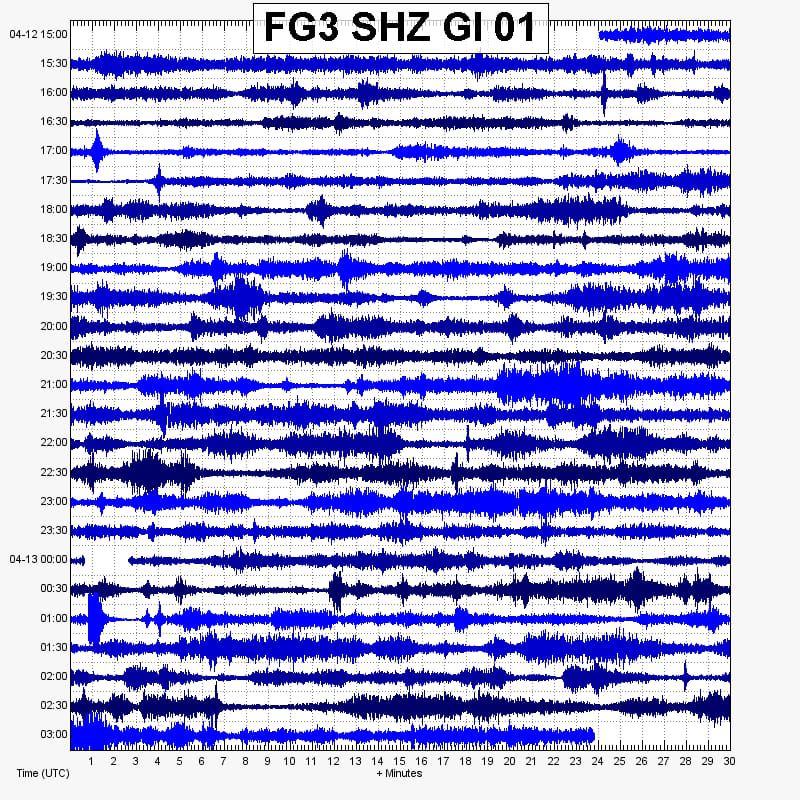 Fuego - thermal anomalies on April 12 / Mirova and seismogram of 12-13.04.2020 / Conred - one click to enlarge
An eruption was observed on the webcams this April 12 around 9:40 pm in Turrialba, Costa Rica; the pictures are not very good, but illustrate a plume of ash and gas well loaded.
Update by RSN 18:36: Yesterday April 12, at 20:30 hours, the Turrialba volcano presented a small degassing pulse in the active crater. The activity consisted of leaving steam and other gases. Because the weather conditions at the summit at that time were clear and there was some light on the moon, it was observed in the volcanic surveillance cameras of the RSN, a plume of about 500 meters from height with direction to northwest. The gas and water vapor outlet continued until 9:40 p.m. Among the gases emitted during this type of activity, sulfur dioxide (SO2), the smell of sulfur of which was perceived by the local population.
During the emanation, no seismic sign was recorded during the emanation. However, LP (long period) type event signals are observed in the daily register.
Sources: Rodolfo van der Laat / Tempo CR and Teresa Lopez - Update RSN
In Chile, two low energy explosions were recorded at the Nevados de Chillan complex on 12 April 2020.
They were accompanied by ash plumes, respectively at 2,300 m. and 1,800 m. high, displaced by the winds towards the south-east.
The technical alert remains in Amarilla.
Source: Sernageomin OVDAS
The VAAC Darwin relates continuous emissions of gases (sulfur dioxide), vapors and a little ash to the Anak Krakatau this April 12, at a flight altitude of 100, evolving towards the northwest; the aviation code remains at Red.
The PVMBG reports 5 blast earthquakes on April 12 and one blast earthquake in the morning of April 13; as well as 4 episodes of tremor of dominant amplitude at 1 mm on April 12.
The activity level remains at 2 / waspada.
Sources: PVMBG, Magma Indonesia, VAAC Darwin, Sentinel-2