Publié le par Bernard Duyck
The moderate explosive eruption continues at Klyuchevskoy, with this April 15 an explosion of ashes and a plume observed at 5,500-6,000 meters asl., extending for 65 km towards the northeast, then to a larger east sector.
The aviation code remains orange, because of possible other explosions that may affect aviation at low altitude.
Sources: KVERT, VAAC Tokyo and Sentinel-2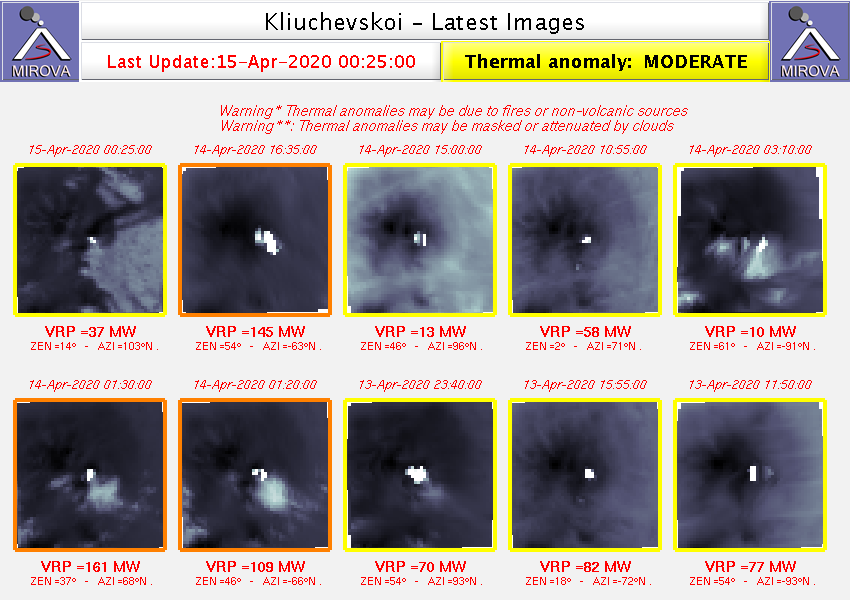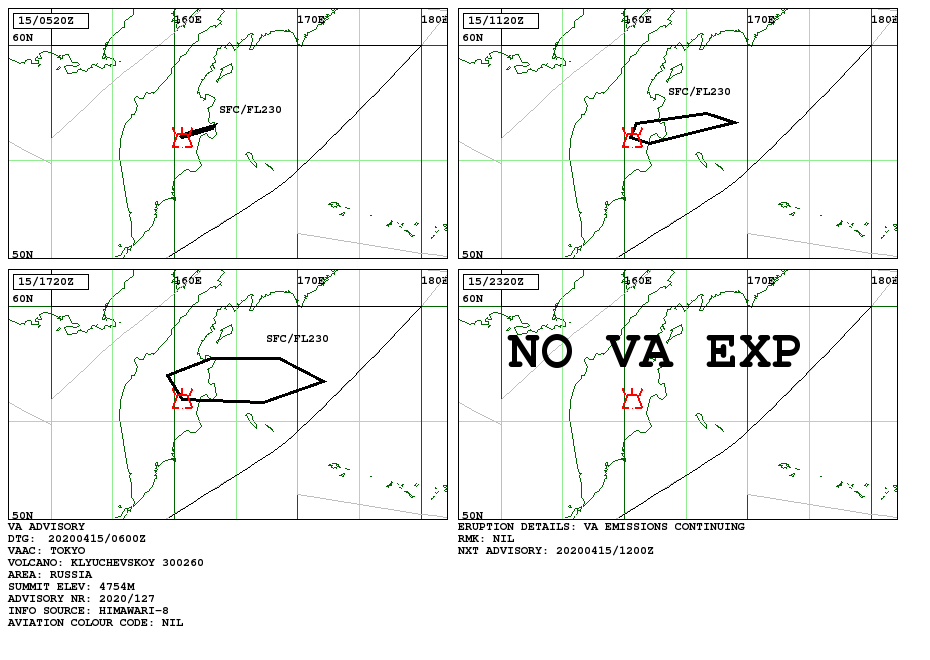 Klyuchevskoy - thermal anomalies on 15.04.2020 / 0h25 / Mirova and Volcanic ash advisory for 15.04.2020 / VAAC Tokyo - one click to enlarge
The strombolian and intracrateric effusive activity continued at Etna, between April 6 and 12 from the Voragine crater. Strong degassing of the new southeast crater and the northeast crater was noticed during the same period.
The activity inside the Voragine crater, in progress for 7 months, continued with slight fluctuations. This activity consists of three-mouthed Strombolian explosions, which build slag cones in the crater and an effusive activity, mainly from a mouth located on the south side of the largest cone. The explosive activity was more continuous at the largest cone, formed as the first, from September 12, 2019.
Etna - The summit craters during the inspection on April 10. a) The complex of ash cones inside the Voragine crater, the figures give the chronological order of formation of the respective mouths: 1 = September 12, 2019 (1a indicates the effusive mouth on the side of the cone); 2 = February 29, 2020; 3 = March 9, 2020. (b) Explosion on the largest of the Voragine intracratial cones. c) Interior of the northeast crater with internal degassing mouth (photo by Francesco Ciancitto, INGV-OE).
On April 9 and 10, large explosions widened the mouth. (documented in the linked article). From April 11 to 12, the explosions produced small bursts of ash that quickly dispersed into the atmosphere in the immediate vicinity of the summit craters.
Note that the L.G.S. Has experienced a rapid increase in infrasonic activity, associated with an increase in seismic tremor on April 14; this situation led to a very high level of alert EW1 / explosive activity, communicated by SMS and email.
Sources: INGV OE & Laboratorio Geofisica Sperimentale
In its daily bulletin, the Volcanological Observatory of Piton de la Fournaise noted in its bulletin of April 14, 2020, a resumption of inflation (swelling) in the summit area.
The GPS of the summit area recorded an inflation, witnessing the pressurization of a surface and deep source ... For two days, a resumption of inflation and a significant presence of CO2 were noted. This means that the magma is still present and going up.
At the end of each eruption in 2018 and 2019, a repetition of this sequence was observed; it leaves a probability of a new eruption in the medium term.
Source: OVPF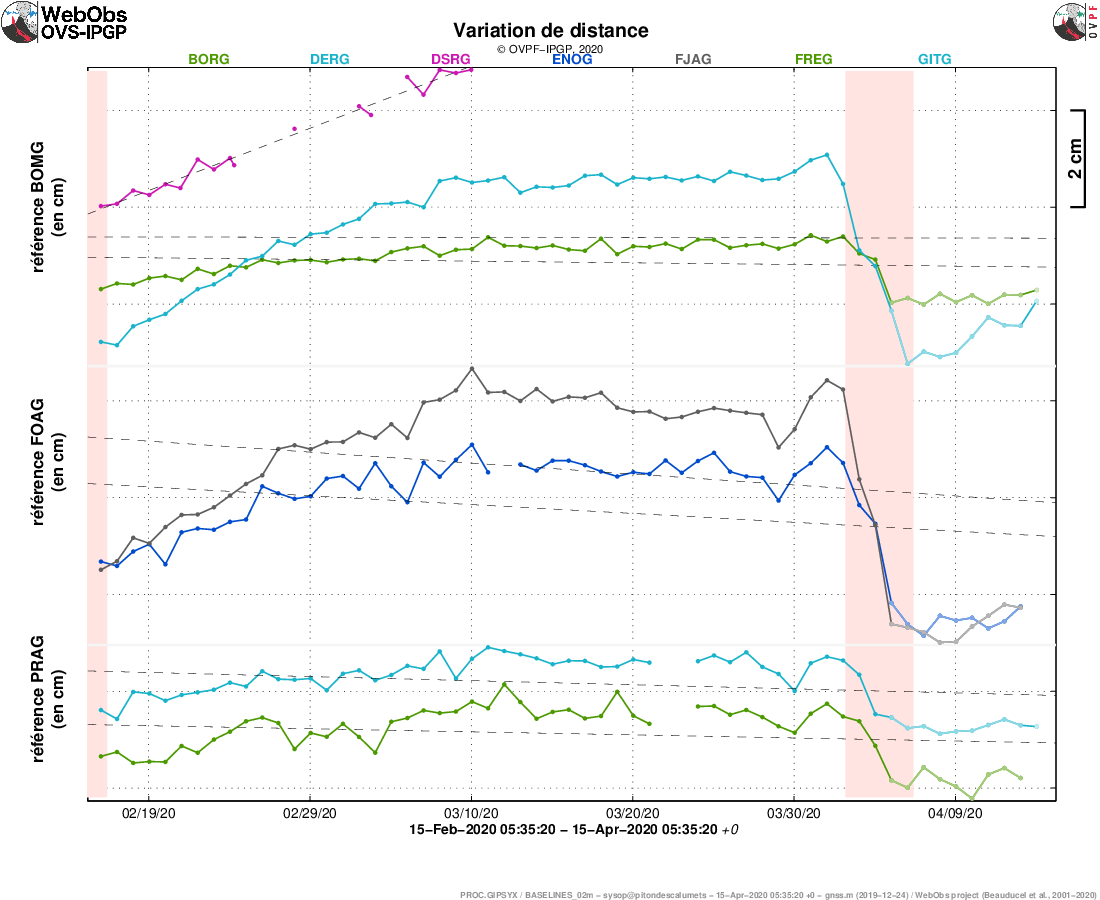 Piton de La Fournaise - Illustration of the deformation over 2 months, between 15.02 and 15.04.2020. Here are represented baselines (variation in distance between two GPS receivers) crossing the Piton de la Fournaise building, at the top (top), at the base of the terminal cone (in the middle) and in the far field (bottom ) (see location on associated maps). An increase is synonymous with elongation and therefore swelling of the volcano; conversely, a decrease is synonymous with contraction and therefore deflation of the volcano. Any periods colored in light pink correspond to eruptions. - Doc. OVPF