Publié le par Bernard Duyck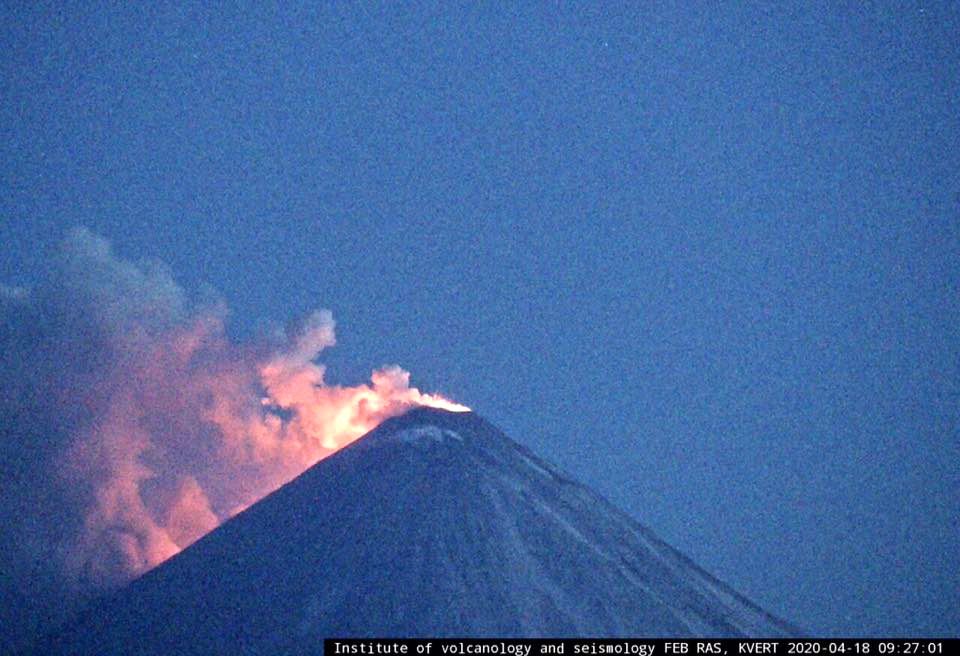 Klyuchevskoy - 18.04.2020 / 9h27 - a lava flow begins to move on the south-eastern flank of the volcano - KVERT webcam
A moderate Strombolian activity is reported at the Klyuchevskoy this April 18, characterized on the one hand, by a lava flow on the south-eastern flank, and on the other hand, by an emission of a plume of gas and vapor, containing a little ash , at 5,000-5,500 meters asl., extending for about 100 km towards the northeast, then the ENE.
The thermal anomalies recorded by Mirova on the 18th range between 15 MW and 1580 MW; for April 19, we note a slight decrease, with between 41 MW and 550 MW.
Aviation code stays orange
Source: KVERT
Also in Kamchatka, Karymsky activity has been gradually increasing since April 6, 2020, when a small thermal anomaly was detected.
On April 18, KVERT reports continuous degassing.
The aviation code is Yellow, due to the possibility of ash explosions that can affect low altitude flights.
Source: KVERT
The activity of Dukono, in level 2 / waspada on Halmahera, continues with this April 18 a thick white-gray plume 200-600 meters above the summit.
The PVMBG informs for this day:
- 2 eruption earthquakes, with an amplitude of 20-24 mm and a duration of 32.3 - 44.4 sec.
- continuous tremor of dominant amplitude at 2 mm.
The level of activity remains unchanged, with a ban on access within a radius of 2 km around the crater Malupang Warirang
Sources: PVMBG, Magma Indonesia and VAAC Darwin
In Costa Rica, the Ovsicori mentions in recent days a degassing at the level of the acid lake and mouths A and B of Poas.
No eruption is reported, and seismicity is characterized by a continuous and weak tremor between 1 and 2 Hz. The concentration of sulfur dioxide shows an increase, at 5.18 ppm.
The maximum SO2 concentrations at the watchtower are between 1 and 5 ppm.
A table recalls the activity levels of the country's volcanoes.
Source: Ovsicori
At Piton de La Fournaise, after the last eruption from April 2 to 6, inflation is recorded in the summit area and in the far field, evidence of the pressurization of a surface source and a deep source.
CO2 emissions from the soil are increasing in the distal zone, at the Plaine des Cafres, and in the proximal zone, at the Gite du volcan.
It should be noted that Pélé's hair continues to fall 10 days after the end of the eruption, remobilized by the wind. The OVPF documents the evolution over time, the dispersion and the alteration of this glassy dust.
Source: OVPF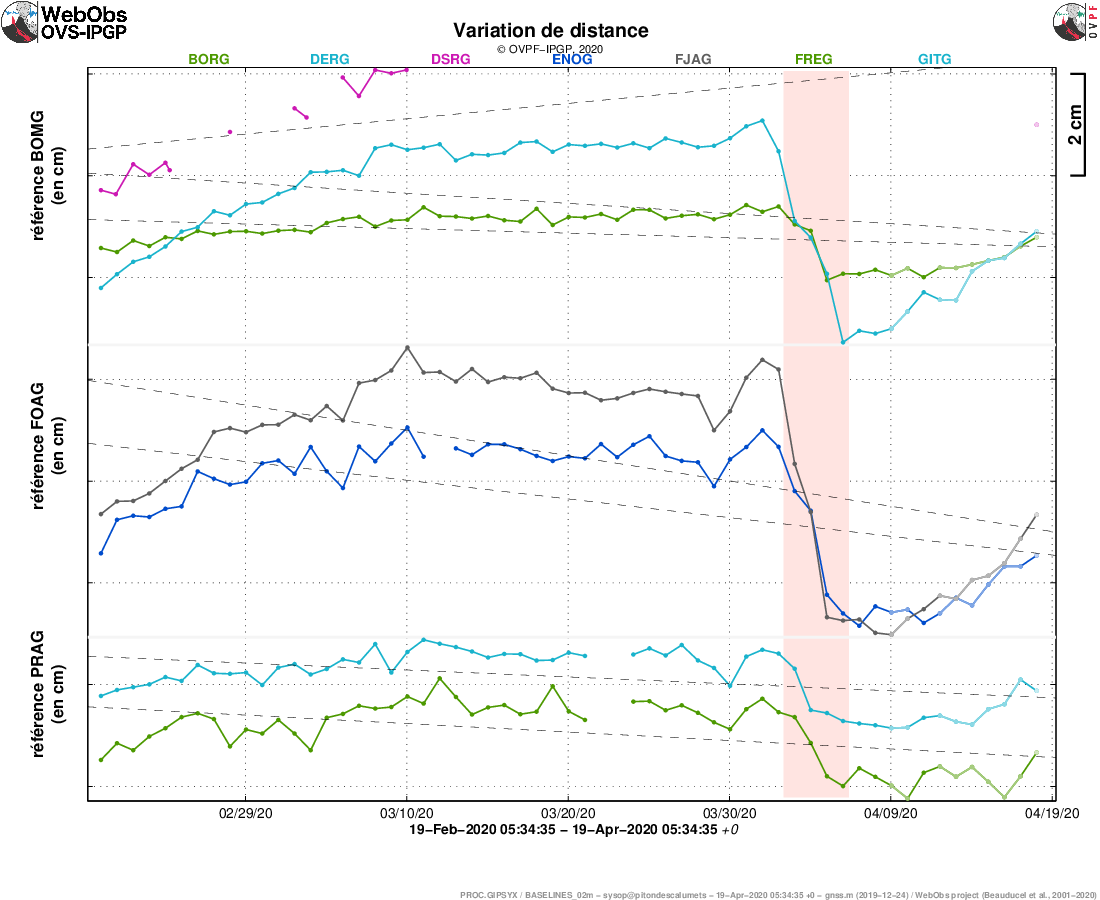 Piton de La Fournaise - Illustration of the deformation over 2 months, between 19.02 and 19.04.2020. Here are represented baselines (variation of distance between two GPS receivers) crossing the building of Piton de la Fournaise, at the top (top), at the base of the terminal cone (in the middle) and in the far field (bottom ) (see location on associated maps). An increase is synonymous with elongation and therefore swelling of the volcano; conversely, a decrease is synonymous with contraction and therefore deflation of the volcano. Any periods colored in light pink corresponding to the eruptions. - Doc. OVPF