Publié le par Bernard Duyck
This April 8 at 17:54 local / 21:54 UTC an earthquake LP, associated with the dynamics of internal fluids, was recorded at Nevados de Chillan, at a depth of 0.4 km.
An energetic explosion was associated with a plume of gas and ash rising to 3,700 meters above the point of emission, before drifting south. Basal pyroclastic flows were observed mainly in the north, northeast and southeast sectors.
Mirova recorded two thermal anomalies, respectively on April 8 at 6:10 am, from VRP 27 MW, and on April 9 at 3:35 am, from VRP 4 MW.
The technical alert remains in Amarilla. The potential impact zone is maintained at a radius of 2km around the active crater.
Source: Sernageomin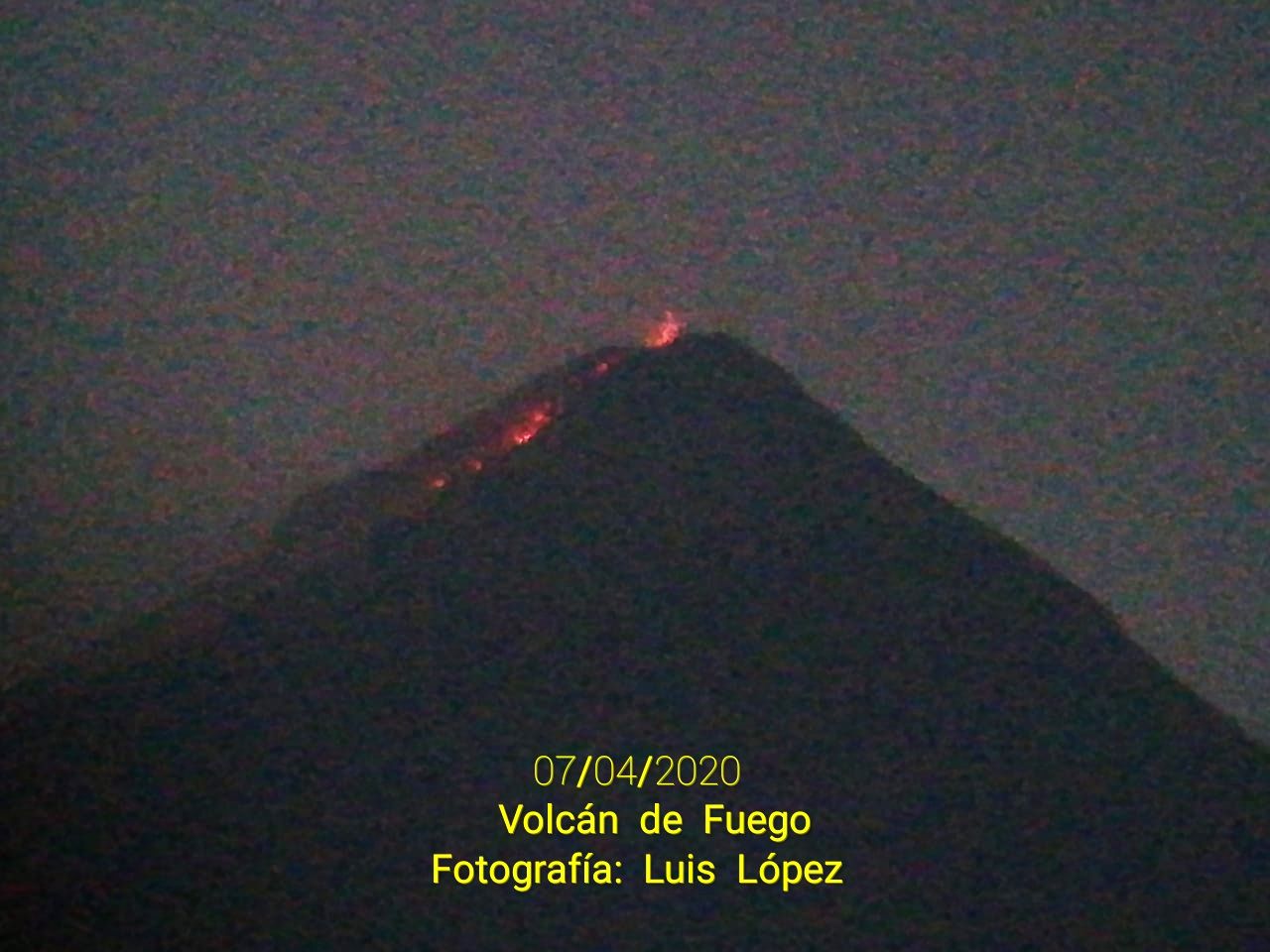 Fuego - incandescence and lava flow in the Ceniza barranca - photo 07.04.2020 Luis Lopez via W. Chigna / Twitter
The Fuego, in Guatemala, presented this April 8 weak to moderate explosions, 10 to 14 per hour, accompanied by gray plumes at 4,500-4,800 meters asl. scattered west and southwest, as well as incandescent pulses 300-400 meters high and avalanches in the vicinity of the crater, and the various drainages.

A change in Fuego's activity since April 6 is reported by the Government in a special bulletin on April 8 at 9 p.m. local, following the change in seismicity: the activity has now become effusive, and forms a flow of lava 400 meters long towards the Ceniza barranca. There is an almost constant glow at the crater and avalanches up to 1 km. reaching the vegetation.
The current activity is similar to that recorded from March 16, 2020, which lasted 8 days.
The thermal anomalies reported by Mirova are between VRP 11 MW and VRP 150 MW in recent days
Sources: Gobierno de Guatemala, Insivumeh, Conred & Mirova
In Kamchatka, the Sheveluch and the Klyuchevskoy continue their activity, both with an orange aviation code.
The KVERT reports this April 9 an explosion of ashes, with a plume at 4,000-5,000 meters asl., in Sheveluch, drifting 230 km towards the southeast of the volcano.
The aviation code remains orange due to ash explosions with plume of up to 10 to 15 km asl., And disrupt local and international flights.
Sources: KVERT & VAAC Tokyo
The Mayon Volcano seismic monitoring network recorded two (2) volcanic earthquakes and one (1) rockfall event during the 24-hour observation period, as of April 8. Moderate emissions of vapor-laden white plumes that crept downstream before drifting west-southwest, northeast, and north-northwest were observed.
This April 9, moderate emissions of white plumes loaded with vapor, are reported from a height of 400 meters, before drifting to the northwest and west-northwest.
A faint glow at the summit crater could be observed at night. Sulfur dioxide (SO2) emissions were measured at an average of 339 tonnes / day on April 07, 2020. Recent electronic tilt data showed inflation of the middle to upper parts of the volcanic edifice that began in last quarter of 2019. This follows a trend inflation that started in February 2019 as recorded by continuous GPS monitoring.
DOST-PHIVOLCS reiterates that the alert level 2 currently prevails on Mayon because the volcano is at a moderate level of agitation. It is therefore strongly recommended that entry into the permanent danger zone or PDZ with a radius of six kilometers and an extended danger zone or precautionary EDZ with a radius of seven kilometers in the south-southwest sector to east-north- is, extending from Anoling, Camalig to Sta. Misericordia, Sto. Domingo must be strictly prohibited.
Source: Phivolcs