Publié le par Bernard Duyck
At the beginning of April 1980, a phreatic activity marked the St Helens, which continuously emitted a plume of vapor ; a small lake of water is permanent in the crater.
The seismicity is maintained: numerous earthquakes of magnitude 3 to 4.
USGS teams are installing a new seismic station at Dog Heads.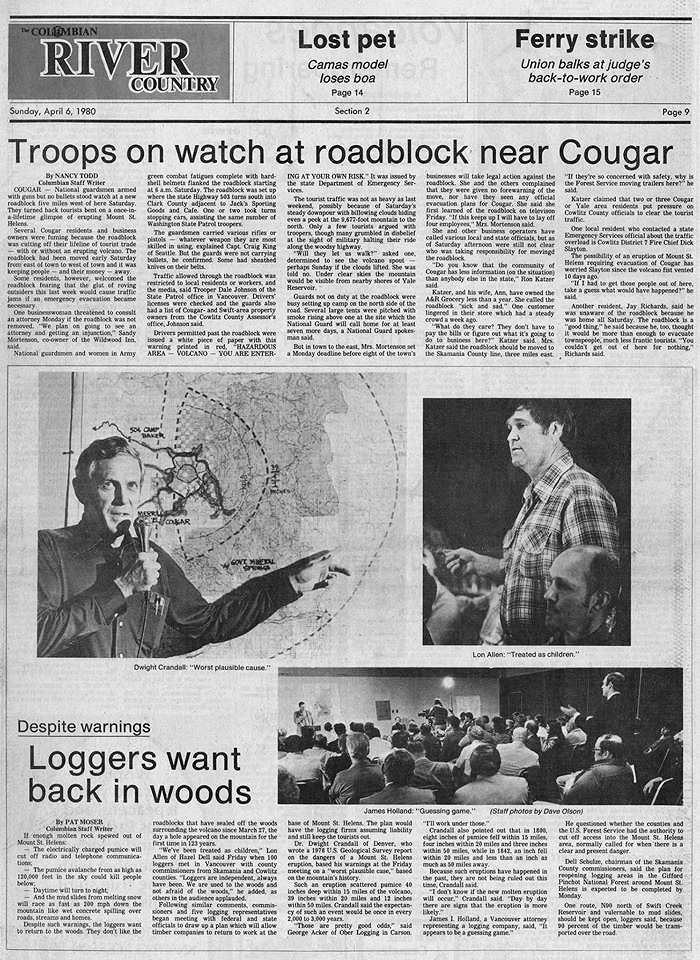 The St. Helens begins to cause concern - The Columbian (Vancouver, Washington), April 6, 1980, page 9. - USGS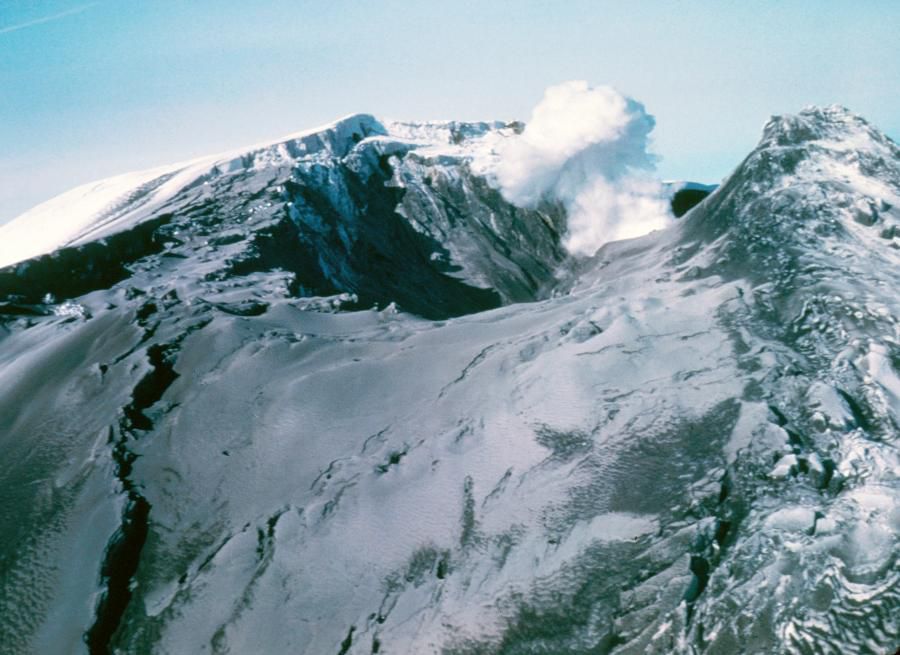 St. Helens - summit view from the west on 07.04.1980, with the graben and the new crater - photo Peter Lipman / USGS
The cone of Mount St Helens is formed of basalt and dacitic flows, with two dacitic domes, one summit, the other, the Goat rocks dome, on its upper flank. The pre-eruptive summit of the stratovolcano is traversed by numerous faults, which will play a determining role in the event of May 18.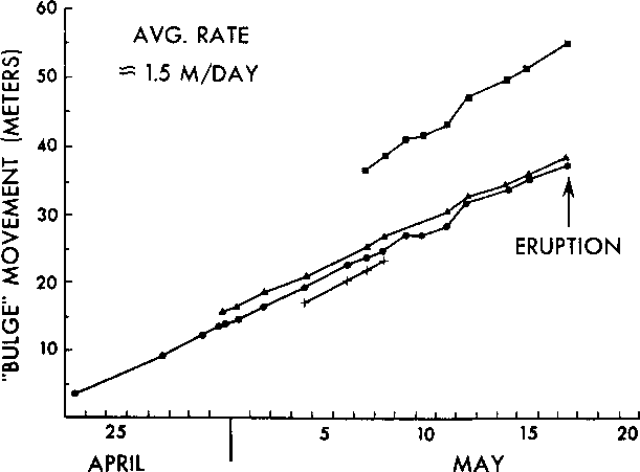 On April 12, an episode of harmonic tremor lasting 27 minutes was recorded; it ends with an earthquake of M. 4.5. Aerial photos and tiltmeters confirm the swelling of the volcano.
A magma intrusion causes, around mid-April, an inflation of the northern flank of the volcano, the average ratio being 1.5 meters per day (going up to 2.5 m / day according to Schmincke)
In an interview on April 24, volcanologist David Johnston said about the swelling of the sides: " everything seems to indicate that something is pushed up from the inside; it seems that it could be magma. Such a major deformation is an extreme case. "
Since March 20, 1,560 earthquakes of magnitude greater than 3 have been recorded, including more than 200 episodes of magnitude greater than 4.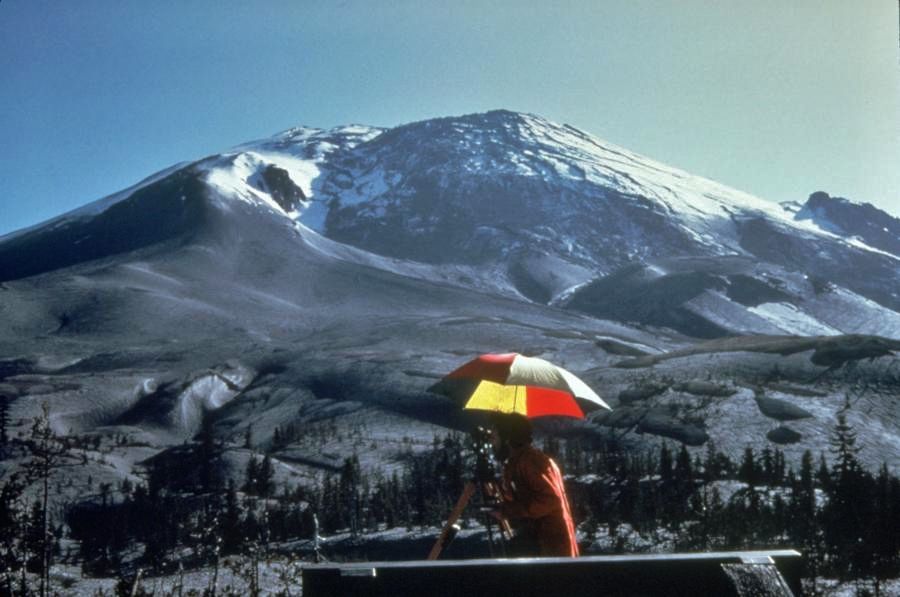 The deformations marking the summit area of ​​St Helens: on the left, situation on 07.04.1980 - on the right, evolution between 12.04 and 01.05.1980. - one click to enlarge
On April 30, the volcano remains calm, but the swelling continues north. Geologist David Johnston took advantage of the lull to sample the small lake that formed at the bottom of the crater. (photo below)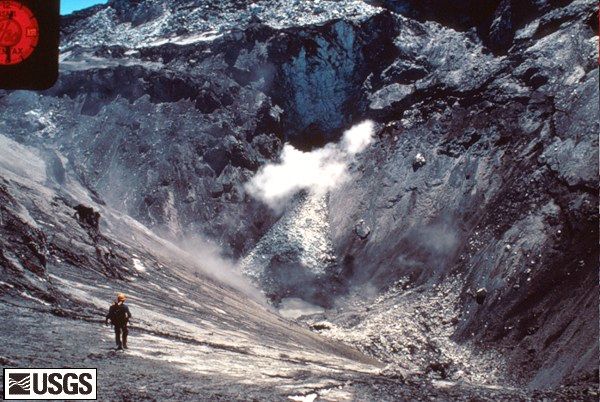 USGS scientists, worried about the growing instability of the swelling zone, issues an alert ... following this information, the governor and the forest supervisor decide to close certain areas near the volcano, a first area being reserved for officials and scientists, a second accessible only by day by residents and owners with a permit.
For the record, the owner of the hotel-refuge, located on the banks of the Spirit lake, refuses to leave the place. At 83, Harry Truman decides to brave "his" mountain, convinced that it will do him no harm.
To be continued in May ... the eruption.
Sources:
- Volcanism - H.U.Schmincke - # the eruption of mount St Helens on 18 May 1980 - Ed.Springer.
- USGS / CVO - pre-May 18, 1980.
- CVO - Mount St Helens precursory activity