Publié le par Bernard Duyck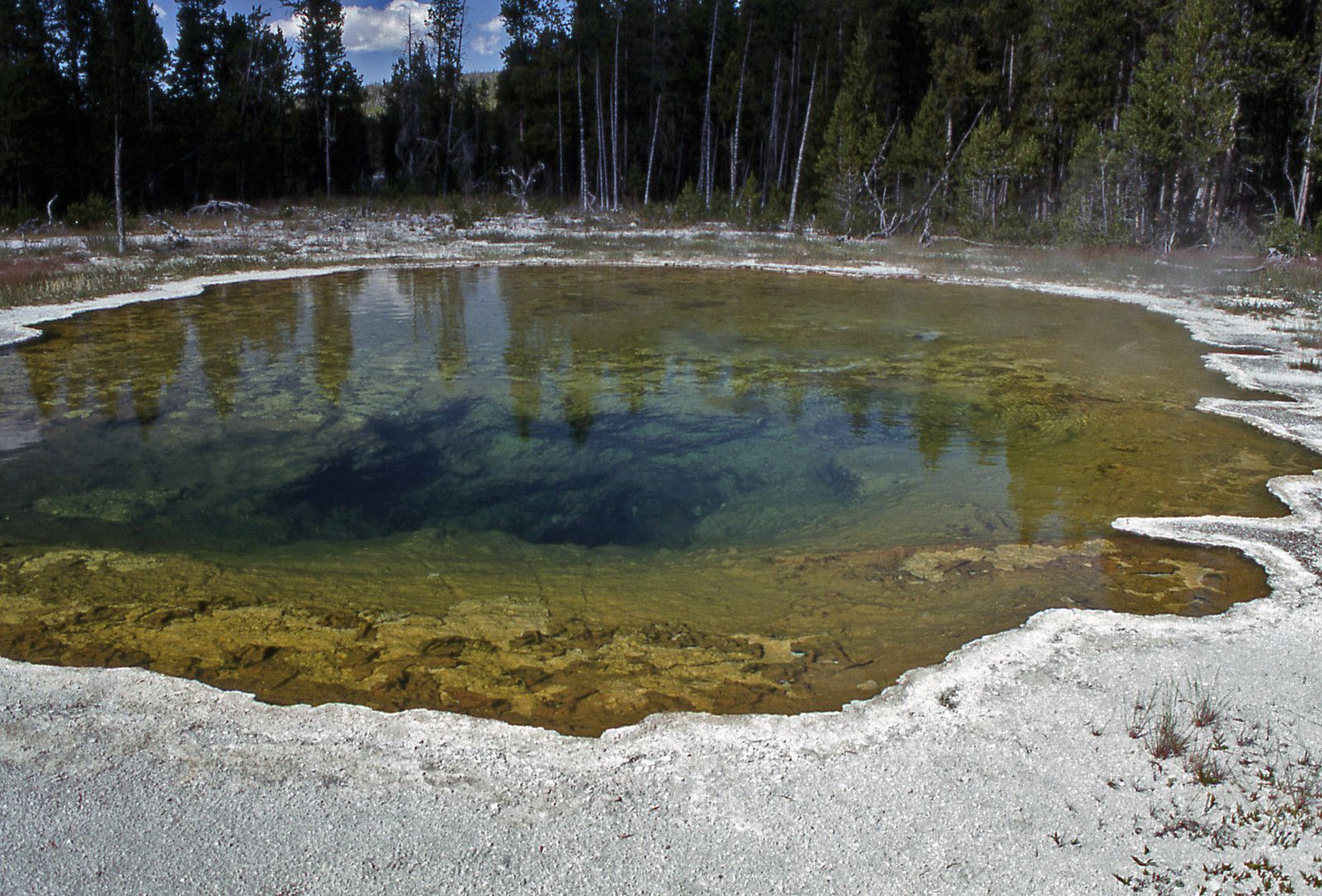 Yellowstone National Park - Lower geyser basin - Mushroom pool - Original photo National Park Service
It is the microfauna - the thermophilic bacteria that live in hot springs - that provides some of the most important weapons in our fight against deadly diseases and viruses.
To understand this, we have to go back to 1966, during which Thomas Brock and his team at the University of Indiana studied the microorganisms in the hot springs of Yellowstone.
Samples of the microbial carpet taken at Muschroom spring / Lower geyser basin, the bacteria Thermus aquaticus strain YT-1 were isolated; this bacterium was studied in the 70s and 80s as part of the PCR - Polymerase Chain Reaction, and the thermo-stable enzyme taq DNA polymerase of Thermus aquaticus.
To better understand and fight against coronaviruses, we start with a sample from a person suspected of being infected, then extract the viral RNA from the sample. It is converted into DNA, then replicated with a PCR machine: the taq polymerase enzyme will make it possible to increase the quantity of DNA to be analyzed during successive heating and cooling cycles.
Without PCR, the race to count people infected and to develop a vaccine would be considerably hampered.
"Thanks to PCR, astonishing innovations, notably the sequencing of the human genome, genetic tests and the characterization of entire microbial communities around the world, have emerged, some of this research having even been crowned with a Nobel Prize!
Now, as our health care professionals struggle to determine the rates of infection and transmission and how to fight the new COVID-19 (and all future infectious diseases), we can look back at the research describing the microbes in them. Yellowstone hot springs to see how basic exploratory scientific research is of incredible benefit to humanity. "
Sources:
- USGS Caldera chronicles - How a thermophilic bacterium from a Yellowstone hot spring is helping the fight against the COVID-19 pandemic.
- Isolation of Thermus Strains from Hot Composts (60 to 80 ° C) - by Trello Beffa, Michel Blanc, Pierre-François Lyon, Gudrun Vogt, Marcelleo Marchiani, Johanna Lott Fischer, and Michel Aragno - Laboratory of Microbiology, University of Neuchâtel, CH-2007 Neuchâtel, Switzerland
- Biotechnological Applications of Thermus - by Peter L. Bergquist and Hugh W. Morgan