Publié le par Bernard Duyck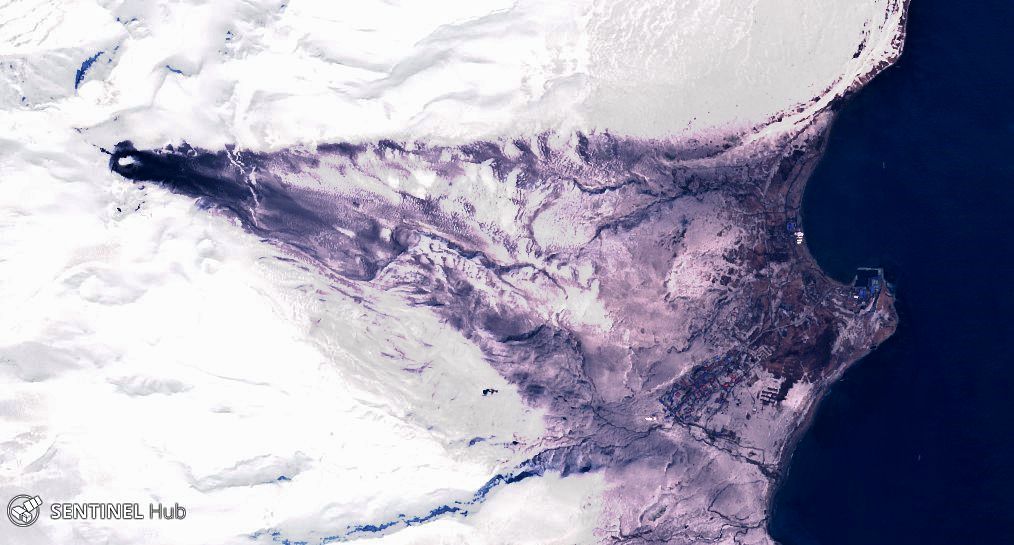 Ebeko - ash on Severo-Kurilsk this 30.04.2020 - Sentinel-2 L1C image nat colors / bands 4,3,2 - one click to enlarge
In the Kurils, the activity of the Ebeko continues, with the observation this May 1 of a plume of gas and ash at 2,600 meters asl, drifting towards the north of the volcano over 5 km.
This activity and the easterly winds have drawn a large triangle of ash on the snow covering the region; the city of Severo-Kurilsk is affected by these deposits.
The aviation code remains orange.
Sources: KVERT, VAAC Tokyo and Sentinel-2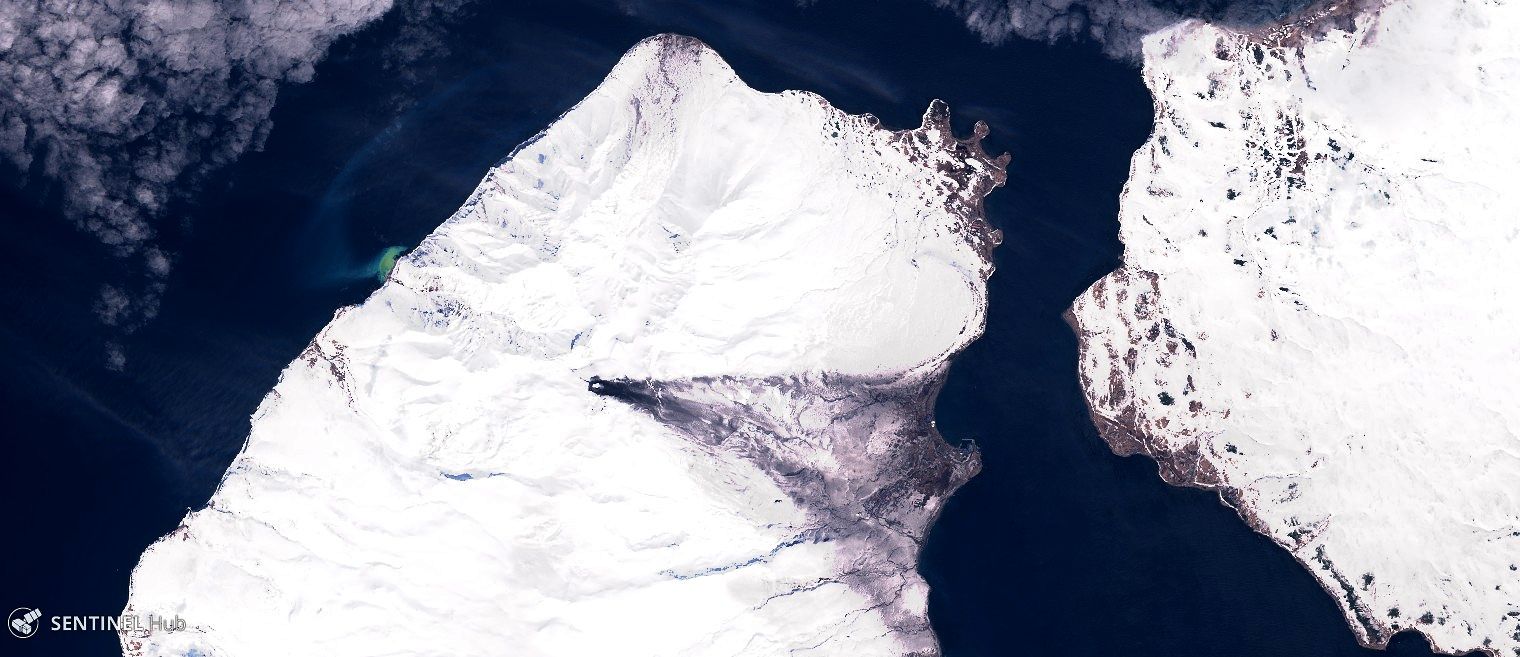 Ebeko - ash on Severo-Kurilsk this 30.04.2020 - Sentinel-2 L1C image nat colors / bands 4,3,2 - one click to enlarge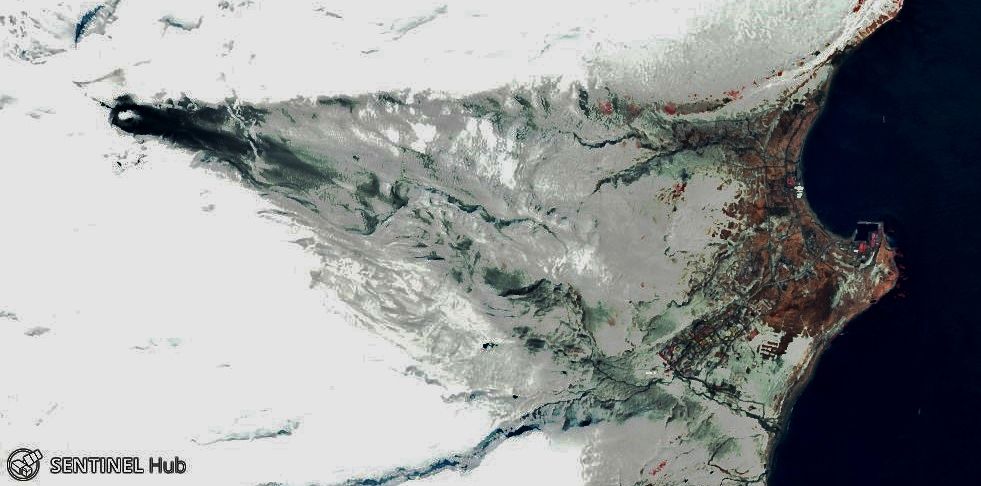 Ebeko - ash on Severo-Kurilsk this 30.04.2020 - Sentinel-2 L1C image IR / bands 8,4,3 - one click to enlarge
In Costa Rica, hydrothermal eruptions continue at Rincon de La Vieja.
The Ovsicori detected an episode on April 29 at 9:19 p.m., without visual observation; the observatory signals the presence of a continuous tremor since 8 am in the morning.
This April 30, another episode occurred from 4:10 pm local, accompanied by an eruptive column which rose to 1,500 meters above the crater.
Video on Facebook: https://www.facebook.com/OVSICORI/videos/678953862867989/
Source: Ovsicori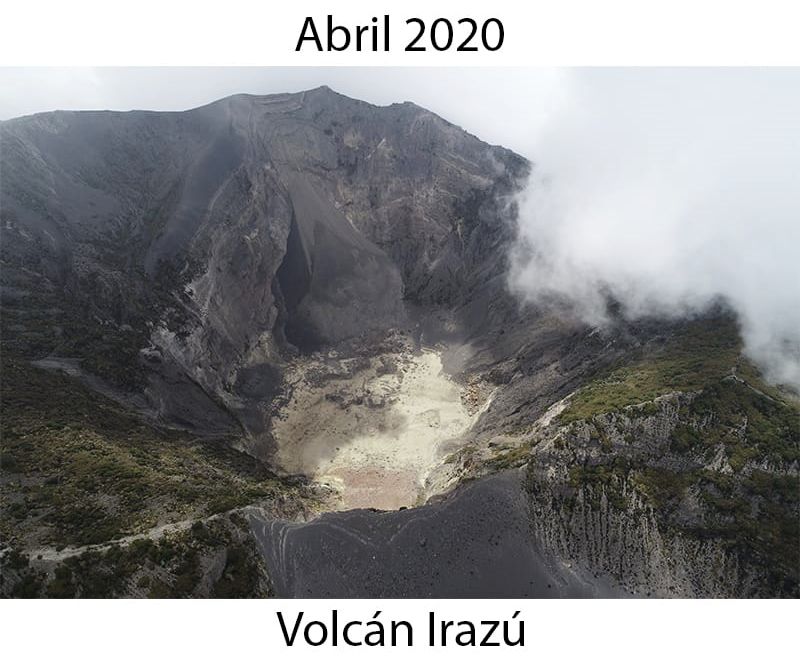 Irazu - drying up of the crater lake and traces of landslide from last year in April 2020 - photos RSN- CNE
Also in Costa Rica, visual and drone observations obtained by RSN and CNE staff from the Irazu crater lake in the central Cordillera show a completely dry lake, and the landslide that has happened one year ago.
The drop in water level started in 2019 can be mainly attributed to water infiltration processes by fractures, evaporation being less intense than at Poas.
Sources: Red Sismologica Nacional and CNE - photos by Blas Sanchez (CNE), Jason Navarro and Paulo ruiz (RSN).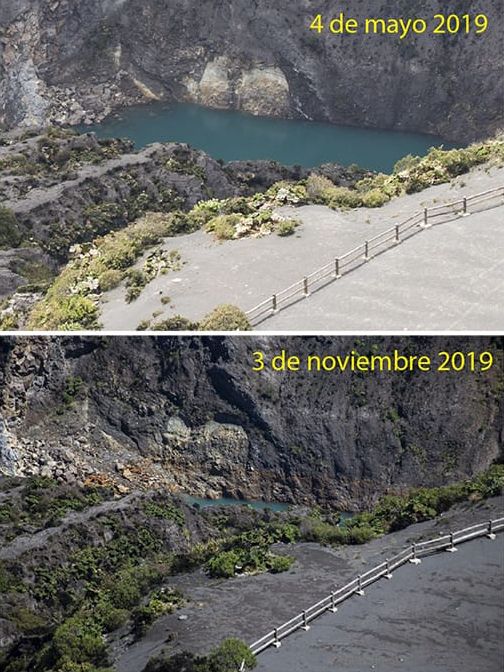 Irazu - evolution of the level of the crater lake between May 4 and November 3, 2019 - photos RSN - CNE
The VAAC Darwin reports this May 1 at 4:15 am Z an eruption in Bagana volcano , Papua New Guinea; the ashes are reported at flight height 100 westbound. The models used on the basis of Himawari-8 satellite images allow extrapolation of ash dissipation (within 6 hours).
Source: VAAC Darwin