Publié le par Bernard Duyck
In Costa Rica, the acidic lake of Poas remained hidden on May 14 most of the day, except in the early morning.
The Ovsicori reports stable CO2 / SO2 and H2S / SO2 ratios, around 1.0 and 0.1, respectively.
On the morning of May 14, an SO2 peak of 29.2 ppm was recorded. On the other hand, from the point of view, maximum concentrations of SO2 greater than 2 ppm were detected. Band tremor is observed in the range of 1 to 5 Hz. The lowest frequency tends to be persistent, unlike the highest frequency.
At Rincon de La Vieja, a tremor in bands from 0.6 to 5 Hz is observed, but with a more continuous pattern at 9:00 p.m. (UTM + 6) yesterday.
Two eruptions occurred this morning at 5:24 a.m. and 7:04 a.m. (UTM + 6). In both cases, the column rose to about 500 meters above the height of the crater, a total of 2416 m above sea level. No ash fall or lahars are reported.
Source: Ovsicori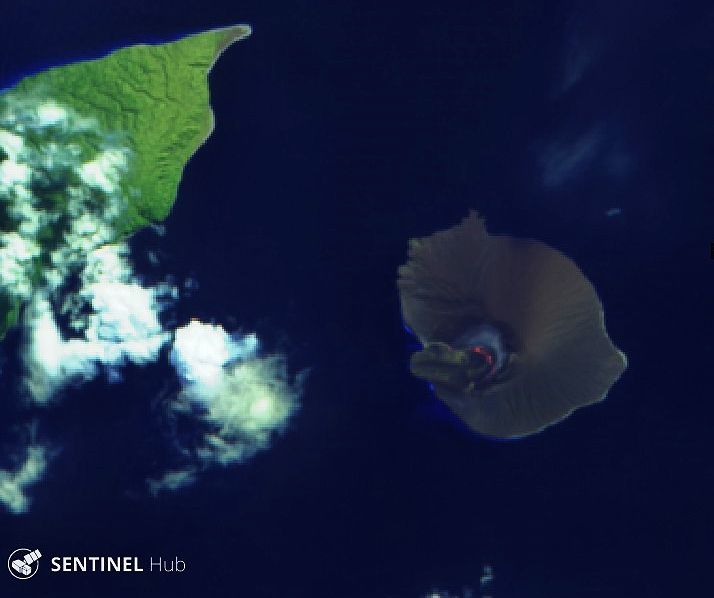 Anak Krakatau - hot spot and lava flow from the previous activity - Sentinel-2 L1C bands 12,11,4 du 14.05.2020 - one click to enlarge
At Anak Krakatau, the volcano seems calm at the seismicity level, with this May 14, two low frequency earthquakes, with an amplitude of 2-3 mm and an earthquake duration of 3-4 seconds, and four episode of continuous tremor with an amplitude of 0.5-3 mm, dominating 1 mm.
Mirova reports thermal anomalies from VRP 12 to 21 MW on May 14, 2020.
A clear satellite image by Sentinel-2 shows the extent of the lava flow generated by the previous period of activity.
Sources: PVMBG, Magma Indonesia, Mirova and Sentinel-2
As an atractive introduction, here is the trailer for the film of the last expedition of the Volcanological Society of Geneva in the crater of Nyiragongo in February 2020. - Link to video
Source: Thanks to Patrick Marcel for sharing.