Publié le par Bernard Duyck
Cenapred has identified over the past 24 hours at Popocatépetl 142 exhalations and small explosions, accompanied by gas emissions and small amounts of ash, which continued during the day.
A total of 491 minutes of tremor was recorded.
Night glow marked the summit of the volcano, visible on the webcams from 9 p.m. to more than 10:30 p.m.
The volcanic alert remains at amarillo Fase 2.
Sources: Cenapred and webcamsdeMexico.
In Chile, the Sernageomin reports this May 2, 2020 at 7:33 p.m. local to the Puyehue-Cordon Caulle volcanic complex a volcanotectonic earthquake of M loc. 3.0 / depth 3.1 km, associated with the fragmentation of rocks.
The technical alert remains unclear.
The last period of activity dates back to June 2011 - April 2012, characterized by an VEI 5.
Source: Sernageomin / OVDAS & Global Volcanism Program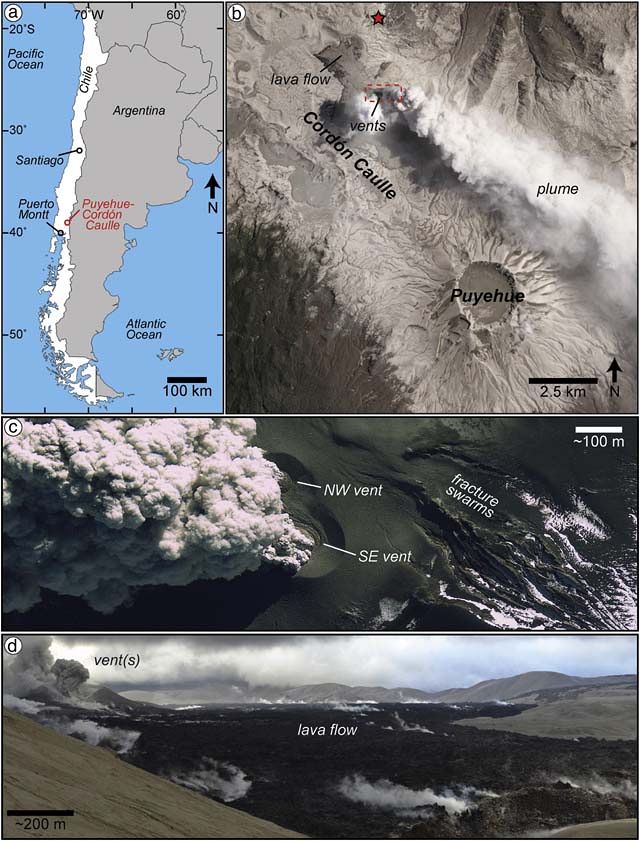 This series of images includes: a) a location map of Puyehue-Cordón Caulle; b) a NASA ALI image taken on January 26, 2012, including the annotated locations of the observation points (red star) and the red box corresponds to the area in "c"; c) the overlapping ventilation structures and ash plumes were captured on this GeoEye-1 image from July 3, 2012; (d) and this panorama of the active lava flow observed on January 10, 2012 (note that the scale is approximate). The original images are from Schipper et al., 2013. / GVP
In Shishaldin, on advisory volcanic alert and Yellow aviation code, the troubles continue with possible sulfur dioxide emissions detected by satellite and vapor in the crater visible on high resolution satellite images. The views of the web cameras were obscured by the clouds and no significant activity was detected on local seismic stations or regional infrared sensors. Although disturbances are currently at low levels, activity could intensify with little warning, and additional eruptive activity in the summit crater, lava flows, lahars and ash-producing eruptive events could happen.
The Shishaldin is monitored by local seismic and infrasound sensors, satellite data, web cameras, a telemetric geodetic network and remote infrasound and lightning networks.
Sources: AVO / 02.05.2020 and Pierre Markuse.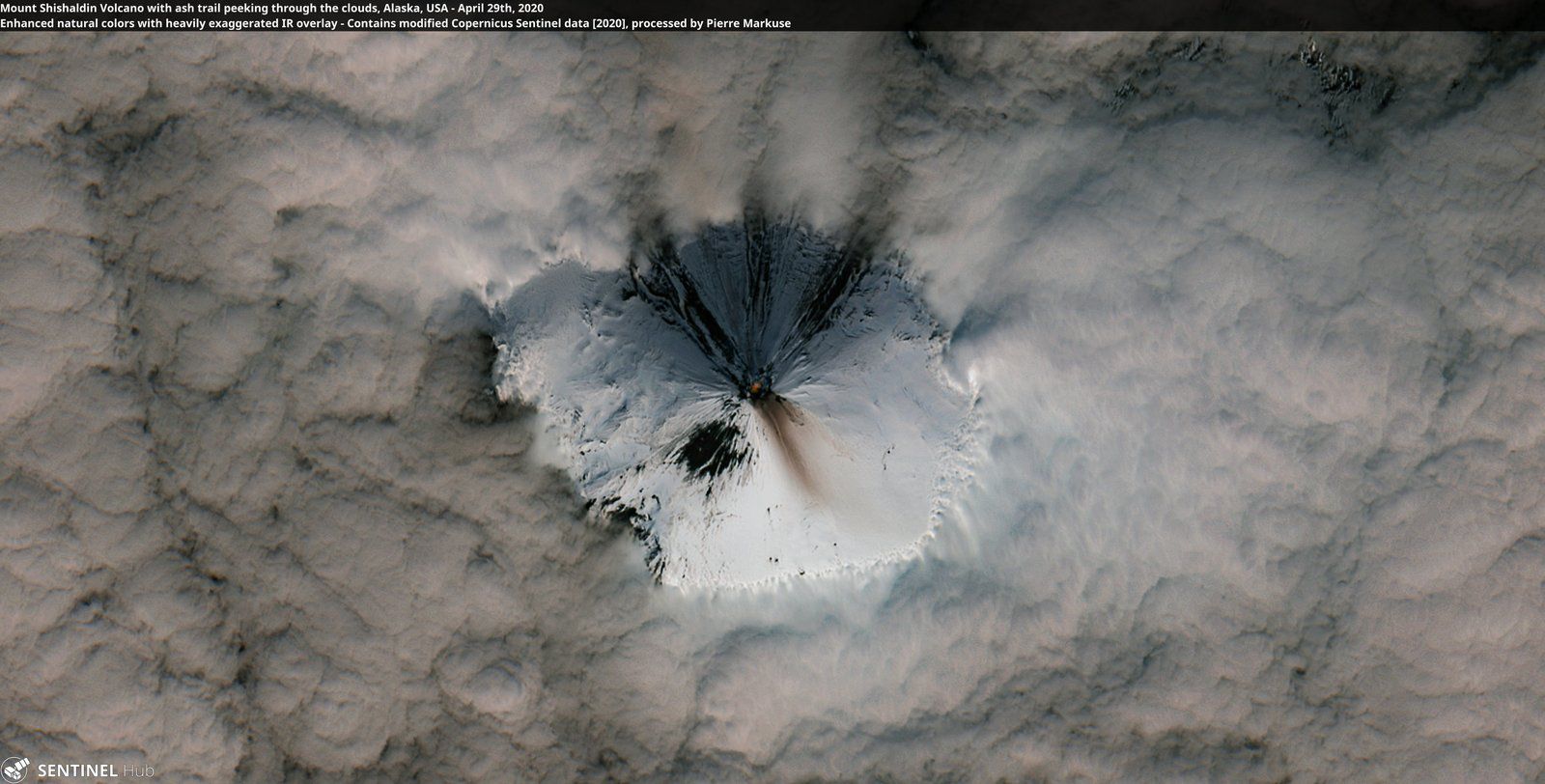 Shishaldin - Sentinel-2 enh image. Nat. Colors + IR overlay / 04.29.2020 - via Pierre Markuse - one click to enlarge
An earthquake with a magnitude of 6.7 and a depth of 10 km. was located by the INGV Tsunami Warning Center (CAT) and EMSC at 12.51 UTC on May 2, 2020. The epicenter is located at sea, about 80 km south of the island of Crete.
The pushing mechanism suggests a break on the subduction interface at shallow depth.
Due to the magnitude, a red tsunami alert (Watch) was issued by the CAT-INGV for the island of Crete, while the alert level is orange (Advisory) for the other regions of Greece, for Turkey, Libya and Egypt. The warning message was issued by CAT-INGV eight minutes after the earthquake.
The CAT-INGV issued a confirmation message of the tsunami, which was observed at the tide gauge of Ierapetra on the island of Crete, although with a extent hitherto limited (approximately 15 cm, or approximately 35 cm at peak). Technically speaking, a sea level change caused by an earthquake has occurred, so it is indeed a tsunami, although small, it caused whirlpool and currents in ports and on beaches.
A strong aftershock occurred at 13:33 UTC, characterized by an M 5.3 and a depth of 30 km.
Sources: EMSC & CAT-INGV