Publié le par Bernard Duyck
Geologists from the Geologische Dienst Nederland (GDN) have discovered in recent studies a new volcano in the subsoil of the North Sea northwest of the island of Texel (Friesian archipelago).
He was baptized Mulciber, "who wields iron", one of the nicknames of Vulcan, the Roman god of fire and volcanoes.
Since 1985, volcanic ash had been discovered during drilling. Until recently attributed to the Zuidwal volcano (see related article), located in the Wadden Sea northeast of Texel and a hundred kilometers away, the new volcano was discovered during an investigation into the rock layers of the Upper Jurassic, under several kilometers of sediment, at 3,000 meters below sea level. These two volcanoes had a brief activity around 150 million years ago.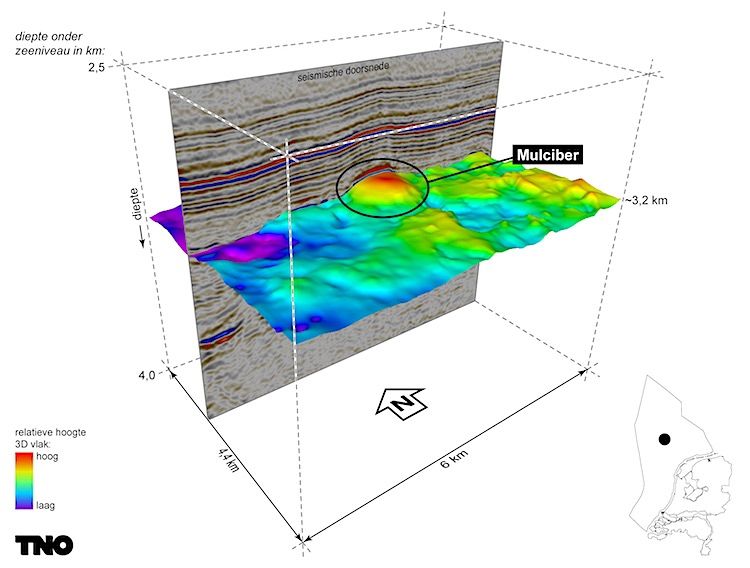 Mulciber Volcano - The top of the basalt layer imaged using 3D seismic, about 3 km deep. The red elevation shows the location of the volcano itself. In the seismic section, we can see that younger overlying rocks are bent over the volcano (Source: TNO)
Striking deviations in the structure of the subsurface and the Earth's magnetic field at the site, together with the presence of basalt, made one think of a new volcanic structure. The 3D images suggest the structure of the volcano.
The strong positive deviation from the normal geomagnetic field is caused by the large concentrations of magnetic minerals, such as iron oxide and magnetite, common in volcanic rocks. It is comparable to that encountered at the Zuidwal volcano.
The volcanism of the place can be explained by the tectonic processes resulting from the disintegration of the Pangea supercontinent, with rifting, with which volcanism is often associated. Jurassic rifting did not continue in the North Sea, but the magma which rose may have created deposits of igneous rocks and volcanism. Then, the upheavals continued in the upper Cretaceous (100 to 66 Ma) with the inversion of the grabens of the south of the North Sea, in probable link with the Alpine orogeny, and the collision between the African and European plates.
Jurassic volcanism in the North Sea - tectonic reconstruction by Douwe van Hinsbergen and Eldert Advokaat from the University of Utrecht, illustrating the context in which the newly discovered and extinct Mulciber volcano and the already known Zuidwal volcano were active some time ago about 150 million years ago. - Doc. Michiel van der Meulen / Viméo
This brings the number of Dutch volcanoes to four: two extinct in the North Sea and two active in the Caribbean, the Mount Scenery in Saba (GVP / https://volcano.si.edu/volcano.cfm?vn=360010) and the Quill in Saint-Eustache (GVP / https://volcano.si.edu/volcano.cfm?vn=360020).
Sources: Thanks to my daughter Frédérique for the info (which makes her win an intra-family challenge 2020)
- Media: 7 of 7; RTL News; ad, nl
- TNO, nl - TNO discovers a volcano 150 million years old in the North Sea.
- Wetenschap.nu - Discovery of a new volcano in the Dutch basement after Geert-Jan Vis
- Global Volcanism Program - Saba and Quill
- The dismemberment of Pangea: from Jurassic to the present day - http://www2.ggl.ulaval.ca/