Publié le par Bernard Duyck
Little to know today ...
Over the past 24 hours, Cenapred has counted 130 exhalations at Popocatépetl, accompanied by volcanic gases and sometimes small amounts of ash. In addition, 172 minutes of tremors and four minor explosions were recorded, two recorded on May 11 at 5:23 p.m. and 11:51 p.m., the others on May 12 at 3:02 a.m. and 6:04 a.m., not observable due to the cloudiness of the area.
During the night, there was no visibility towards the crater due to the weather conditions.
Since the morning, the volcano was observed with a continuous emission of water vapor and gas, however, at the time of this report, due to the cloudy conditions, there is no visibility towards the crater, no emission water vapor, gas and ash will disperse in a northeast direction.
Sources: Cenapred & webcamsdeMexico
In Chile, the Nevados de Chillan complex, after a volcano-tectonic earthquake on May 11 at 8:06 a.m., in connection with rock fracturing, presented some explosions on May 12 at 11:35 a.m., 1:45 p.m. and 2:25 p.m. They were accompanied by plumes of gas and ash at 1,100 meters, 1,600 meters and 1,280 meters above the active crater respectively. The plumes dispersed to the northeast.
The technical alert level remains at Amarilla.
Source: Sernageomin- OVDAS
At Etna, strombolian activity continues at the "cone of the saddle" of the southeast crater, as well as that of Voragine, all more calmly this May 12.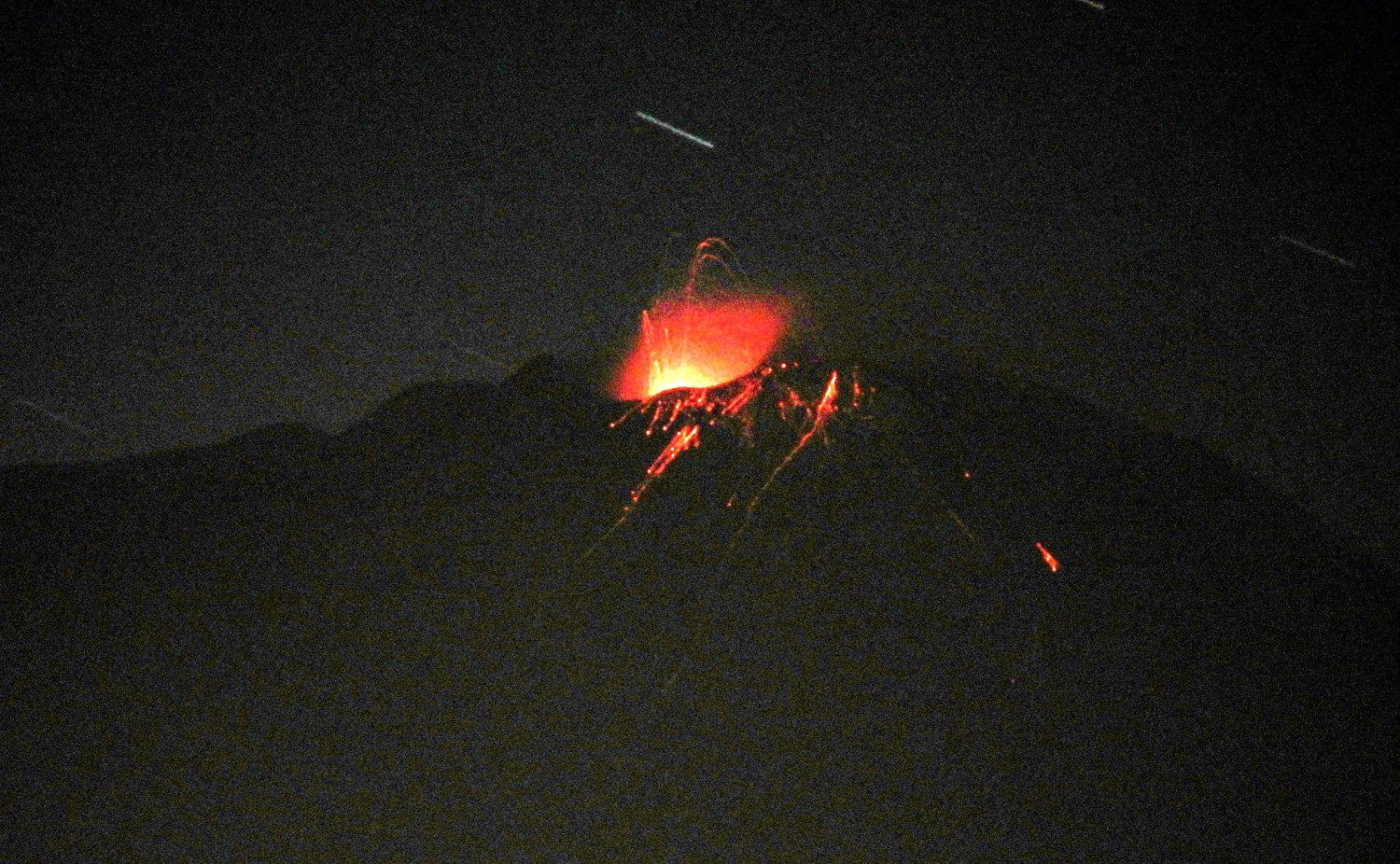 Etna SEC - strombolian activity, during the night of 11 to 12.05.2020, view of Tremestieri Etneo - photo Boris Behncke
An article on INGVvulcani, by Nicola Genzano, Francesco Marchese and Marco Neri, recalls the interest of observation satellites for the study of volcanic activity.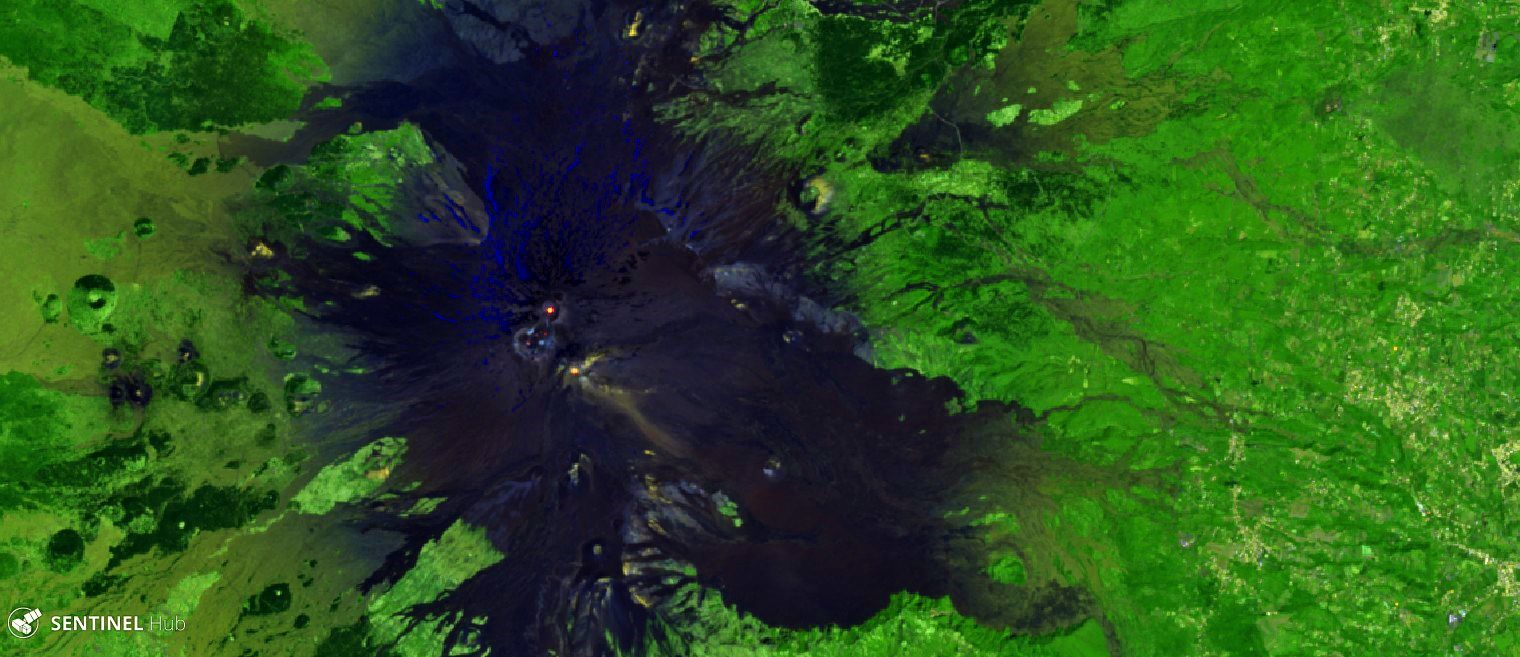 Etna - Thermal anomalies associated with summit volcanic activity - Sentinel-2 L1C image du12.05.2020 bands 12,11,4 - One click to enlarge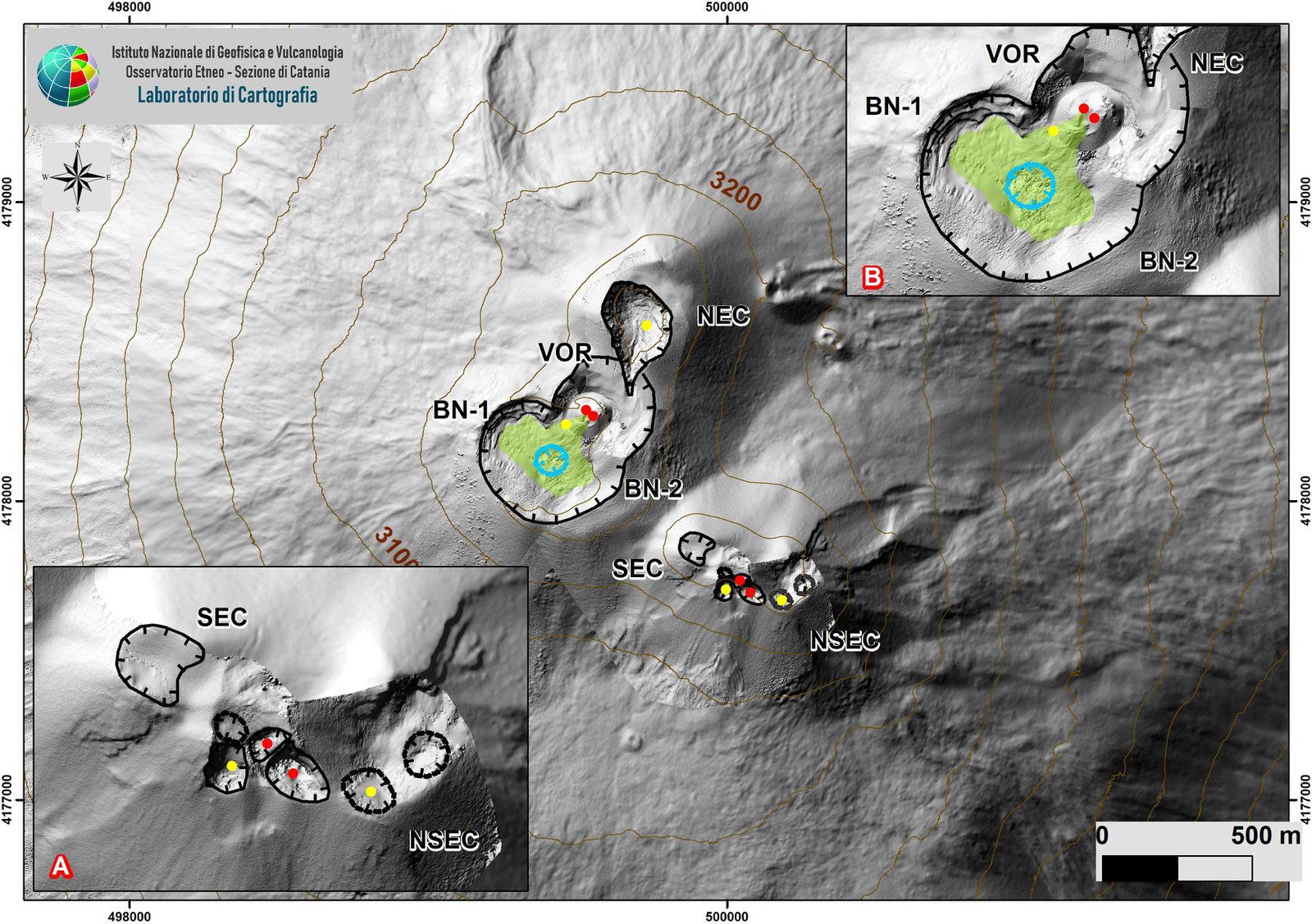 Etna - map of active craters to facilitate identification on the Sentinel image above - Doc. INGV OE / report of 10.05.2020
"... Sentinel 2A / 2B satellites via the MSI (MultiSpectral Instrument) sensor which provides optical band data with high spatial resolution (up to 20 m in infrared bands), play a key role in the study of volcanic activity. At the same time, computer platforms are being developed, capable of guaranteeing simple, systematic and continuous access to these large amounts of data, also allowing cloud computing solutions, ie - say a kind of data processing carried out directly on the Internet, to facilitate the use of these tools in an operational and free manner.
Systems capable of "intercepting" a high availability of data and resources and transforming them into "information" usable by all users represent an added value and a unique opportunity in the context of monitoring volcanic activity, also in support of traditional surveillance systems.
In this context, the NHI (Normalized Hotpsot Index) application has just been proposed, based on an original algorithm recently published in the international magazine Remote Sensing (Marchese et al., 2019). This app takes advantage of the density of archives and the high computing capacities offered by Google Earth Engine to analyze and map volcanic thermal anomalies on a global scale, integrating Sentinel 2 and Landsat 8 satellite data (from the American mission NASA / USGS ), with great precision and reduced processing times. The simple graphical interface also guarantees user-friendly use of the application, which can be used both by experts in the sector and by simple enthusiasts of volcanology.
The NHI application, available online without any authentication at the web address https://nicogenzano.users.earthengine.app/view/nhi-tool, allows you to select from a list of more than 1400 volcanoes assets, the area and the period of interest and the extent of the region to be studied (represented by a circle of variable radius around the main crater) ... "
Sources: Boris Behncke and INGVvulcani.