Publié le par Bernard Duyck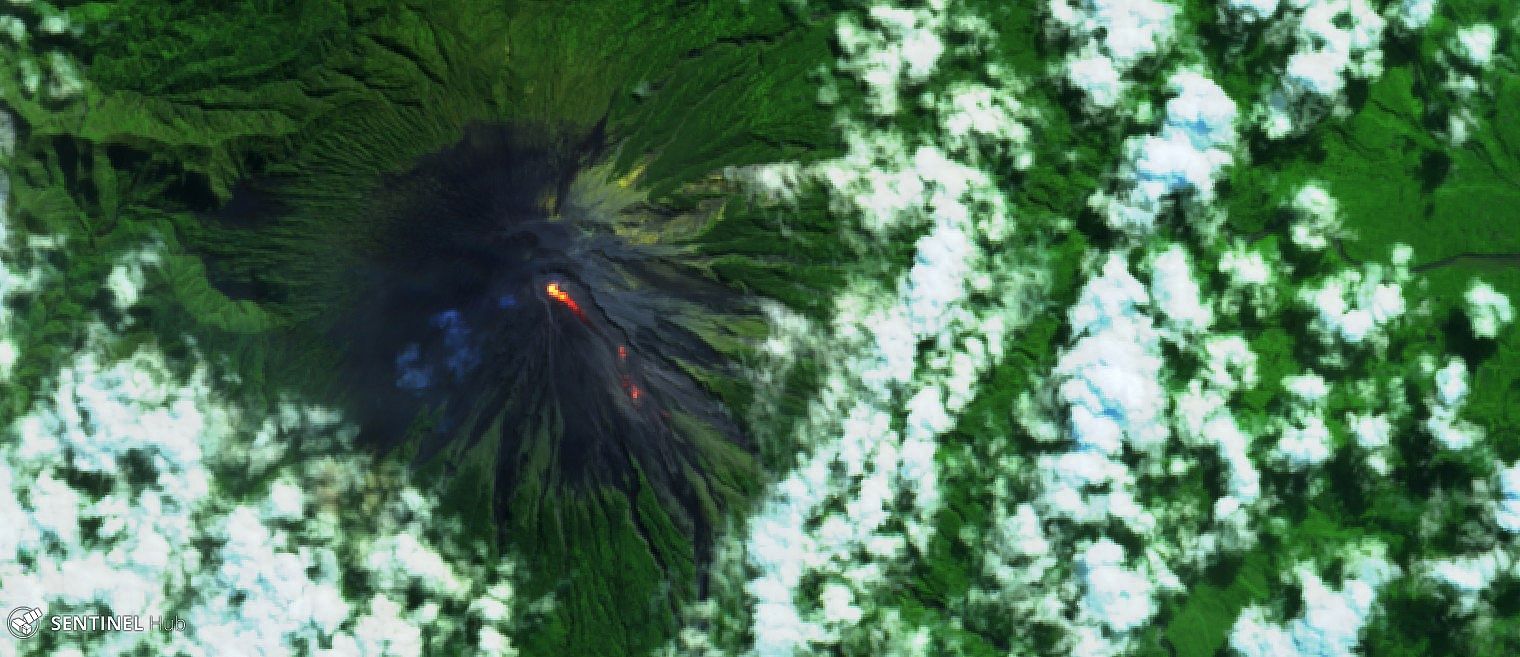 Semeru - hot spot at the top and on the lava flow on 05.15.2020 Sentinel-2 L1C image bands 12,11,4 - one click to enlarge
The Semeru Volcano Observatory issued an orange VONA on May 16, 2020 at 2:49 UTC / 9:49 local time, following an eruption with ash cloud at about 4,000 meters, and perhaps more, due to poor observation conditions ((observer at ground) The ashes move west.
The eruption and the ash cloud are confirmed by the VAAC Darwin, which specifies that the eruption continues, with a notice of ash dispersion this May 16 at flight altitudes 460 moving east and alt. of flight 200, moving to the southwest. For the VAAC Darwin, the aviation code is red. On May 17, the ash plume was reported at flight altitude 140, and a hot spot was evident at the top.
At the seismicity level, the PVMBG reports for May 16:
- 51 eruption earthquakes, with an amplitude of 10-20 mm, and the duration of the earthquake 47-120 seconds.
- 5 earthquakes of collapse, with an amplitude of 3-8 mm and an earthquake duration of 45-85 seconds. The sliding distance and the direction of fall are not observed.
- 22 blast earthquakes, with an amplitude of 2 to 9 mm and an earthquake duration of 40 to 110 seconds.
- An episode of harmonic tremor, with an amplitude of 3 mm and an earthquake duration of 90 seconds.
Sources: Semeru Volcano Observatory / PVMBG, Magma indonesia and VAAC Darwin
At Rincon de La Vieja, the Ovsicori reports a hydrothermal eruption on May 15, 2020 at 11:27 a.m. local, accompanied by a plume of 600 meters (?) Above the crater, and lasting 1 minute.
The cloudiness prevented an accurate estimate of the height of the plume ... observers north of the volcano report a height of 1,000 meters for the vapor and gas plume, and a column of gray sediment 400 meters above the crater.
Source: Ovsicori and local observers.
From 00.45 hours UTC on May 16, 2020, the surveillance cameras revealed an explosive strombolian activity in the New Crater of SE of Etna, with regard to the mouth called the "saddle". This activity quickly intensified, producing a modest cloud of ash that the winds dispersed at high altitude to the north.
From the seismic point of view, there is no significant variation in the recorded signals. The source of the volcanic tremor is located at the new SE crater, at a depth of about 2900 m above sea level.
From 6:45 h UTC, the strombolian activity at the NCSE, reported in the previous press release (n. 48) ceased.
The explosive activity remains at the Voragine crater, although it has decreased in intensity and frequency, according to the location by INGV staff on May 15.
From the seismic point of view, the signals recorded over the past few hours show conditions of substantial stability compared to the table appearing in the previous press release, without any significant variation compared to average levels.
Source: INGVvulcani