Publié le par Bernard Duyck
The J.M.A. raised the alert level of Asama, on the island of Honshu in Japan, to 2 / do not approach the crater, on June 25 at 3 p.m. JST. It is advised not to enter the danger zone in the municipalities of Gunma: Tsumagoi-mura, Nagano: Komoro-shi, Karuizawa-machi, Miyota-machi.
Since June 20, seismic activity on the western flank of the volcano has continued at fluctuating levels. On June 24 and 25, the seismic station recorded 59 and 69 volcano-tectonic earthquakes respectively.
An eruption could occur without warning.
The warning bulletin indicates that the ballistic impacts of volcanic bombs and pyroclastic flows could affect an area about 2 km away from the main crater.
Asama could be involved in the famine that marked Europe between 1108 and 1113, according to a recent study on the sulphate deposits of the last millennium in the ice cores of Greenland.
Long considered the product of the 1104 CE Hekla (Iceland) eruption, this event can now be associated with significant deposits observed in Antarctica according to a chronology revised in the same way.
Several closely spaced volcanic eruptions occurred between 1108 and 1110 CE. The sources of these eruptions remain unknown, but the study suggests that Mount Asama, the largest eruption of the Holocene occurred in August 1108 CE (Global Volcanism Program / Asama - eruption of 29.08.1108 at October 1108 - VEI 5 ​​confirmed), and is credibly documented by a contemporary Japanese observer, as a plausible contributor to the high concentration of sulfate in Greenland.
The dendroclimatological data and the historical documentation also attest to serious climatic anomalies following the proposed eruptions, which provided the environmental conditions prior to the subsistence crises experienced in Western Europe between 1109 and 1111 CE.
Sources:
- Global Volcanism Program - Asama - eruptive history - link
- Nature - Scientific reports - Guillet, S., Corona, C., Ludlow, F. et al. Climatic and societal impacts of a "forgotten" cluster of volcanic eruptions in 1108-1110 CE. Sci Rep 10, 6715 (2020). - link
- Surveillance cameras - thanks to Yukio Hayakawa
Onioshi camera, Japan Meteorological Agency
Kurogayama Camera, Nagano Prefecture Saku Construction Office
Osasa Camera, Maechan Net
Dodaira Camera, Tokigawa City, Saitama Prefecture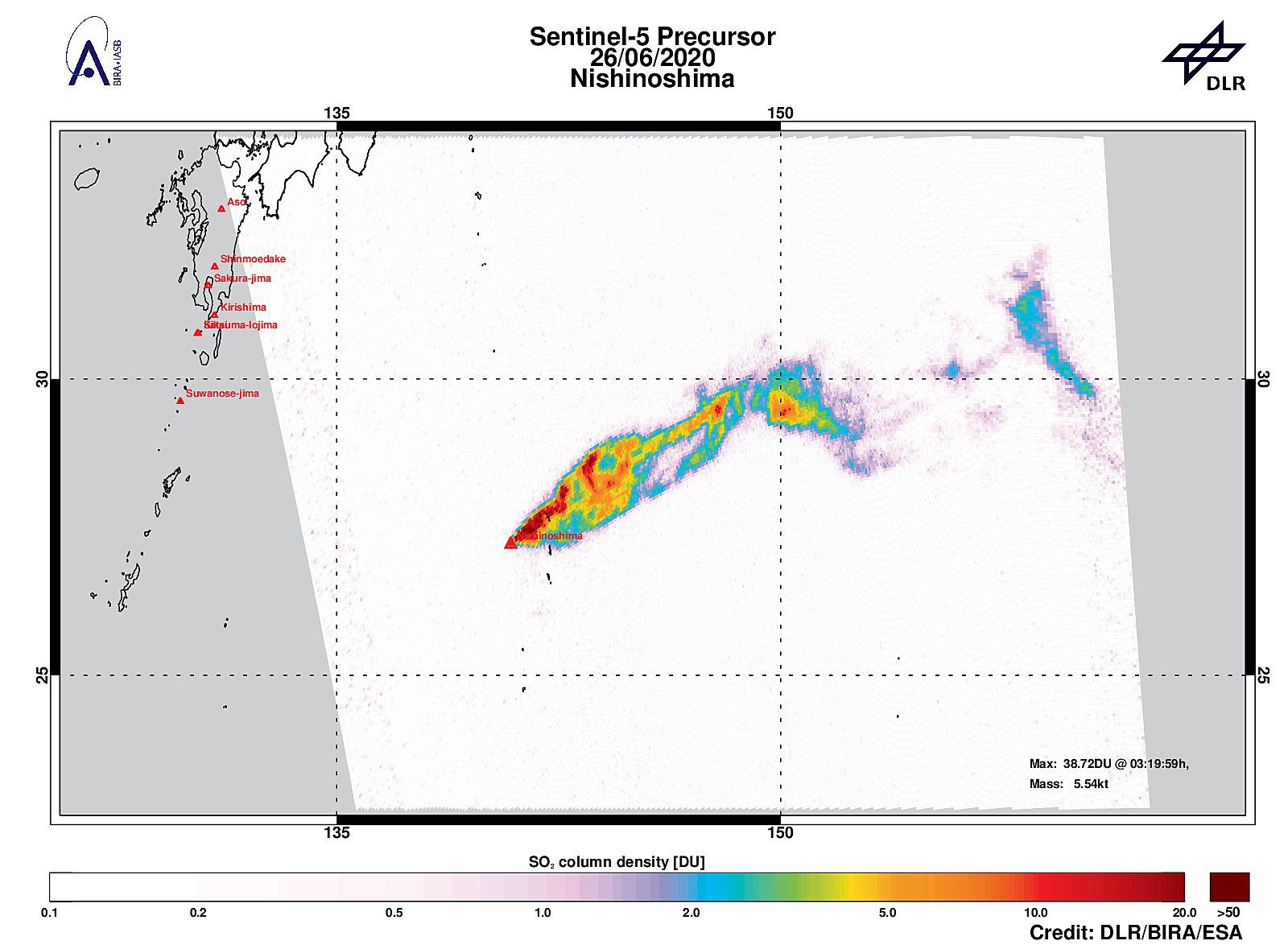 Nishinoshima - 06.26.2020 - strong SO2 signal (38.72DU of SO2 at an altitude of 7.17km. - Doc. Sentinel-5P Tropomi / DLR / BIRA / ESA
The VAAC Tokyo reports this June 26 at 12h Z that ash emissions continue in Nishinoshima. Confirmed at an eastward flight altitude of 100 / Himawari-8 satellite data.
A strong sulfur dioxide signal was detected on June 26 from 38.72 DU of SO2 at an altitude of 7.1 km northeast, via Sentinel- 5P / Tropomi.
Sources: VAAC Tokyo and Sentinel-5P / Tropomi
A moderate eruptive activity continues at the Ebeko, in the Kurils.
According to observations by volcanologists at Severo-Kurilsk, the explosions were accompanied by ash plumes at 2,200 meters asl. on June 25, 2,500 meters asl. on June 26 and more than 1,900 meters asl. on June 27.
The aviation color code remains orange.
Source: KVERT
The seismic swarm in the Tjörnes fracture zone, north-east of Siglufjörður, is still in progress.
During the night of June 27 at 4:52 p.m., an earthquake of magnitude 4.0 was measured at approximately 35 km NNE from Siglufjörður, this morning at 6:02 a.m., another of magnitude 3.2 was measured at approximately 20 km northeast of Siglufjörður.
Yesterday, June 26, the automatic system measured more than 700 earthquakes in the region, an earthquake> 3.0 was detected yesterday at a magnitude of 3.2 at 1:55 p.m. about thirty kilometers northeast from Siglufjörður.
Since the crisis began on June 19, the National Meteorological Office's earthquake system has located about 7,000 earthquakes. Three earthquakes of more than 5 were detected in the hryvnia, the largest on Sunday evening at 7:07 pm magnitude 5.8 at 30 km from Siglufjörður. Other earthquakes larger than 5 were 5.6 and 5.4 and were located more than 20 km NE from Siglufjörður.
Many smaller earthquakes are still measured in the region, and larger earthquakes are likely to occur.
Source: IMO - Scientist on duty on 27.06.2020 / 6:17 am