Publié le par Bernard Duyck
Strombolian activity continues to be observed this June 7, 2020 at the Mackenney crater of the Pacaya, with incandescent materials projected at approx. height from 25 to 75 meters. INSIVUMEH reported that the lava flow remains active on the northeast slopes of the volcano. It has increased in length, currently around 600 m in length.
In addition, white and blue plumes of gas and vapor are emitted at a height of 50-75 meters. The plumes are dispersed in the north and northeast directions. Seismic stations record tremors associated with the rise of magma and gases on the surface.
Sources: Insivumeh
A moderate explosive-effusive eruption continues at Klyuchevskoy.
A Strombolian activity, also characterized by vapor-gas emissions with a certain ash content, is observed. The lava flow continues to move on the southeast flank of the volcano (the Apakhonchich chute), phreatic bursts sometimes accompany this process. KVERT satellite data showed a plume of vapor-gas extending about 20 km east-northeast of the volcano, and a thermal anomaly above the volcano.
The thermal anomalies reported by Mirova on June 7 and 8 range from 26 (moderate) to 259 MW (high). Note that these anomalies can be masked or attenuated by the clouds. The aviation color code remains orange.
Presented by Pierre Markuse, a superb panel of photos illustrates the activity of the volcano between April 4 and June 6, 2020.
Sources: KVERT, Pierre Markuse & Mirova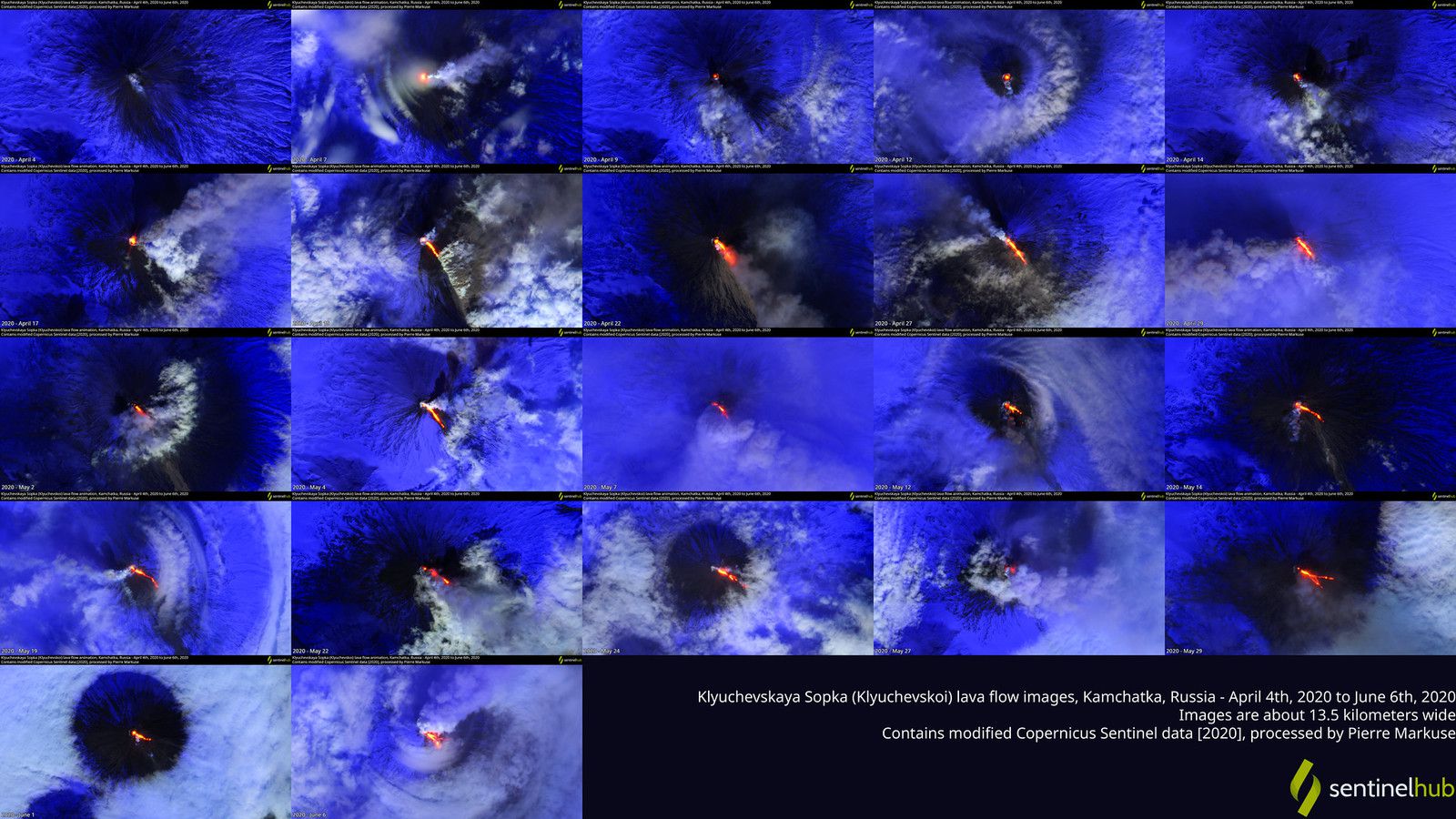 Klyuchevskoy - activity between 04.04.2020 and 06.06.2020 - Doc. P.Markuse, Sentinel Hub / Flickr - one click to enlarge.
The MARN reports a slight degassing at the crater of the San Miguel volcano in El Salvador.
This situation, not commented on, alerted the population. To be continued...
Source: Ministerio de Medio Ambiente Salvador
In Mayotte, the latest assessment of the underwater eruption east of Petite Terre, following the oceanographic campaign (MAYOBS 13–2) which took place on the Gauss ship of the Fugro company from May 4 to 11, 2020 tele-operated by IFREMER, IPGP, BRGM and CNRS, made it possible to acquire seabed surveys and images of the water column over an area of ​​approximately 1,500 km².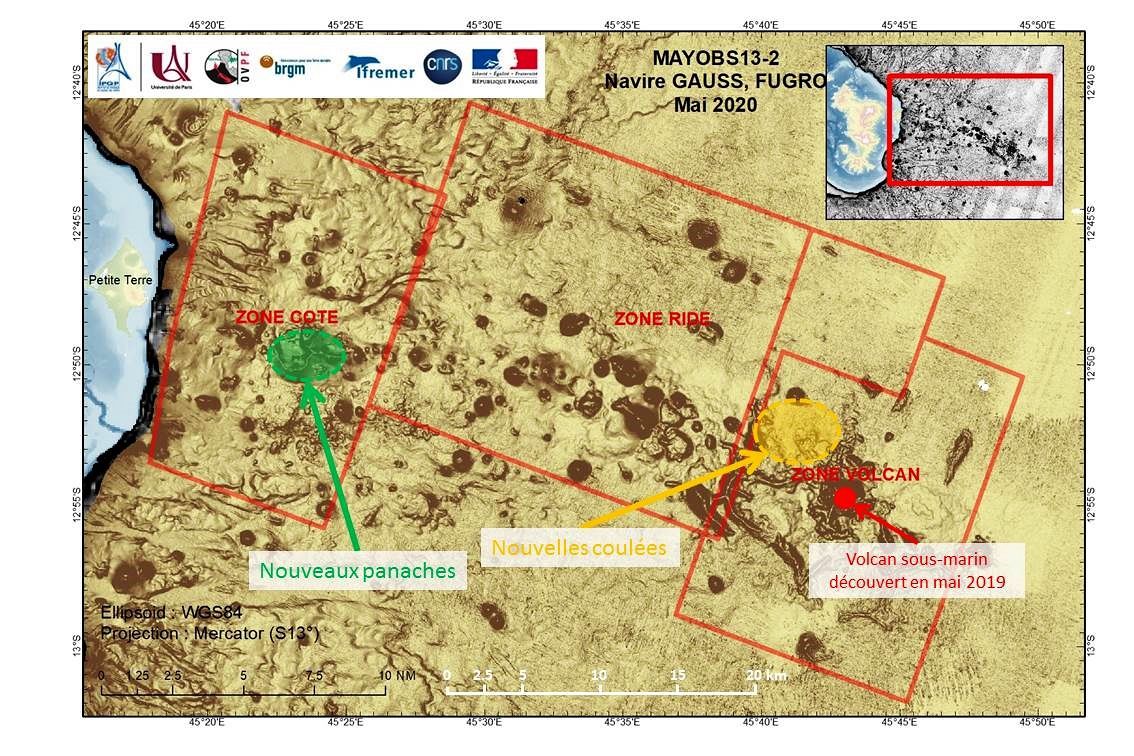 Mayotte - location of the site of the underwater volcano, new lava flows and new plumes - Doc. Mayobs 13-2 / via BRGM
The seabed surveys already allow us to observe that the morphology of the volcano discovered in May 2019 about 50 km east of the Mayotte coast has not shown any major changes since August latest.
The relief of the seabed of this entire area (known as the volcano area) has however been changed over an area of ​​approximately 5 km² to the northwest of the volcano. This development could result from new magma flows, the thickness, extent and volume of which are being evaluated. They sign the persistence of volcanic activity as well as the identification of two new plumes of hot fluids at 1,400 m deep above the earthquake generation zones (seismic swarm).
Sources: BRGM, OVPF, CNRS, Ifremer