Publié le par Bernard Duyck
In Semeru, on Java, the PVMBG provides information for this June 28 :
- 69 eruption earthquakes, with an amplitude of 10-20 mm, and the duration of the earthquake 50-140 seconds.
- 18 breath earthquakes, with an amplitude of 2 to 8 mm and an earthquake duration of 30 to 76 seconds.
A lava flow is visible on the Sentinel-2 images.
The activity level remains at 2 / waspada.
It is recommended that the community does not do activities within a radius of 1 km and the area up to 4 km in the south-south-eastern slope sector of the active crater which is the active area of ​​the crater openings of G Semeru (Jongring Seloko) as a channel for sliding warm clouds.
Sources: PVMBG and Sentinel-2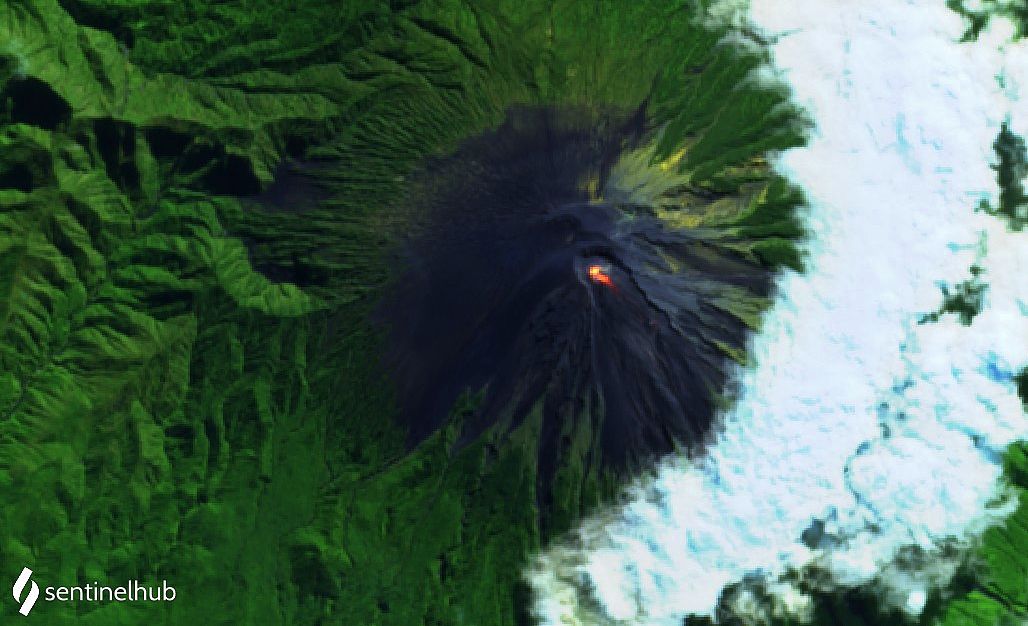 Semeru - Summit incandescence and lava flow - Sentinel-2 L2A bands image 12,11,4 dated 28.06.2020 - one click to enlarge
In Kamchatka, the growth of the Sheveluch dome continues. There is a strong fumarolic activity, sometimes accompanied by a little ash, and an incandescence at the level of the dome and avalanches of blocks formed by the construction-destruction process.
Suspended ashes are found up to 140 km east of the volcano.
The aviation code remains orange, other ash emissions can occur at any time.
Source: KVERT
In Asama, since June 20, 2020, the number of volcanic earthquakes increased, then fluctuated downward
The number of volcanic earthquakes is 59 on June 24, 113 on June 25, 120 on June 26, 80 on June 27, 24 on 28.06 and 2 at 3:00 p.m. today (29 - preliminary value).
Observation by a surveillance camera showed that the white plume remained below 200 m above the edge of the crater, and no particular change was observed.
Volcanic activity is increasing at Mount Asama, according to the JMA and it is possible that a small eruption will occur about 2 km from the summit crater in the future.
About 2 km from the summit crater, keep an eye out for large volcanic boulders and pyroclastic flows which may occur. Please do not enter the danger area in accordance with local government instructions.
Source: JMA
At Piton de La Fournaise, on alert vigilance level, the OVPF is reporting for this June 27, 9 volcano-tectonic earthquakes, the largest of which is M2.01 under the summit cone.
The GPS of the summit area and in the far field record an inflation, witnessing the pressurization of a surface source and a deep source.
SO2 emissions at the top of the volcano are below the detection threshold, and CO2 emissions from the ground show a decreasing trend at all stations.
Waiting for the third eruption of 2020.
Source: OVPF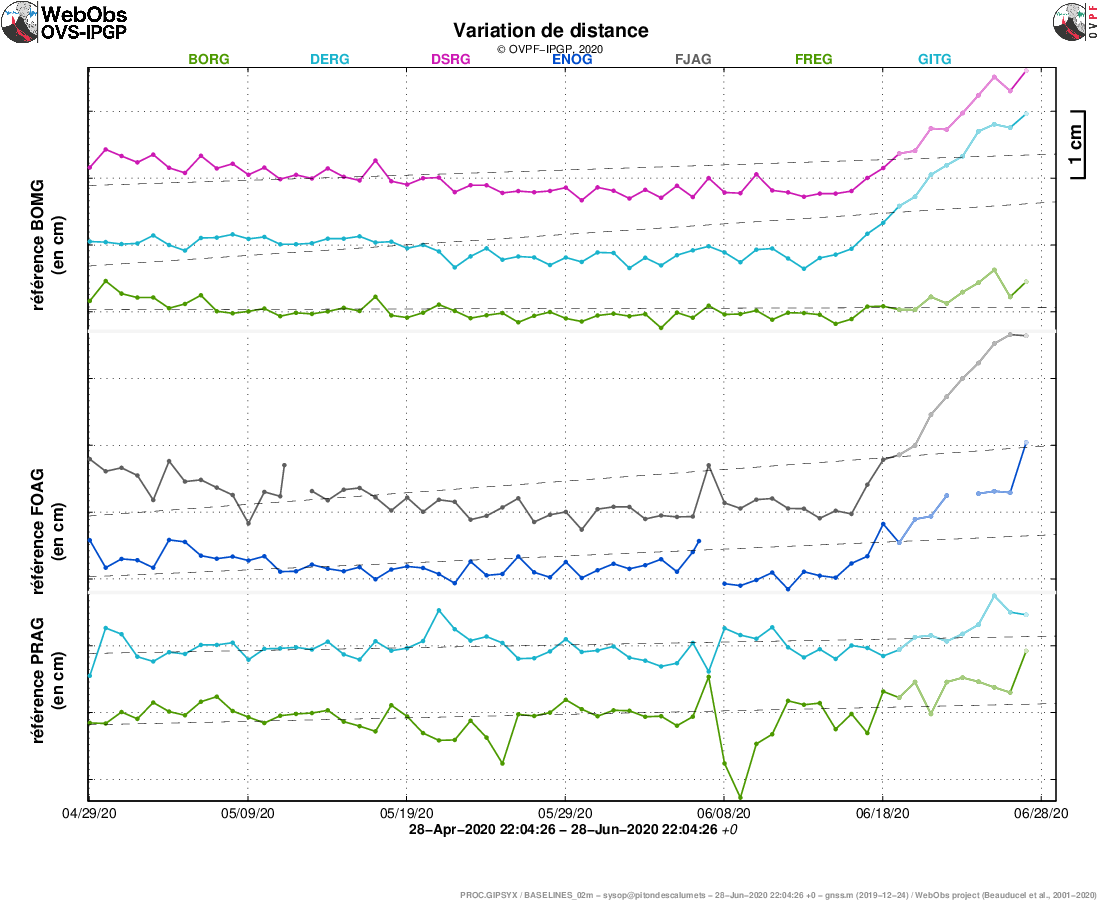 Piton de La Fournaise - Illustration of the deformation over 2 months. Here are shown baselines (variation in distance between two GPS receivers) crossing the Piton de la Fournaise building, at the top (top), at the base of the terminal cone (in the middle) and in the far field (bottom ) (see location on associated maps). An increase is synonymous with elongation and therefore swelling of the volcano; conversely, a decrease is synonymous with contraction and therefore deflation of the volcano. Any periods colored in light pink correspond to eruptions. - Doc. OVPF