Publié le par Bernard Duyck
In Pacaya / Guatemala, three lava flows, longer than 150 meters, are observed from the MacKenney crater; two north and one west.
During the night and in the morning, the Strombolian explosions eject incandescent materials at 25-50 meters in height. In addition, a slight white plume is observed moving towards the southwest
A thermal anomaly, of VRP 167MW (high) is reported by Mirova this June 16 at 5:15 p.m.
Guides and tourists are advised to restrict climbs to the MacKenney and active lava flows, and to remain in alert to avalanches of boulders in areas of steep slopes.
Sources: Insivumeh & Mirova
In Colombia, the Nevado del Ruiz volcano has continued to exhibit behavioral instability in the past week.
The SGC reports an increase in seismicity in relation to rock fracturing, the occurrence of several episodes of the drumbeat type, and an increase in the number of events related to the dynamics of internal fluids and their energy.
Small gas and ash emissions were noted, with dispersion towards the WNW; the plumes have reached max. 1.000 meters above the summit
No noticeable change in surface deformation.
The activity level remains at Amarillo / 3
Source: Servicio Geologico Colombiano - Manizales - 16.06.2020 / 21:35 local
Following an increase in the seismic activity of the underwater volcano Kick 'em Jenny, in the volcanic arc of the Lesser Antilles, observed over a period of seven days in June - a swarm of more than 1,400 volcanic earthquakes of M <1 , 8 -, the National Disaster Management Agency (NaDMA) issued a vigilance notice on June 14, 2020.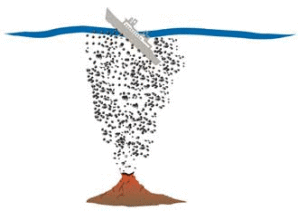 Although the alert level remained at Yellow / 2, with a 1.5 km marine exclusion zone around the submerged summit of the volcano, the corner is to be avoided, even between eruptions: the release of large quantities of gas bubbles from the volcano, without signs of this surface activity, can decrease the density of seawater above the vent, and decrease the lift of the water.
Any navigator is therefore reminded that the 1.5 km exclusion zone must continue to be observed.
As a reminder, in August 1944, the Island Queen, a wooden schooner, disappeared between the islands of Grenada and St Vincent, without leaving any debris.
The volcano is under surveillance by the University of the West Indies Seismic Research Center of the Trinidad and Tobago Campus (UWI SRC) and the NaDMA.
Sources:
- NaDMA and UWI SRC
- Global Volcanism Program - Kick 'em Jenny - link