Publié le par Bernard Duyck
In the Kurils, the Ebeko continues its eruptive activity, with this July 26 a plume of ash emitted at 2,100 meters asl. drifting south-east of the volcano.
The aviation code remains orange, due to continued activity and a possible perturbation of air traffic at Severo-Kurilsk airport.
Source: KVERT
During the last 24 hours, thanks to the monitoring system of the Popocatépetl volcano, 107 exhalations have been identified, accompanied by volcanic gases and sometimes small amounts of ash. In addition, 1095 minutes of tremor were counted, of which 550 minutes of low amplitude and 545 minutes of medium amplitude, accompanied by an emission of steam, gas and light ash, with heights of up to 1500 m in the west-northwest direction.
During the morning, an episode of tremor occurred accompanied by the expulsion of fragments a short distance from the crater and a column of gas and light ash with a height of about 1300 m in the north-west direction. There is no information on ash falls in nearby towns. Additionally, most of the nighttime glow was observed over the crater.
From the morning and during the day, a constant emission of water vapor is observed, to the north-west.
From 9 p.m. on the 26th, a constant emission of gas and ash is observed and the expulsion of incandescent fragments to a short distance from the crater.
The alert remains at Amarilla Fase 2.
Sources: Cenapred, CNPC & webcamsdeMexico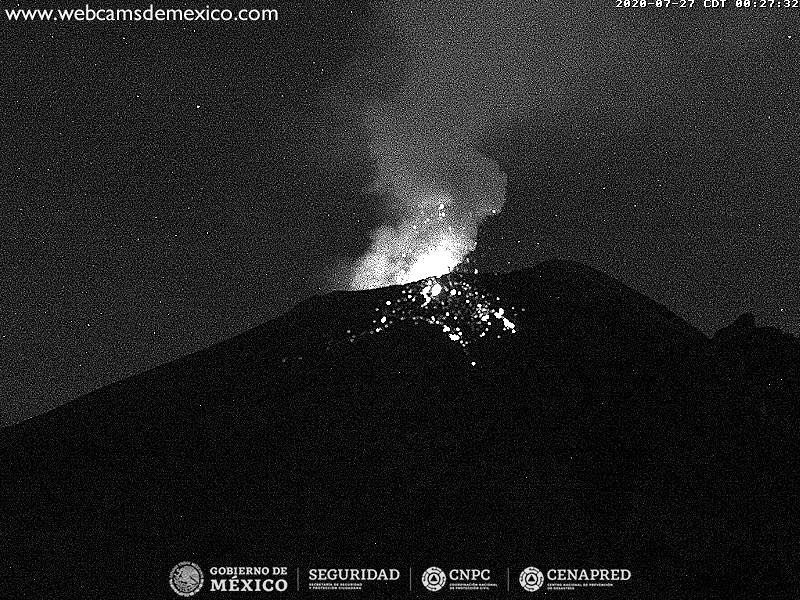 Popocatépetl - tremor increase and activity during a period of dome formation - 07/27/2020 / 00h27 - Doc. webcams from Mexico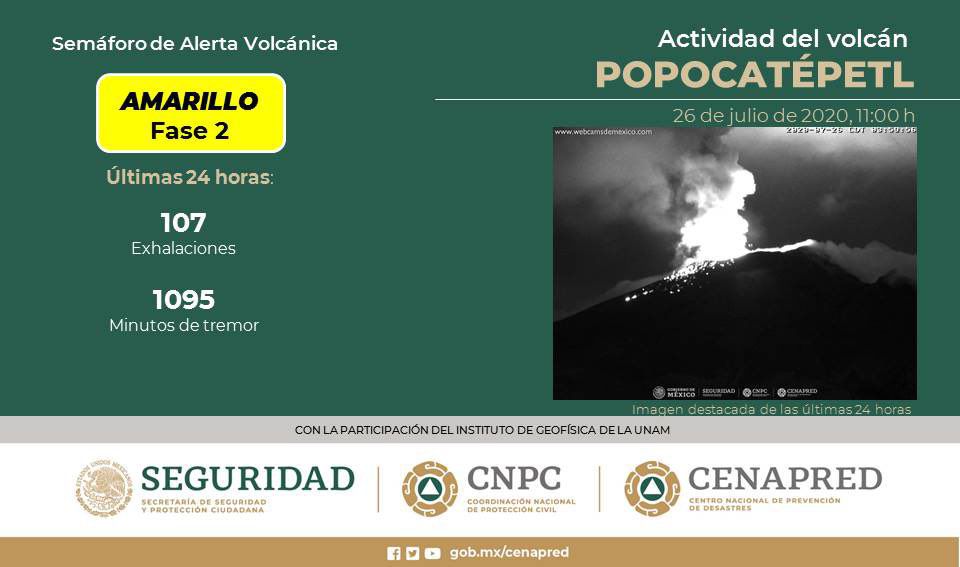 Popocatépetl - table summarizing the activity of the last 24 hours - Doc. Cenapred / CNPC / Seguridad
Activity is maintained on Nishinoshima, with thermal anomalies that remain high, although lower than at the beginning of the month.
An overflight by the Japan Coast guards on July 20, 2020, from 1:30 p.m. to 1:53 p.m., observed a plume of black ash.
The plume is drifting NW, then N on July 27, according to VAAC Tokyo and Nasa Worldview images.
An area of ​​water discoloration extends NE for a few kilometers.
Sources: Japan coast Guards, Mirova, Vaac Tokyo and Sentinel-2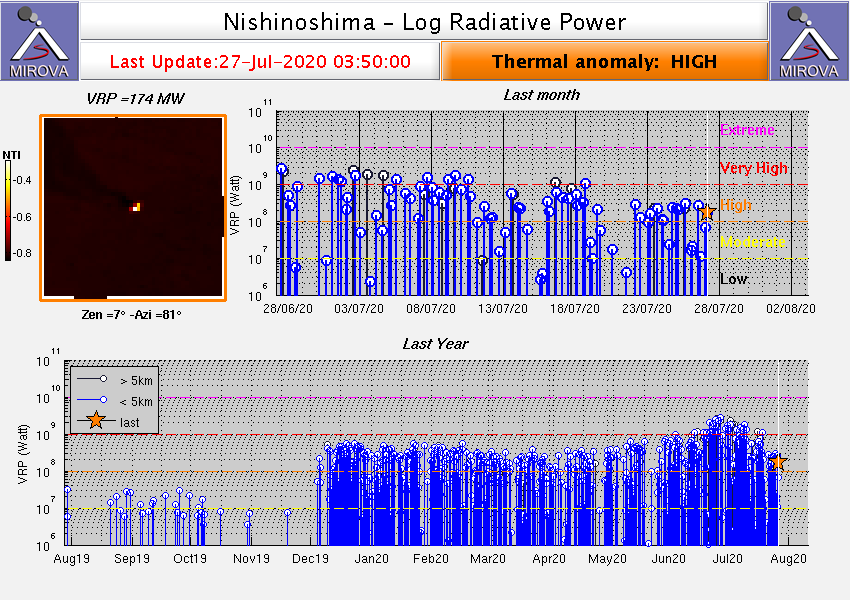 Nishinoshima - thermal anomalies and radiative power at 07/27/2020 / 03h50 - Doc.Mirova _MODIS_logVRP