Publié le par Bernard Duyck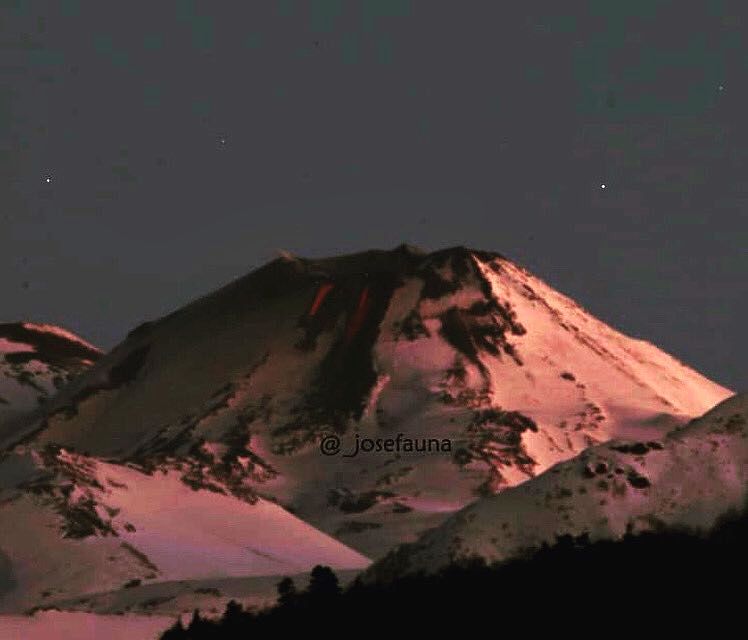 Nevados de Chillan - two lava flows north of the volcanic complex in this photo from the Caracol sector by Josefauna 07/28/2020 / via volcanologia en Chile.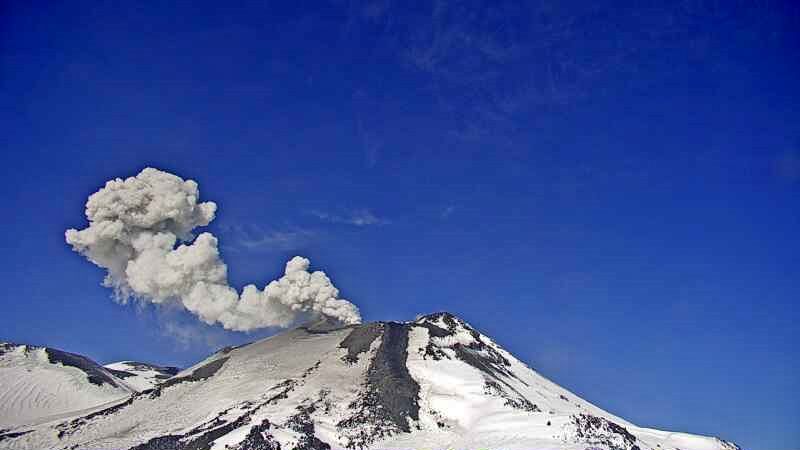 Nevados de Chillan - lava flows, and gas and vapor emission on 07.29.2020 - webcam Sernageomin Portezuelo
The eruptive process continues at the Nevados de Chillán complex with the probable location of a second lava flow, located east of the first, highlighted by the nocturnal superficial incandescence.
The L5 lava flow, overflowing from the Nicanor crater, has traveled 382 meters from the northern edge and is advancing slowly on this flank.
The alert level remains Amarillo.
Sources: José Faune via Volcanología en Chile and Sernageomin
In Nicaragua, the Telica presented new explosions on July 29, starting around 5:28 am; they were accompanied by emissions of ash and gas, about thirty meters above the crater, blown by the northward winds, without affecting the population.
Source: local media showing the indications of webcams and the Nicaraguan Institute of Territorial Studies.
At Popocatépetl, the scientific committee (Unam, CNPC & Cenapred) met on July 29, and determined that there were no elements confirming the installation of a new dome.
The alert level therefore remains at Amarillo Fase 2.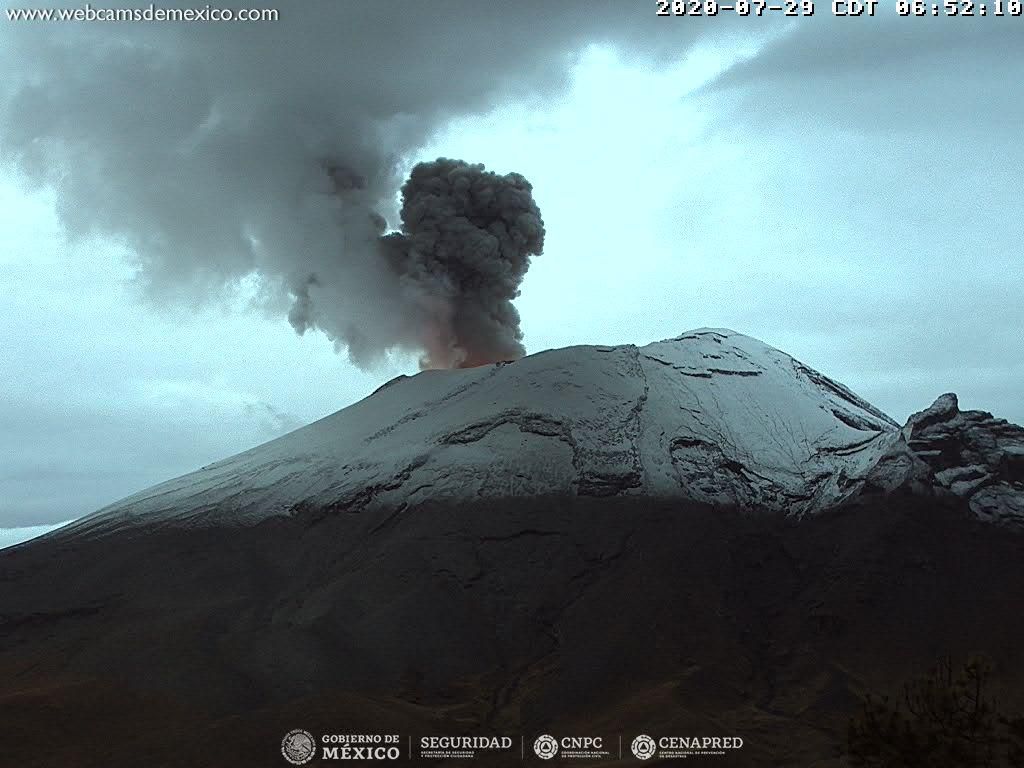 Popocatépetl - 07.29.2020 / 06h52 - slight incandescence at the base of the ash plume - WebcamsdeMexico
Over the past 24 hours, the Popocatépetl volcano monitoring system has identified 16 exhalations accompanied by volcanic gases and sometimes small amounts of ash. In addition, 1,097 minutes of tremors associated with the emission of water vapor, gas and light ash were recorded, with heights of up to 1,000 m in a north-northwest direction. There were also three minor explosions, the first on 07/28 at 5:57 p.m., the others at 07/29 at 1:20 p.m. and 8:31 p.m.
During the night, an incandescence could be observed above the crater.
In the morning, a constant emission of water vapor, gas and light ash is observed in a northerly direction.
Sources: Scientific Committee and Cenapred
In Papua New Guinea, an activity still marks Kadovar.
A weak thermal anomaly of 2 MW VRP was reported by Mirova on July 27 at 4:05 p.m.
On a Sentinel-2 image from July 28, we can see a few hot spots at the top and a large plume of bluish gas heading north-west.
The VAAC Darwin issued this July 30 an ash advisory moving northwest at flight altitude 50. The aviation code is orange.
Sources: Mirova, Sentinel-2 and Vaac Darwin