Publié le par Bernard Duyck
Insivumeh reports, according to analyzes of Sentinel-2 images, incandescence and Strombolian explosions 25-75 meters above the Mackenney crater of Pacaya on July 28.
During the day, a white plume of gas is observed, dispersing to the west and southwest.
The atmospheric conditions, heavy rains, thunderstorms and heat, do not facilitate a direct observation.
Sources: Insivumeh & Conred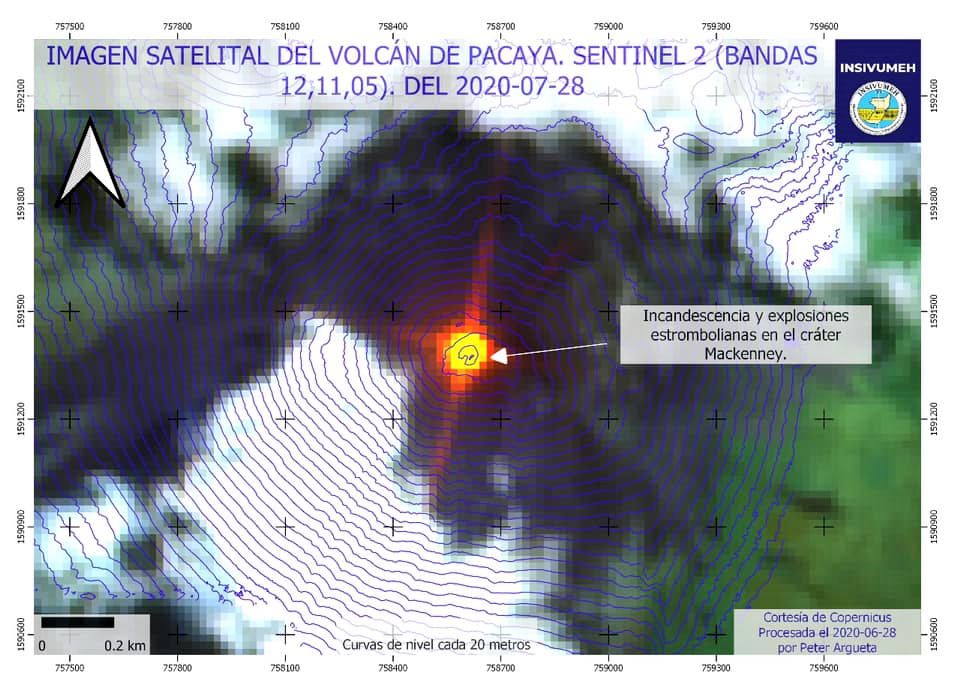 Pacaya - incandescence and strombolian explosions on 07/28/2020 - image Sentinel-2 bands 12,11,5 / Insivumeh
During the last 24 hours, Cenapred reports for Popocatépetl, nine exhalations accompanied by volcanic gases and sometimes small amounts of ash have been identified, a moderate explosion on July 27 at 11:35 a.m. and a minor explosion on July 28 at 5:11 a.m.
In addition, 671 minutes of tremor were counted, of which 578 minutes of low amplitude and 93 minutes of medium amplitude, accompanied by the emission of water vapor, gas and light ash, with heights up to 1200 m in a north-westerly direction.
In addition, the National Center for the Operation of Communication and Civil Protection (CENACOM) reported a slight fall of ash in the municipalities of Tlalmanalco, Ayapango, Temamatla, Ecatepec, Valle de Chalco, Texcoco, Tezoyuca, Tepetlaoxtoc, Naucalpan, Atizapán, Huixquilucan and Nicolás Romero, Tlalnepantla in the State of Mexico and in the town halls of Xochimilco, Iztacalco, Iztapalapa and Gustavo A. Madero in Mexico City.
During the night, intense clouds made it impossible to observe the volcano continuously, however, an incandescence could be observed above the crater
From the morning and at this moment, a constant emission of water vapor, gas and ash is observed with a north direction.
The alert remains at amarillo Fase 2
Sources: Cenapred & webcamsdeMexico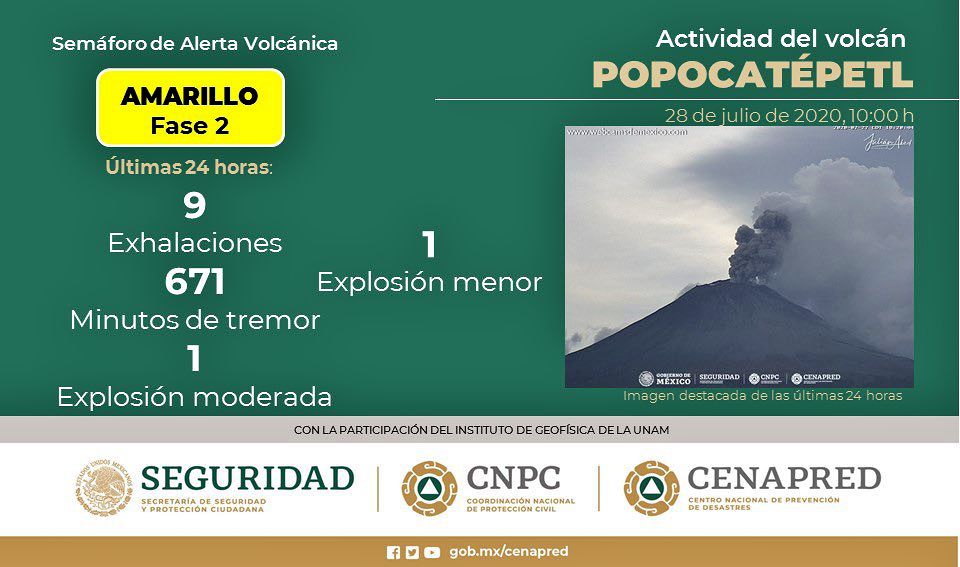 Popocatépetl - summary of the activity of the last 24 hours - Doc. Cenapred / CNPC / Seguridad 28.07.2020
In Kamchatka, a moderate eruptive activity marks the Karymsky, where a thermal anomaly has been observed by satellite since July 27.
Ash forms a cloud drifting between 70 and 83 km towards a southern sector of the volcano.
Ash emissions continue on July 29, justifying an aviation code orange
Sources: KVERT & VAAC Tokyo
In the Moluccas, an eruption occurred in Dukono this July 29, 2020 at 9:57 am local; it was accompanied by an ash plume observed from the ground rising to about 1,729 meters asl., possibly more, drifting towards the west.
Activity is ongoing, and the activity level remains at 2 / waspada, with a 2 km no-go zone around Malupang Warirang crater, and an orange Vona.
Sources: PVMBG, Magma Indonesia and VAAC Darwin