Publié le par Bernard Duyck
The Pacaya is in strombolian type activity which is characterized by constant explosions at the Mackenney crater and lava flows.
These lava flows were not recorded between July 14 and 20, but on the morning of July 20, a new flow was recorded by an increase in the energy released (RSAM) compared to the previous days; it does not come from an eruptive focus in the crater area, but from the north-western base of the cone, in front of Cerro Chino, flowing on the plateau in a south-eastern direction.
The ban for everyone to climb the summit is maintained, due to the possible detachment of blocks from the lava flow, and the fall of ballistic material from the crater.
Source: Insivumeh - special bulletin 07/20/2020 / 2 p.m. local

Pacaya - decrease in RSAM between July 14 and 20 and increase from the morning of the 20th - Doc. Insivumeh
In Raung, on the island of Java, moderate thermal anomalies are still perceived by Mirova between VRP 9 and 41 MW, from July 18 to 21, 2020.
The seismicity of this July 21 from 6 to 12h WIB is characterized by 3 eruption earthquakes with an amplitude of 1-9 mm, lasting 43-630 sec.
The activity level is level 2 / waspada, with a forbidden zone of 2 km in radius.
Sources: Magma Indonesia and Sentinel Hub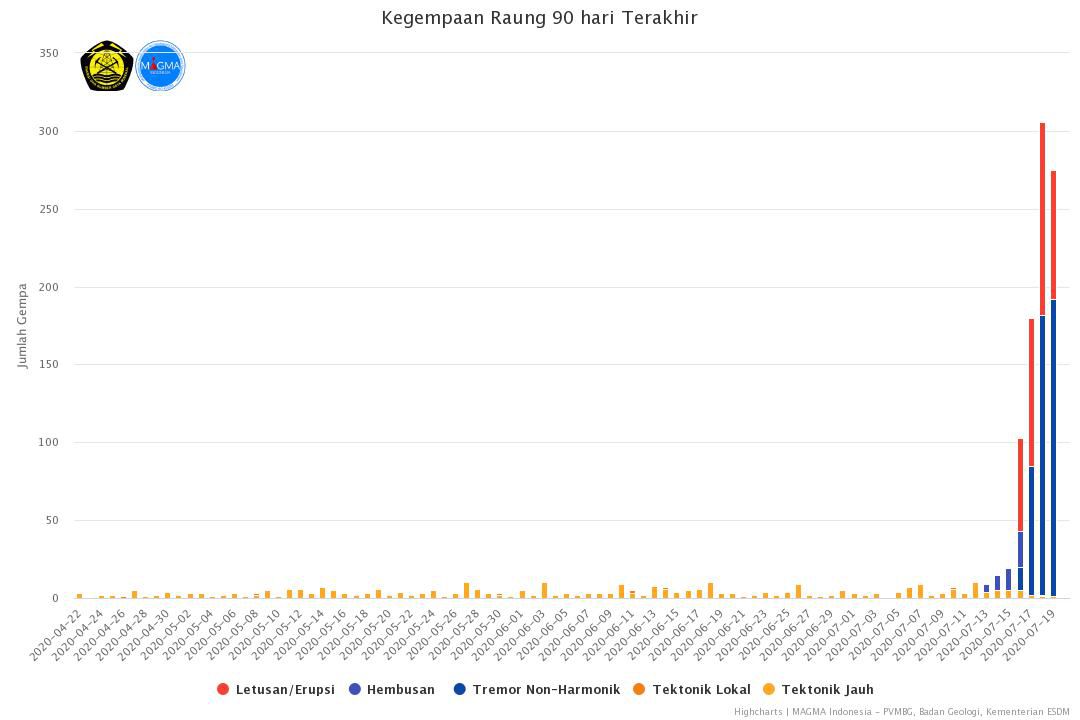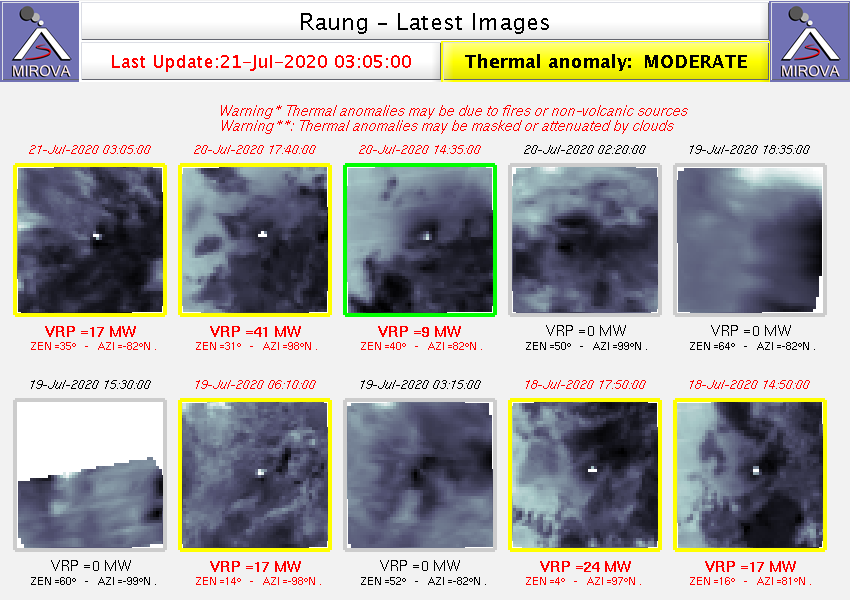 Raung - seismicity at 07/19/2020 / Magma Indonesia and moderate thermal anomalies as at 07/21/2020 / Mirova
The Geophysical Institute of Peru (IGP) reports that the eruptive activity of the Sabancaya volcano remained at moderate levels between July 13 and 19, 2020, with the continuous recording of explosions, on average 15 per day, with columns up to 2.4 km high at the top of the volcano and the consequent emission of ash and gas.
About 446 earthquakes of volcanic origin, associated with the circulation of magmatic fluids (magma, gas, etc.) within the volcano have been recorded.
Slight inflation was recorded in the northern sector (Hualca Hualca volcano) and south-eastern flank of the Sabancaya volcano.
Satellite monitoring has identified the presence of 12 thermal anomalies with values ​​between 2 MW and 12 MW, associated with the presence of a lava body on the surface of the volcano's crater.
The volcanic alert remains in Naranja, with a 12 km radius prohibited zone.
Source: I.G. Peru
In Nishinoshima, the cloud cover does not allow the collection of thermal anomaly data, nor good satellite photos.
Sentinel-5P / Tropomi shows a strong sulfur dioxide signal (46.73 DU of SO2 at an altitude of 5.83 km), with a plume heading towards the SSE on July 21, 2020.
Tropomi data for July 17-19 shows that sulfur dioxide emissions transit approximately 9,000 km across the Pacific to the western United States, where they pass over Oregon on July 18.
Source: Sentinel-5P / Tropomi.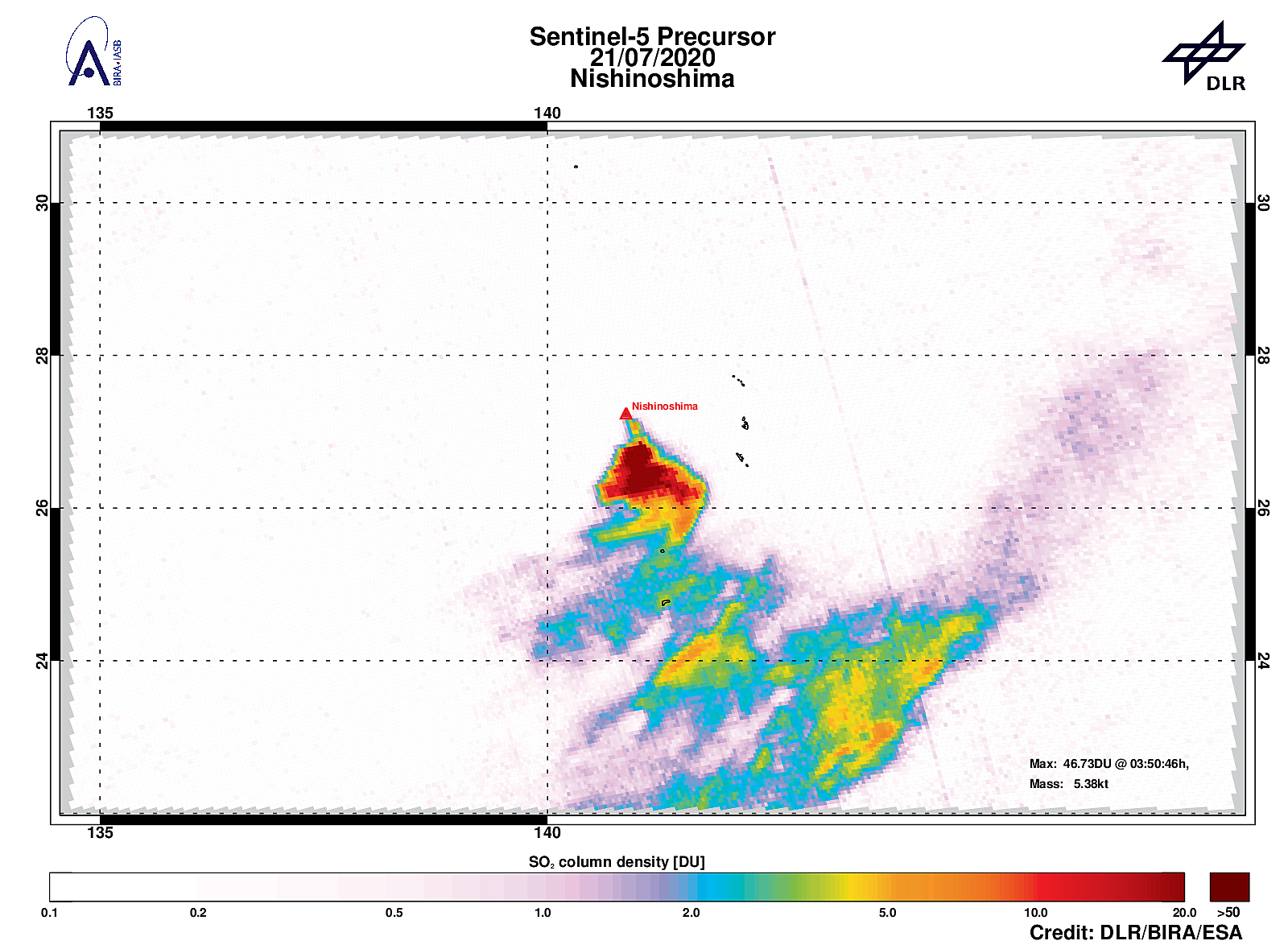 Nishinoshima - strong sulfur dioxide signal nearby the volcano - Doc. Sentinel-5P / Tropomi / DLR / BIRA / ESA