Publié le par Bernard Duyck
The Stromboli surveillance network recorded this July 19) 0300 UTCa major explosion.
The products of the explosion were distributed throughout the crater terrace and on the Sciara del Fuoco.
From the seismic point of view, the phenomenon is characterized by a brief sequence of explosions and an increase in the amplitude of the tremor up to 3:10 UTC
Source: Osservatorio Etneo dell'INGV.
In Ecuador, several ash emissions were observed in Sangay, forming plumes up to 2,000 meters high. above the summit.
VAAC Washington has reported in the past 24 hours 5 ash emissions recorded by satellite at 1,770 meters above the crater, drifting west.
The seismicity of the last 24 hours is characterized by 80 explosions and 15 LP earthquakes. The other parameters are unchanged; the alert level remains at yellow.
Source: IGEPN
The Bulusan monitoring network recorded forty-eight (48) volcanic earthquakes during the observation period of the last 24 hours. Ground deformation data from continuous GPS measurements indicates an inflation cycle followed by deflation of the building from late February 2020, while the long term trend since May 2019 indicates that the building is still deflated. These parameters indicate that volcanic processes are underway under the edifice and may be caused by deep degassing or hydrothermal activity or magmatic intrusion.
The level 1 (abnormal) alert status prevails over the Bulusan volcano, which means that it is currently in an abnormal state. Local communities and the public are reminded that entering the permanent danger zone (PDZ) within a radius of four kilometers is strictly prohibited and that vigilance in the extended danger zone (EDZ) of two kilometers in the sector southeast must be exercised due to the increased possibilities for sudden and dangerous phreatic eruptions.
Source: Phivolcs
In the Ogasawara Islands, Nishinoshima's activity continues. The ash emissions are partly masked by cloud cover.
The thermal anomalies noted by Mirova oscillate between very high and moderate, from VRP 276 to 761MW on 18.07, and from VRP 26 to 1,084 MW on 19.07.2020. The results may be obscured or attenuated by clouds.
Sentinel-5P / Tropomi reports a strong sulfur dioxide signal near Nishinoshima, with 56.99DU of SO2 at an altitude of 12.86km on July 19.
Sources: VAAC Tokyo, Mirova and Tropomi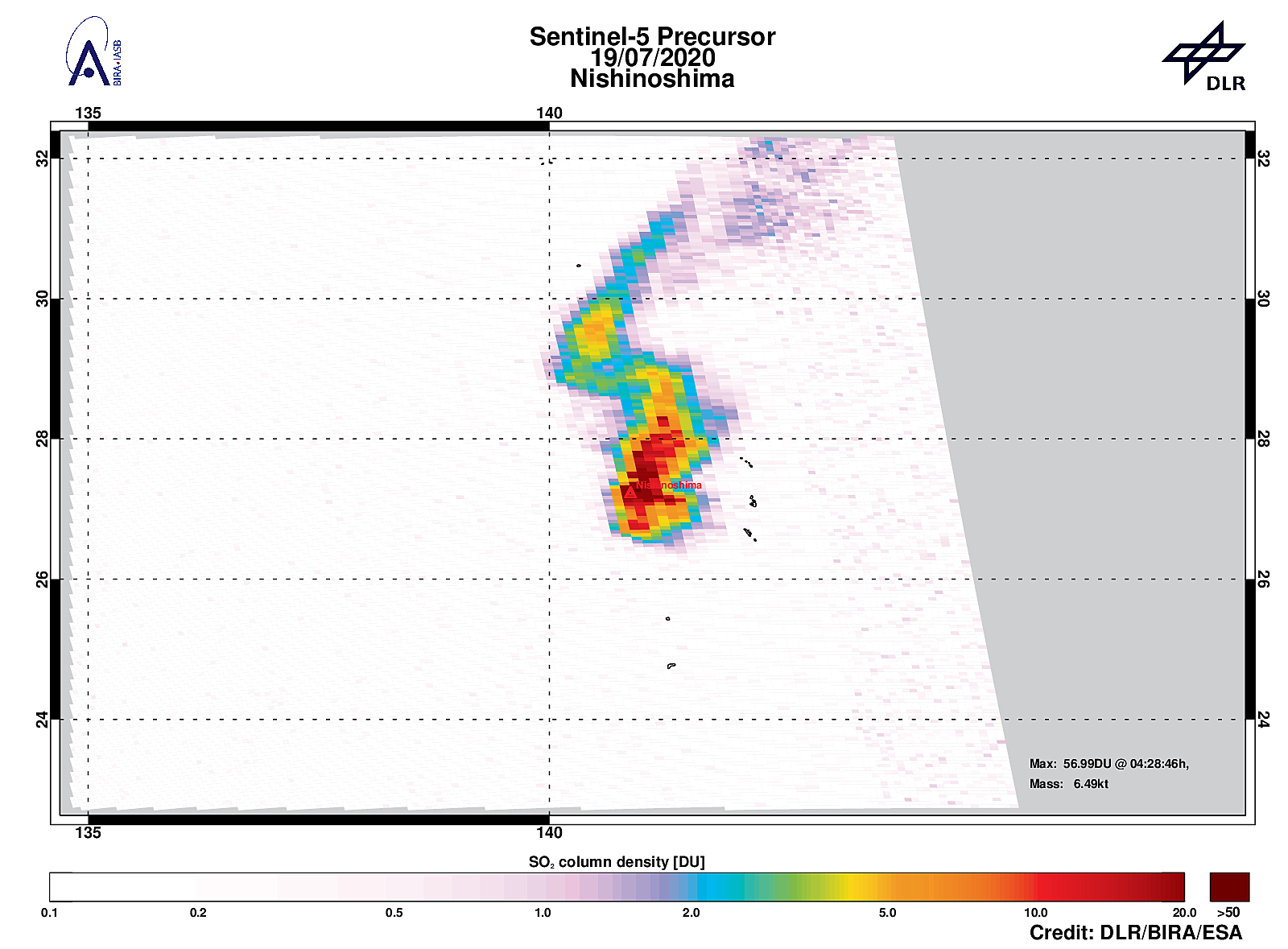 Nishinoshima - 07/19/2020 strong sulfur dioxide signal near Nishinoshima with 56.99DU of SO2 at 12.86 km. Altitude - Doc. Sentinel-5P / Tropomi / DLR / BIRA / ESA