Publié le par Bernard Duyck
At Piton de La Fournaise, the resumption of seismicity and inflation since June 16, as well as the high fluxes of CO2 in the soil (despite a decreasing trend) witnessed a resumption of pressurization of superficial magmatic reservoir and its replenishment by deep magmas since mid-June.
From June 16 an increase in seismic activity was recorded with an average of 5 superficial volcano-tectonic earthquakes per day and a maximum of 11 events on June 24, located in the summit area.
OVPF deformation measurement networks recorded a resumption of inflation (swelling) of the building around June 16. Thus between June 16 and 30 an elongation of about 2.5 cm max. of the summit area and an elongation of about 3.3 cm max. from the base of the terminal cone were recorded. Numerical models of these deformations show the activation of a pressure source around 1.5 km deep under the Dolomieu crater, corresponding to the pressurization of the surface magmatic reservoir.
Source: OVPF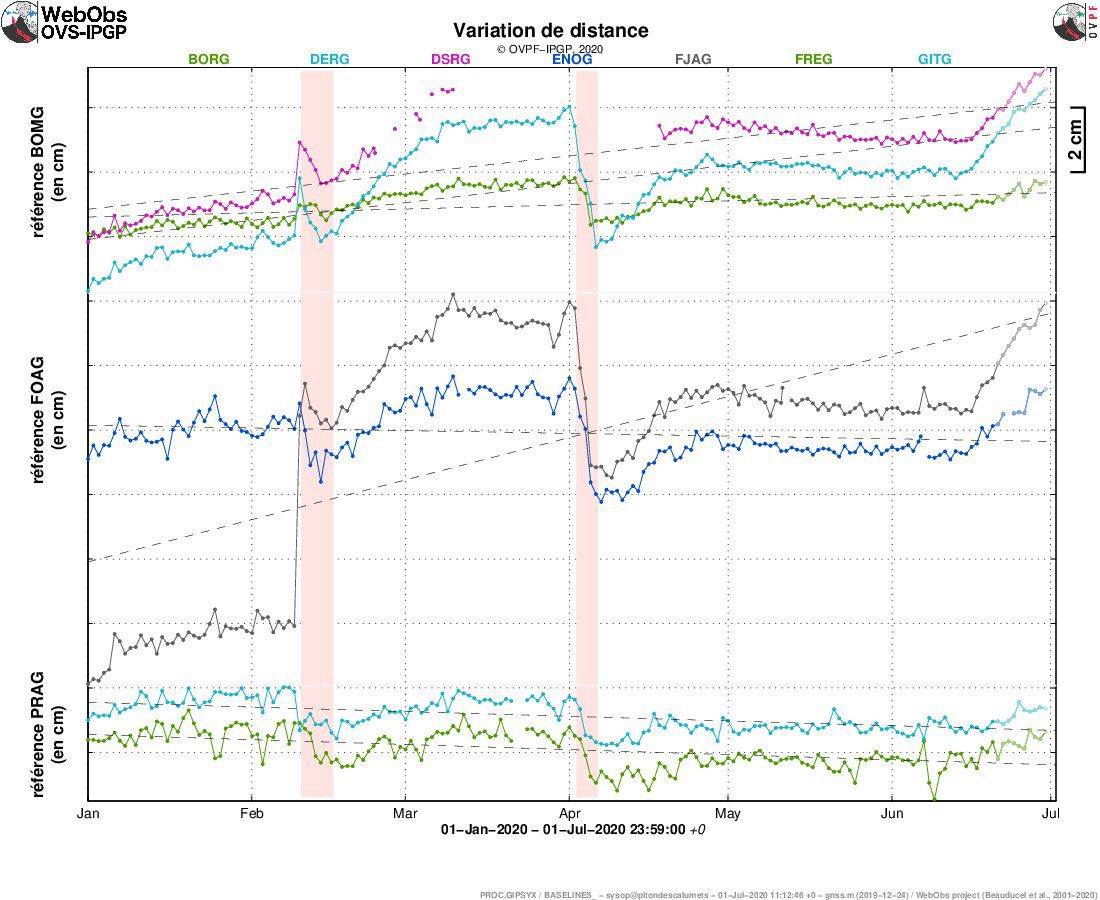 Piton de La Fournaise - Illustration of the deformation over the last six months (the eruptive periods are shown in red). Here are shown the variations in distance between two GPS receivers crossing the Piton de la Fournaise building, at the top (reference BOMG; top), at the base of the terminal cone (reference FJAG; in the middle) and in the far field (reference PRAG; below) (see location in Figure 5). An increase is synonymous with elongation and therefore swelling of the volcano; conversely, a decrease is synonymous with contraction and therefore deflation of the volcano (© OVPFIPGP).
On the evening of July 1, the Copete camera of the El Reventador volcano shows an explosion that produced an eruptive column 1 km above the crater, and the generation of small pyroclastic flows restricted to the volcanic cone. The eruptive plume is heading west, and should not reach the populations of the Inter-Andean Valley.
Night glow is visible in the crater.
The alert level is Naranja. IGEPN reports moderate surface activity and high internal activity.
Source IGEPN
Reventador / Ecuador - 01.07.2020 - Volcano Time-Lapse / IGEPN images
JMA reports an eruption on Suwanosejima, this July 2, 2020 at 8h36 loc., Accompanied by a colorful plume rising 1,000 meters above the Mitake crater, before drifting east.
Source: Japan Meteorological Agency