Publié le par Bernard Duyck
In Papua New Guinea, the Langila presented, on the basis of satellite images, ash plumes between 1 ° and 3 August, which reached an altitude of 2-4 km, drifting north-west and the west.
On August 3, a thermal anomaly was observed.
After August 3, the ash plumes were more diluted, reaching 1.8 km asl and drifting to the northwest.
The last period of activity dates back between April 2, 2016 and October 30, 2018, from VEI 2 (GVP)
Sources: VAAC Darwin, via G.V.P.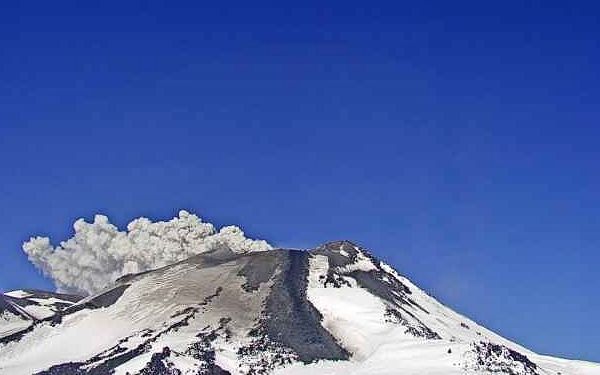 Nevados de Chillan - from top to bottom, and from left to right, the photos of the summit and the lava flows respectively on 29.07, 01.08 and 03.08.2020 - WebcamSernageomin Portezuelo - one click to enlarge
In Chile, the main lava flow of Nevados de Chillan lengthened sharply between July 13 and August 3, according to images captured by the Portezuelo webcam.
Since the beginning of August, the snow on the summit has been soiled by ash.
Source: webcam Sernageomi Portezuelo
Activity remains on Nishinoshima, where VAAC Tokyo reports ash plumes reaching up to 5,800 meters in early August. Their dispersion takes place in multiple directions.
The Sentinel-5P / Tropomi Satellite still reports strong signals of sulfur dioxide around Nishinoshima, with this August 06, 98.45Du of SO2 at an altitude of 6 km.
Sources: VAAC Tokyo and Sentinel-5P Tropomi
In Merapi, on Java, the seismic activity of this August 5 is declined in:
- 3 collapse earthquakes, with an amplitude of 3 to 35 mm and a duration of 10 to 18.4 seconds from the earthquake. The sliding distance and the direction of the fall are not indicated.
- 10 hybrid earthquakes, with an amplitude of 2-11 mm, S-P 0.2-0.41 seconds and an earthquake duration of 5-7.68 seconds.
- 3 shallow volcanic earthquakes, with an amplitude of 35 to 65 mm and an earthquake duration of 9 to 29 seconds.
- 2 distant tectonic earthquakes.
The activity level remains at 2 / waspada, with a forbidden zone of 3km radius around the summit. The main potential danger is linked to pyroclastic flows associated with the collapses of the lava dome and falling materials during explosions.
Sources: Magma Indonesia, BPPTKG and Volcano YT i Frekom