Publié le par Bernard Duyck
In Nishinoshima, the situation seems to have changed!
On July 30, an observation was made of the gray plume emanating from the crater which reached a height of about 3,000 meters, passing through thin clouds in the sky and progressing south from the "Asuka" aircraft. Until now, the rugged black lava has spread over the surface of the island, but on this day it is covered in brown volcanic ash several meters thick. Scoria hill seems to remain in its old configuration.
According to Setsuya Nakata, director of the Volcano Research Promotion Center, who was aboard the head office plane, lava was actively flowing until early July, but "the magma momentum has diminished and the groundwater has diminished. entered the crater, The magma, suddenly cooled, breaks and bursts violently in the form of volcanic ash. "
AIRES analyzed the plumes emitted by the volcano, and noticed differences in spectrum between the Himawari & Modis photos of July 8 and July 30, 2020, suggesting changes and a higher silicate content.
Sources:
- Asahi Shimbun 07.31.2020 / 4:25 p.m. via Hayakawa Yukio / Twitter and Youtube / https://youtu.be/7xSzVm1SY5M
- Aires EO / Twitter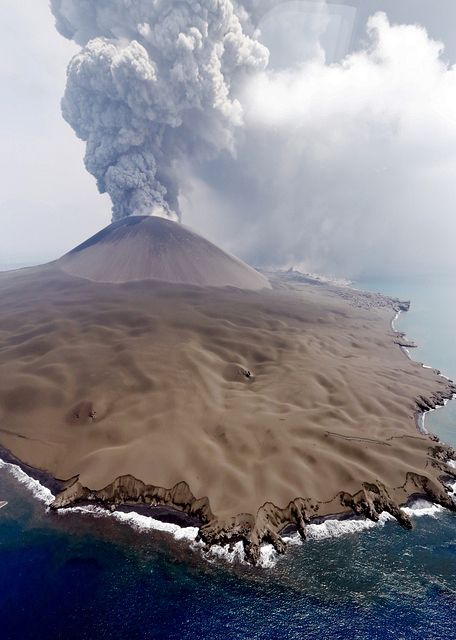 Nishinoshima - the island covered with a thick layer of ash - photo Asahi via HayakawaYukio 07/30/2020
Doc. Asahi Shimbun - flight over Nishinoshima on 07.20.2020 (posted on 07.31.2020)
Nishinoshima - 08/01/2020 - strong SO2 signal near Nishinoshima with 40.04DU of SO2 at an altitude of 5.76km. / Tropomi et volcani ash advisory by the VAAC Tokyo - one click to enlarge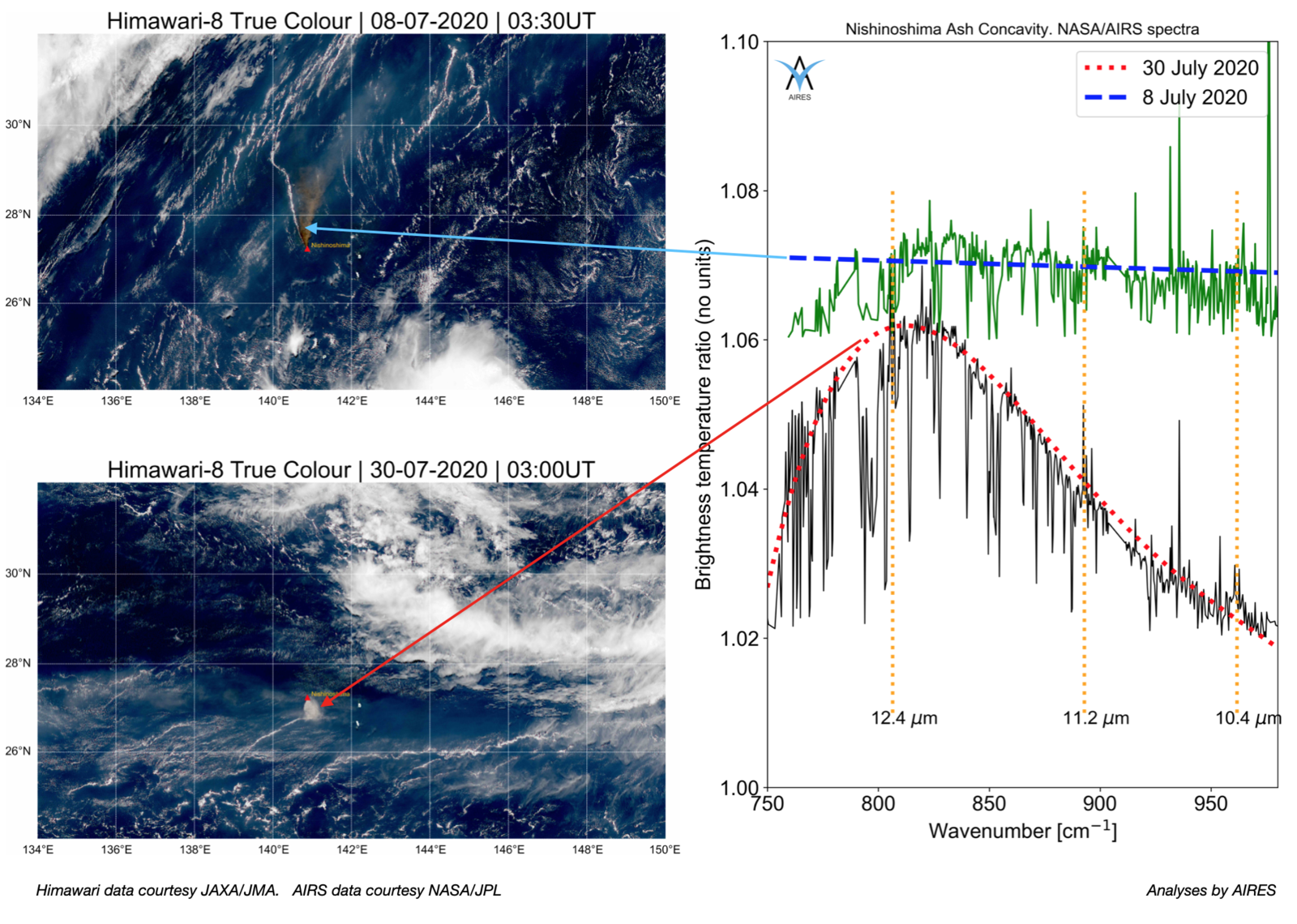 Nishinoshima - Noticeable colour changes in Himawari and MODIS images of the July 2020 plume suggest something is changing. AIRS spectral shape indicates higher silicate content - Doc. AIRES
On July 30 at 6:36 a.m. local time, the SGC recorded a seismic signal related to internal fluid movements of the Nevado del Ruiz, and associated with a small emission of gas and ash at a maximum of 560 meters above the summit of the volcano.
Ashes are reported in Malteria, Palermo and La Enea (sectors of Manizales).
The level of activity remains in Amarillo, as it continues to exhibit instability and further emissions of gas and ash could occur.
Source: Servicio Geologico Columbiano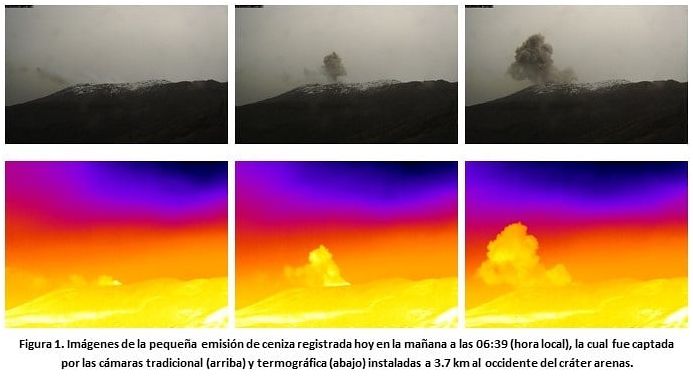 Nevado del Ruiz - emission of gas and ashes do 07/30/2020 / 6:39 a.m. local - SGC taditional and thermal webcam at 3, 7 km west of the Arenas crater.- Doc. SGC
Beginning the weekend of July 4, several campers and US Forest Service (USFS) staff reported occasional strong smells of sulfur at East Lake and Cinder Hill Campgrounds located on the eastern shore of East Lake in the inside the Newberry Caldera.
In response to these reports, USGS staff from the Cascades and California Volcanoes Observatories worked with USFS staff to perform gas measurements over the past week in areas of East Lake with known persistent gas characteristics, as well as in areas where sulfur odors have been reported. Field teams did not find any unusual gas emissions. Field crews also noted that conditions were very dry inside the caldera and lake levels were lower than they have been for many years, exposing several gas vents that are normally covered by lake water.
Combined with the continuous background seismicity levels at Newberry, field observations indicate that the sulfur odors are likely the result of localized and intermittent gas releases and not due to larger changes in the Newberry magmatic system. The most likely explanation for the reported strong sulfur odors is that the current dry conditions and low lake levels in the caldera allow hydrogen sulfide and other gases to reach the surface without first being filtered. by the lake and / or groundwater.
Source: Cascades Volcano Observatory - USGS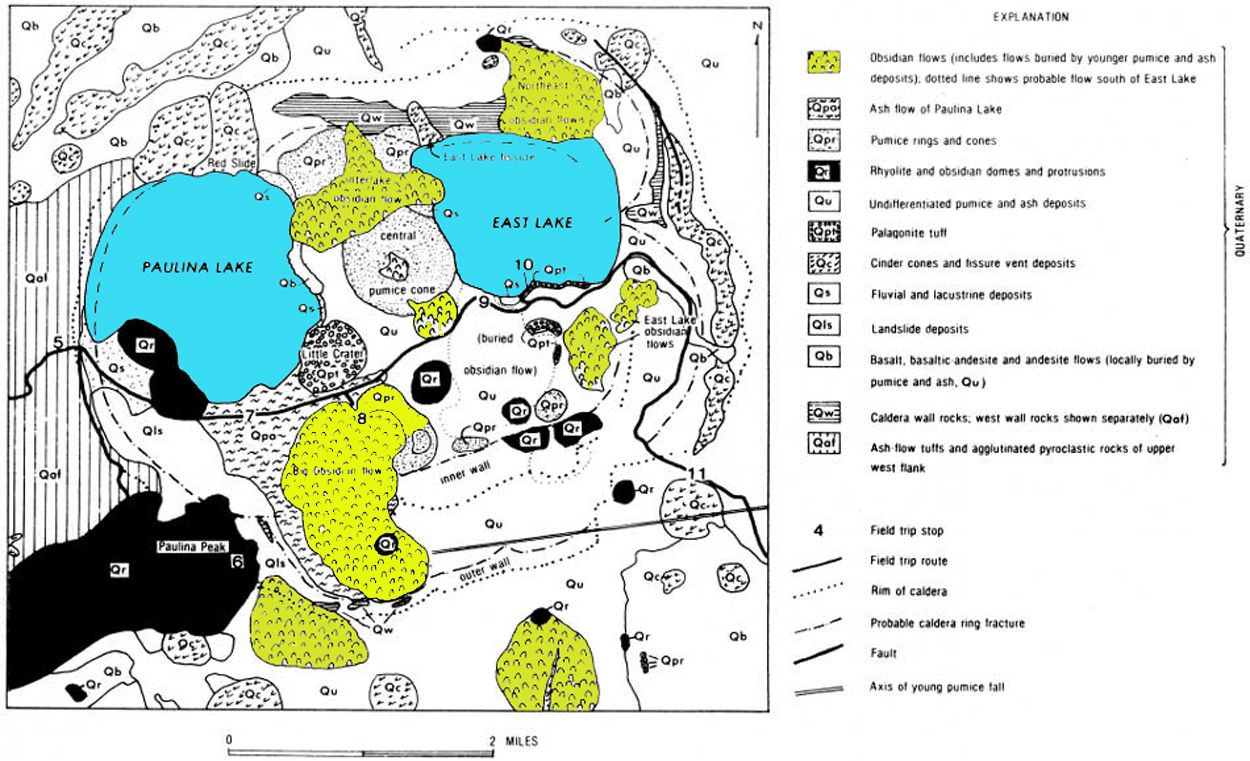 Topography of the Newberry caldera and location of the osidian flows in yellow - Big Obsidian flow is in the center (in bright yellow) - according to doc. USGS.
VAAC Darwin issued an ash scattering advisory for Manam, Papua New Guinea, this August 1, 2020.
The aviation code is red, and the ashes reported at flight altitude 140.
On the last Sentinel-2 satellite photo, we can see a plume of ash and gas, and another hot spot at the top.
Sources: VAAC Darwin & Sentinel-2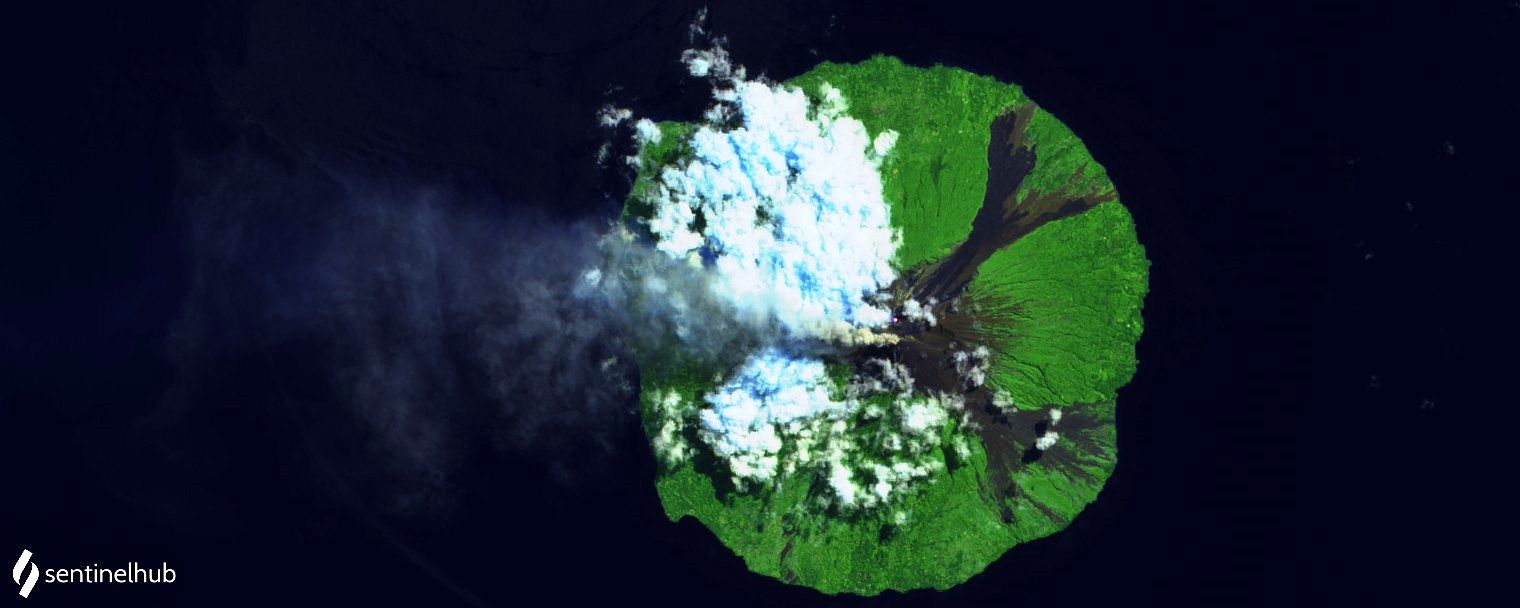 Manam - ash plume and gas & summit hot spot - image Sentinel-2 bands 12,11,4 from 07/29/2020 - one click to enlarge
As a bonus,
A great view of the Segara Anak Caldera from Rinjani in Lombok, Indonesia, today July 31. Satellite image captured by the Sentinel -2 satellite. In the middle of the caldera, you can see a cone named Barujari, which recently erupted in 2016.