Publié le par Bernard Duyck
Following continued emissions on Nishinoshima, ash dispersion advisories and strong sulfur dioxide signals follow one another in recent days.
For this August 4, Sentinel-5P / Tropomi reports 20.88 DU of sulfur dioxide at an altitude of 10 km.
AIRES has analyzed these SO2 emissions over the last 40 days and estimates them between 50 and 100 kilotons per day, or about 2-4% of the annually global anthropogenic SO2 emissions.
Sources: Tropomi and AIRES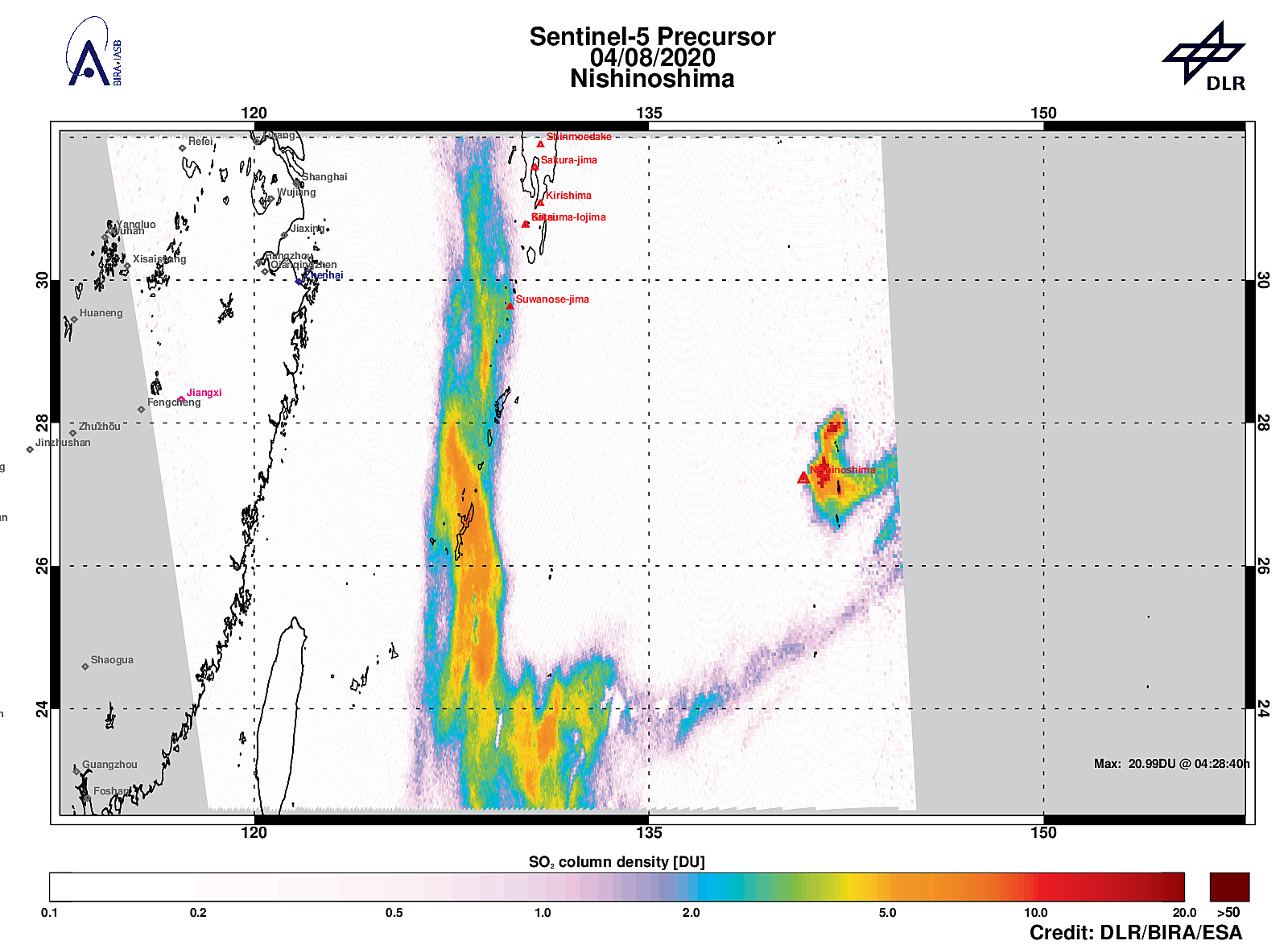 Nishinoshima - strong SO2 signal on 08/04/2020, with 20.99DU of SO2 at an altitude of 10km .; Note, the climb north towards Kyushu - Doc. Sentinel-5P / Tropomi / DLR / BIRA / ESA
Over the past 24 hours, Cenapred has identified 16 exhalations accompanied by volcanic gases and sometimes small amounts of ash at Popocatépetl.
In addition, 1292 minutes of tremor were recorded, generated by a constant emission of volcanic gases and light ash, which disperse towards the northwest.
It was also recorded yesterday at 1:57 p.m., a moderate explosion which, due to weather conditions, could not determine the height of the column.
During the night, there was partial visibility of the volcano, however, an incandescence could be observed above the crater.
The volcanic alert level remains at Amarillo Fase 2; The restrictions remain the same, with the risk of lahars in the event of heavy rains.
Sources: Cenapred and webcams of Mexico
Turrialba's activity, relaunched at the end of July, will continue on August 3, 2020.
Source: Ovsicori webcam
During the week of July 27 to August 2, 2020, I.G. Peru recorded 1,519 earthquakes in Sabancaya, associated with an increase in internal pressure.
An average of 27 explosions per day is reported, accompanied by plumes of gas and ash reaching 2,300 meters in height.
There are 8 thermal anomalies, between VRP 1 and 6 MW.
The alert level is Naranja.
Source: I.G. Peru