Publié le par Bernard Duyck
During the past week, Strombolian activity continued in Pacaya.
The explosions eject materials up to 200 meters above the crater; nocturnal incandescence is reported as well as a constant white-bluish degassing at the Mackenney crater.
Its northwest flank is considered an unstable area; thermal anomalies, cracks and a lava flow reaches a length of 300 meters, accompanied by degassing and small avalanches are observed there.
The fallout is weak to moderate, and affects San Francisco de Sales, el Patrocinio, El Rodeo, localities located within a radius of 4 km.
Source: Insivumeh and Conred
At Santiaguito, the Caliente dome exhibits weak to moderate explosions, some with an ash plume reaching 3,300 to 3,600 meters asl. and dispersing within a 10-12 km radius of the volcanic complex. There is an average of 40 explosions per day, according to Conred.
This activity continuously generates avalanches in the direction of a large southern sector and in its western part. Night incandescence is observed. The possibility of larger pyroclastic flows is mentioned by the observatory.
Source: Insivumeh & Conred.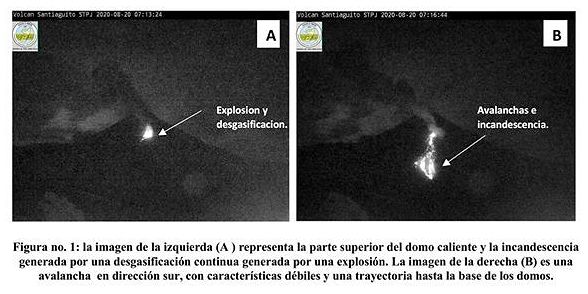 Santiaguito - A: Incandescence and degassing at the Caliente dome - B: Weak avalanche in a southerly direction on the path towards the base of the dome - Photos Insivumeh
At Sinabung, on August 21, 2020, we note two eruptive episodes at 5:17 a.m. WIB and 9:46 p.m. WIB, recorded on the seismogram with a maximum amplitude of 28 to 78 mm and a duration of 821 to 1421 seconds.
In addition, seismicity is characterized by
- 6 blast earthquakes, with an amplitude of 3 to 15 mm and the earthquake lasted 20 to 45 seconds.
- 16 low frequency earthquakes, with an amplitude of 2 to 7 mm, and the duration of the earthquake was 10 to 27 seconds.
- 1 deep volcanic earthquake, with an amplitude of 4 mm, S-P 2.8 seconds and the duration of the earthquake 18 seconds.
- 3 local tectonic earthquakes, with an amplitude of 12-56 mm, S-P 2.2-3.3 seconds and one long earthquake of 22-45 seconds, and 2 distant tectonic earthquakes.
A lahar is reported on August 22 at 11:20 WIB in Kuta Mbaru, carrying liquid mud and tree trunks and stones. - link
The activity level remains at 3 / siaga, with a red aviation code.
Sources: PVMBG, Magma Indonesia, Beidar Sinabung and VAAC Darwin.
In Suwanosejima, activity has been constant for a few days, as relayed by the VAAC Tokyo and the JMA.
The Strombolian eruptions are reported by local observers, including two strong on August 21 at 14:49 and 04:52 ; According to the JMA, a large volcanic bomb landed 600 meters from Mitake crater; the possible fallout area is set at 1 km radius around Mitake, and ash fallout is possible up to 4 km.
On August 22 at 5:06 am, an eruption was accompanied by an ash plume 1,500 meters above the crater, with no dispersion towards the northeast, causing significant fallout on the village of Toshima within an hour.
The alert level is at 2.
Source: JMA & VAAC Tokyo.