Publié le par Bernard Duyck
On August 27, thanks to images from ECU911, strong activity was observed at the Sangay volcano, with ash emissions and pyroclastic flows in the southeastern quebrada.
The wind carries the ash to the southwest, which could generate moderate ash fall in the province of Chimborazo.
This phenomenon has been persistent during the current eruptive period which began in May 2019.
Source: IGEPN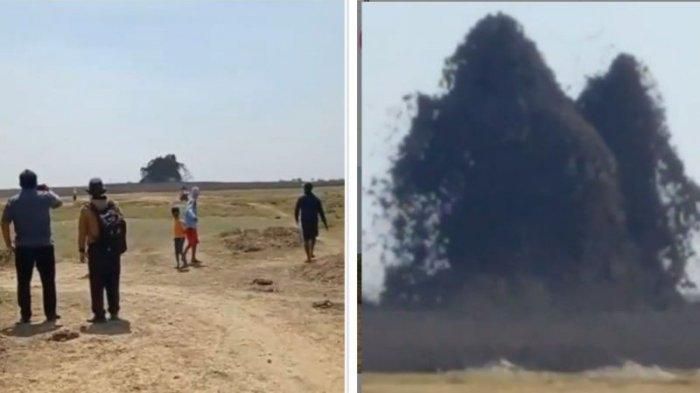 Kawah oro-oro Kesongo in the village of Gabusan - mud eruption on 08/27/2020 / 5:30 a.m. WIB - Doc. jateng.tribunnews.com
The Oro-oro Kesongo crater in the village of Gabusan, Jati district, Blora Regency erupted this morning., This August 27 at 5:30 WIB.
When the mud eruption occurred, four residents were raising cattle around the area. They were poisoned by the gas spray during the eruption, according to the village chief of Gabusan, Parsidi, contacted by detik.com.
Up to 19 buffaloes belonging to 4 people were lost in the mud while drinking water in the swamp around the scene of the incident.
Parsidi said that the Kesongo Oro-oro region is a unique natural phenomenon. The area almost looks like Bleduk Kuwu in Grobogan Regency.
Sources: local media
RAWA KESONGO BLORA MELETUS SEMBURKAN LUMPUR PANAS - Doc. sb
The season is good in Indonesia and allows beautiful satellite images.
Anak Krakatau is calm in August: a few micro-tremor episodes are reported, but the seismicity diagram remains "flat".
At Semeru, the seismicity of August 27, 2020 / 00-24h is characterized by
- 29 eruption earthquakes, with an amplitude of 10-20 mm, and the duration of the earthquake 55-218 seconds.
- 9 blast earthquakes, with an amplitude of 2 to 8 mm and the earthquake lasted 40 to 141 seconds.
- Two distant tectonic earthquakes with an amplitude of 3-9 mm, S-P 13-20 seconds and a long earthquake of 40-45 seconds.
The activity level is at 2 / waspada, with a remaining orange VONA.
The community must not carry out activities within a radius of 1 km and in an area of ​​up to 4 km in the sector of the south-southeast slope of the active crater which is the area of ​​the active opening of the crater of the Mount Semeru (Jongring Seloko) as a pyroclastic flow.
Source: PVMBG & Magma Indonesia