Publié le par Bernard Duyck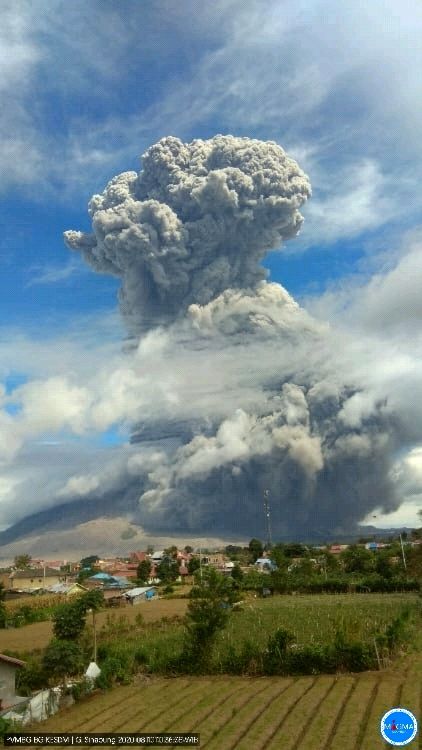 Sinabung - eruptive episode and pyroclastic flows of 08/10/2020 / 10:16 a.m. - photo PVMBG & Magma Indonesia
The activity of Gunung Sinabung seems to have regained its past eruptive mode, with this August 10, 2020 at 10:16 WIB a plume of ash and gas with a height of ± 5000 m above the summit (± 7460 m above the level from the sea).
A new eruptive episode occurred at 11:17 local time.
In terms of seismicity, we notice an increase in the number of deep volcanic earthquakes:
- on August 9, 39 deep volcanic earthquakes, with an amplitude of 2 to 70 mm, S-P 1.1 to 4 seconds and an earthquake duration of 9 to 23 seconds.
- This August 10, between 00h and 12h, 47 deep volcanic earthquakes - with an amplitude of 2 to 30 mm, SP 1.5 to 4 seconds and duration of the earthquakes from 9 to 21 seconds between 00 and 6 a.m., then with an amplitude of 2-120 mm, SP 1.4-4 seconds and the duration of the earthquakes of 9-23 seconds, between 6 and 12h.
Between 6 a.m. and 12 p.m., there are 2 eruption earthquakes, with an amplitude of 120 mm, and a duration of 1785-2246 seconds.
Currently, Mount Sinabung is at level III / Siaga
Source: Dr. Devy Kamil Syahbana and Magma Indonesia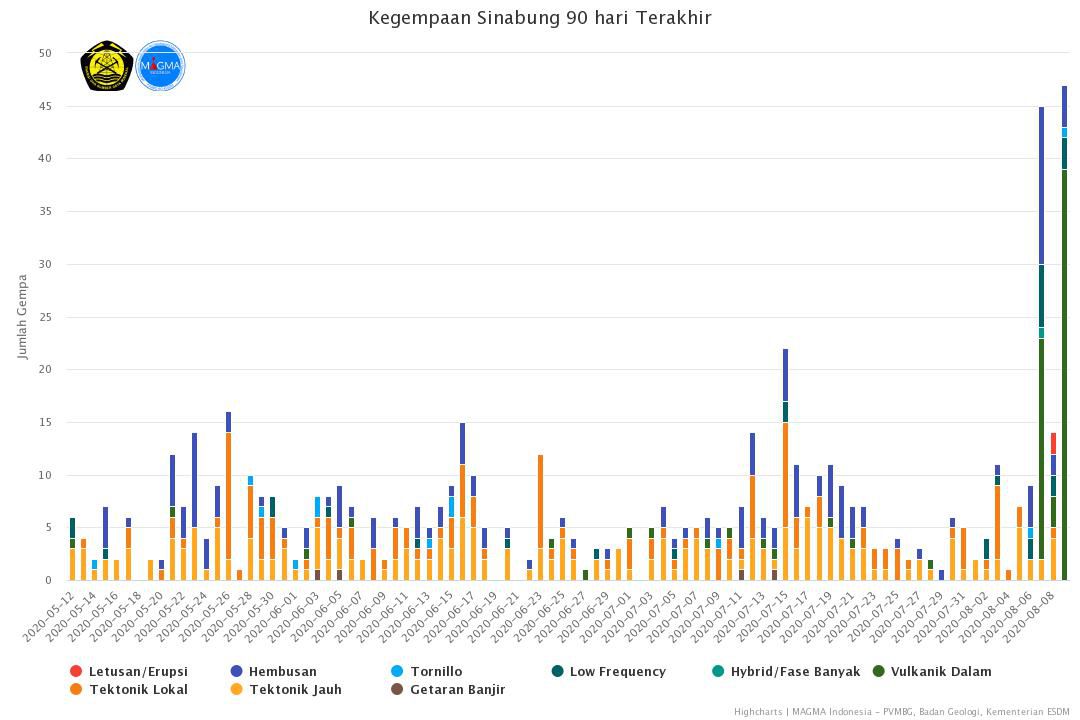 Sinabung - seismicity as of 09.08.2020 - increase in deep volcanic earthquakes - Doc. Magma Indonesia
Etna presented at the NSEC's "saddle cone" an increased Strombolian activity on the night of August 9, followed by ash emissions with an impressive plume seen from Torre del Filosofo at 3,000 meters.
Sources: Boris Behncke, Salvatore lo Giudice and Gio Giusa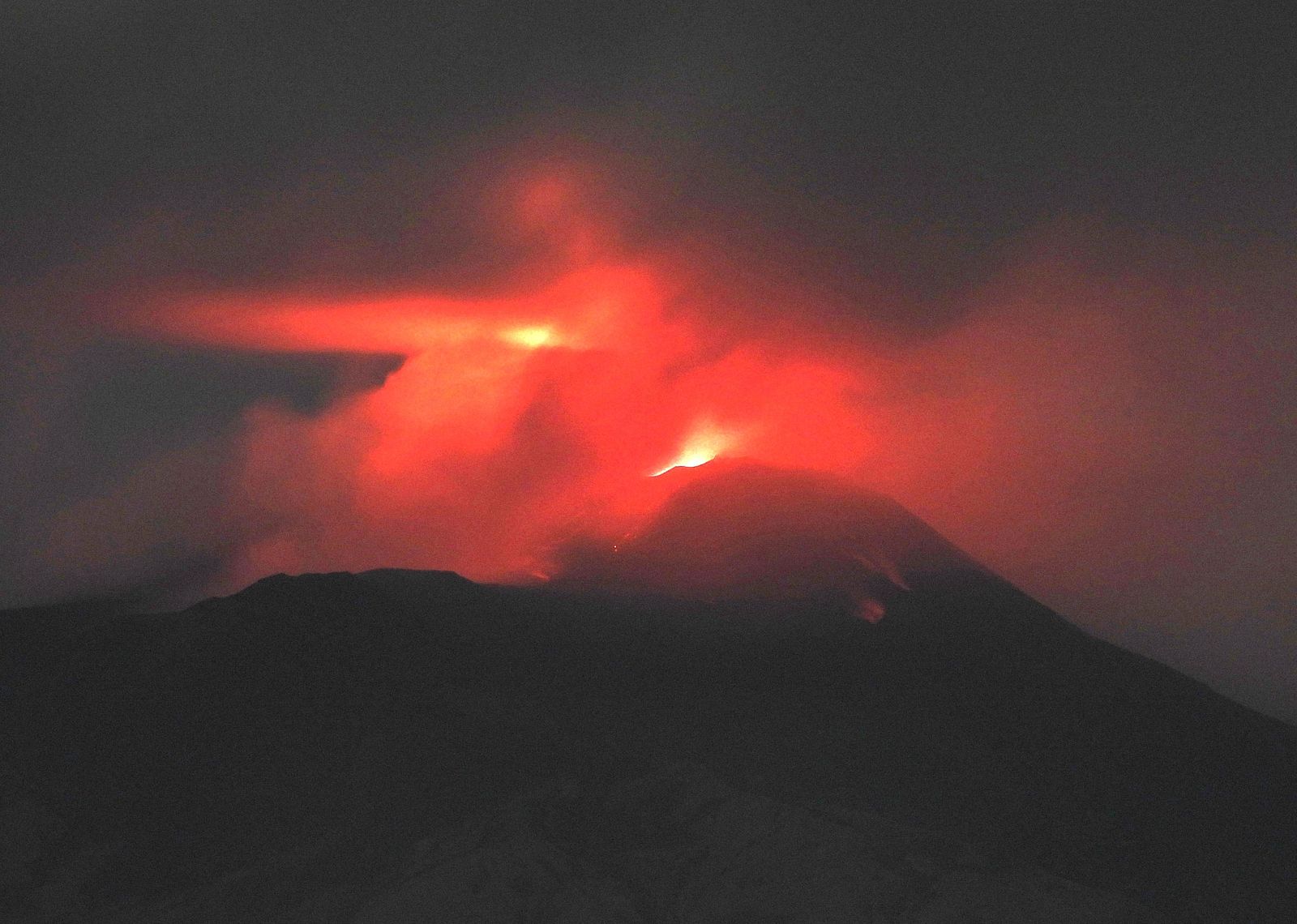 Etna - Strombolian activity at the SEC saddle cone, reflected on the clouds on 07.08.2020 - photo Boris Behncke
Regarding the monitoring of the activity of the Nevado del Ruiz volcano, the Servicio Geologico Columbiano, informs that from August 8, 2020 at 00:50 (local time), there was a significant increase in the volcano- seismic activity. tectonic, associated with the fracturing of rocks around the volcanic building.
The seismic activity is located in the West-South-West sector at an average distance of 6.0 km from the Arenas crater. The recording of a volcano-tectonic earthquake that occurred at 7:04 a.m. (local time), at a depth of 4.1 km with a magnitude of 3.1 ML (local magnitude), is reported as felt by officials of the National Natural Park of Los Nevados.
The Nevado del Ruiz volcano continues at activity level 3 amarilla / changes in the behavior of volcanic activity.
Source: SGC
In Iceland, the seismic swarm in the Eyjafjördur / Tjörnes FZ area seems to be resuming on August 9, with 3 earthquakes of magnitude between 3.5 and 4.5. earthquakes of magnitude 3 or less have continued since.
Source: IMO