Publié le par Bernard Duyck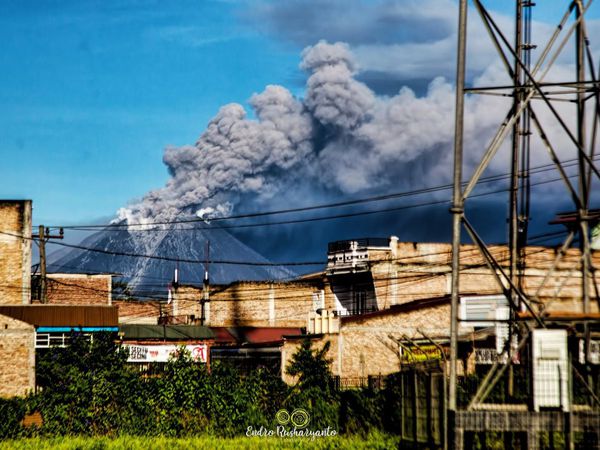 Sinabung - evolution of the eruptive plume of 08/23/2020 / 7:41 - 8:15 am - Magma Indonesia photos - Sadrah Peranginangin and Endro Rusharyanto - one click to enlarge
The Sinabung presented an eruption on Sunday 23 August 2020 at 07:41 WIB, accompanied by a column of gray, thick ash, observed ± 1500 m above the peak (± 3960 m above sea level) dispersing to the east. This eruption was recorded on a seismograph with a maximum amplitude of 25 mm and a duration of 747 seconds.
During the day of August 22, 5 blast earthquakes were recorded.
The activity level remains at 3 / siaga.
Source: PVMBG & Magma Indonesia
Volcano Sinabung eruption - 23/08/2020 Mount Sinabung erupted on Sunday, 23 August 2020, at 07:41 WIB with height ash column observed ±1500m above peak
In Papua New Guinea, VAAC Darwin reports an ash emission from the Langila volcano, located west of New Britain Island, at an altitude of flight 60 on August 22 / 13:12Z.
Hot spots can be seen on the Sentinel-2 image from August 21.
Sources: VAAC Darwin and Sentinel-2
In Afar, Sentinel-2 images reveal hot spots at the Erta Ale caldera, both at the north and south pit-crater. No more thermal anomaly in the far field.
Source: Sentinel-2
In the Philippines, the Taal is seeing its number of volcanic earthquakes increase, with 16 earthquakes in the last 24 hours on 08/22/8:00 a.m., and 20 earthquakes in the last 24 hours at 08/23/8:00 a.m.
Fumaroles are reported at a height of 10 meters on the 22nd, and 5 meters on the 23.08.2020.
The alert level remains at 1 / abnormal, and a risk of sudden phreatic explosions, ash falls and expulsion / accumulation of volcanic gas on Volcano island which remains a danger zone not recommended.
Source: Phivolcs