Publié le par Bernard Duyck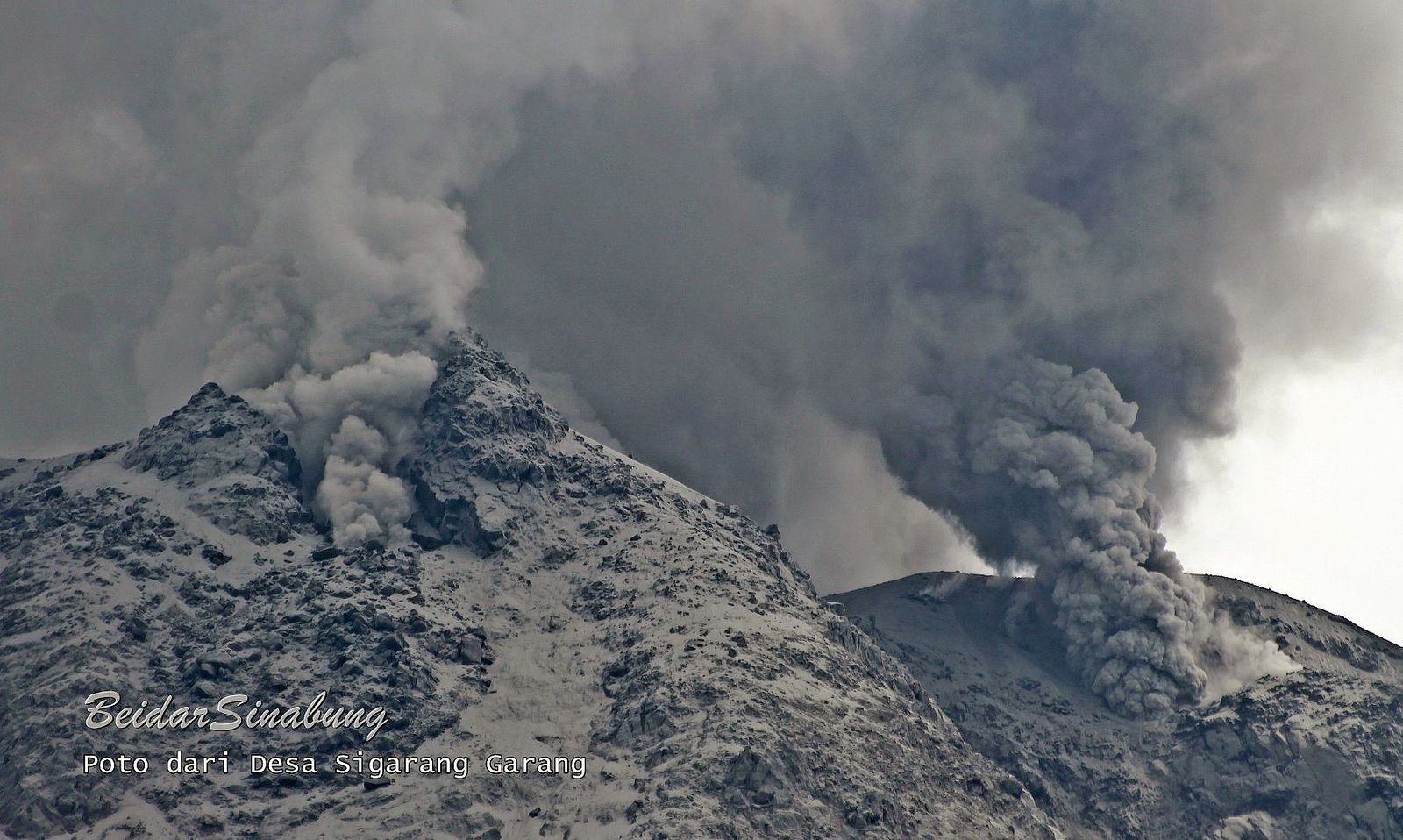 Sinabung - the summit covered with ash 1 day after the eruptions - photo 11.08.2020 / Firdaus Surbakti / Komunitas Beidar Sinabung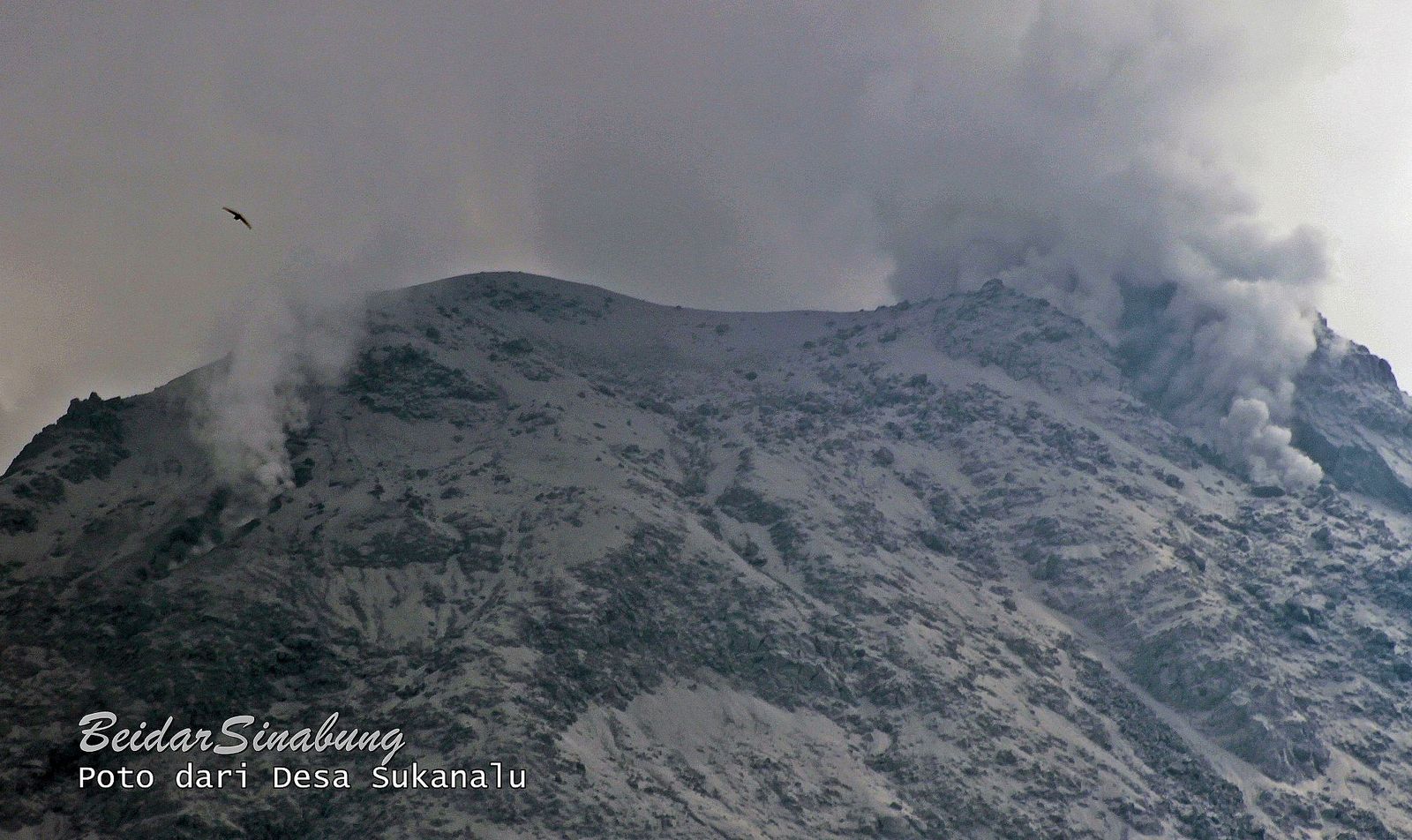 Sinabung - the summit covered with ash 1 day after the eruptions, from another point of view - photo 11.08.2020 / Firdaus Surbakti / Komunitas Beidar Sinabung
At Sinabung, the summit is covered with ash, which whitens it, a day after the eruptions of August 10, and has many active vents (photos Firdaus Surbakti via Komunitas Beidar Sinabung).
The eruptive activity continues this August 13 with 3 eruptive episodes, accompanied by plumes of gas and ash at 1,000-2,000 meters above the summits, respectively at 6:07 am, 8:02 am and 8:31 am local time. Clouds cover the summit.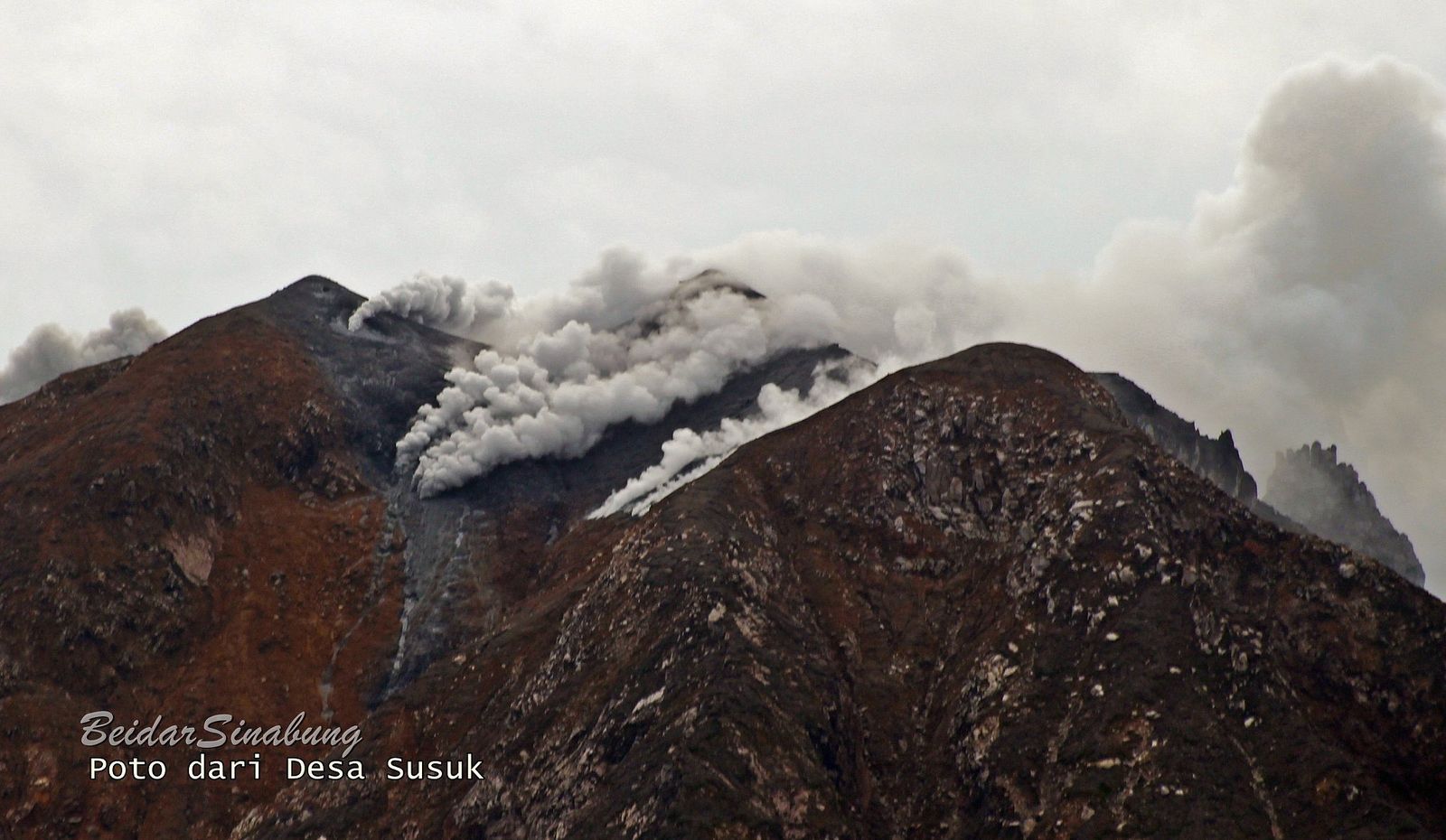 Sinabung - many active vents feature fumaroles - photo 11.08.2020 / Firdaus Surbakti / Komunitas Beidar Sinabung
On August 12, the main plume of the crater was white and gray with fine to thick intensity about 100 meters from the peak. The weather is cloudy to rainy, with light to strong winds to the east, southeast and south.
Seismicity is characterized by:
- 13 blast earthquakes, with an amplitude of 3 to 33 mm and the earthquake lasted 20 to 71 seconds.
- 10 low frequency earthquakes with an amplitude of 3 to 9 mm and the duration of the earthquake was 10 to 25 seconds.
- 3 deep volcanic earthquakes with an amplitude of 16-55 mm, S-P 3.6-4 seconds and the duration of the earthquake 20-24 seconds.
- 1 distant tectonic earthquake with an amplitude of 5 mm, S-P 37 seconds and a long earthquake of 91 seconds.
- 4 episodes of continuous tremor with an amplitude of 0.5-7 mm, dominant at 2 mm.
Sources : Magma Indonesia and Firdaus Surbakti / Komunitas Beidar Sinabung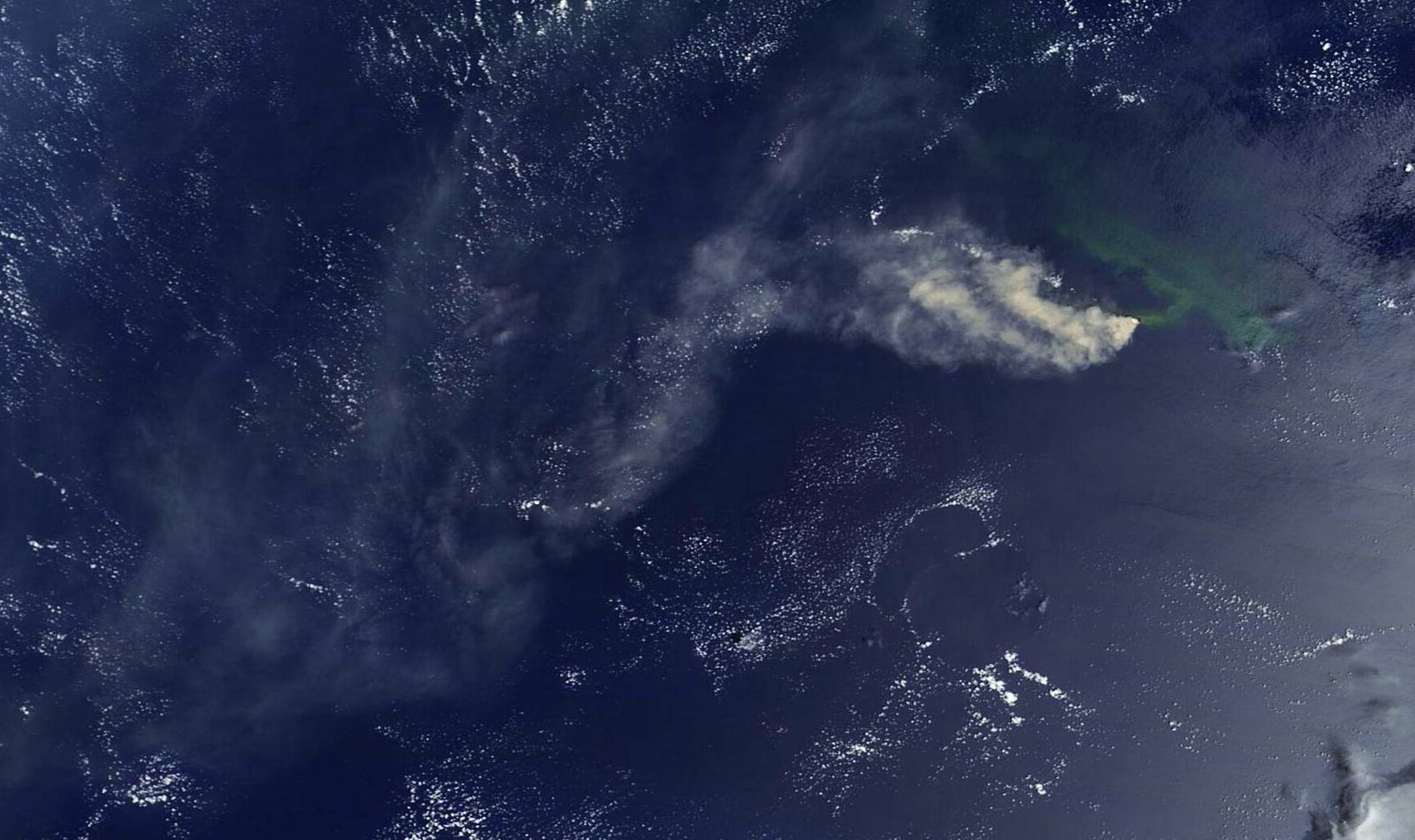 Nishinoshima - 13.08.2020 - ash and gas plumes, and the discolored water area - Doc. Nasa Eosdos Worldview
On Nishinoshima, the eruption continues, with the emission of a low ash plume and gas drifting towards the OSO. The discolored water area extending to the east.
Thermal anomalies range from moderate to low
Sources: Nasa worldview, Mirova and VAAC Tokyo
On Manam, in Papua New Guinea, two thermal anomalies, of VRP 12 and 9 MW are reported by Mirova on August 12, 2020.
Sentinel-2 images show a small white plume and a bluish gas plume, which stretches northwest, and drifts towards the main island.
Sources: Mirova and Sentinel-2
In Ethiopia, some thermal anomalies, moderate to low, have been noted at Erta Ale in recent days by Mirova.
Sentinel-2 / atmospheric penetration shows two hot spots.
Sources: Mirova & Sentinel-2
At Piton de La Fournaise, a field mission was carried out on the morning of August 12, by the OVPF teams, with the assistance of SAG and PGHM.
The first objective was the identification of potential new zones of destabilization and / or fractures on the sides of the volcano, following the last eruptions and subsidence ... no zone of weakening has been identified.
The second objective was to sample fumaroles and measure the temperature inside the Dolomieu crater. The results are awaited.
Source: OVPF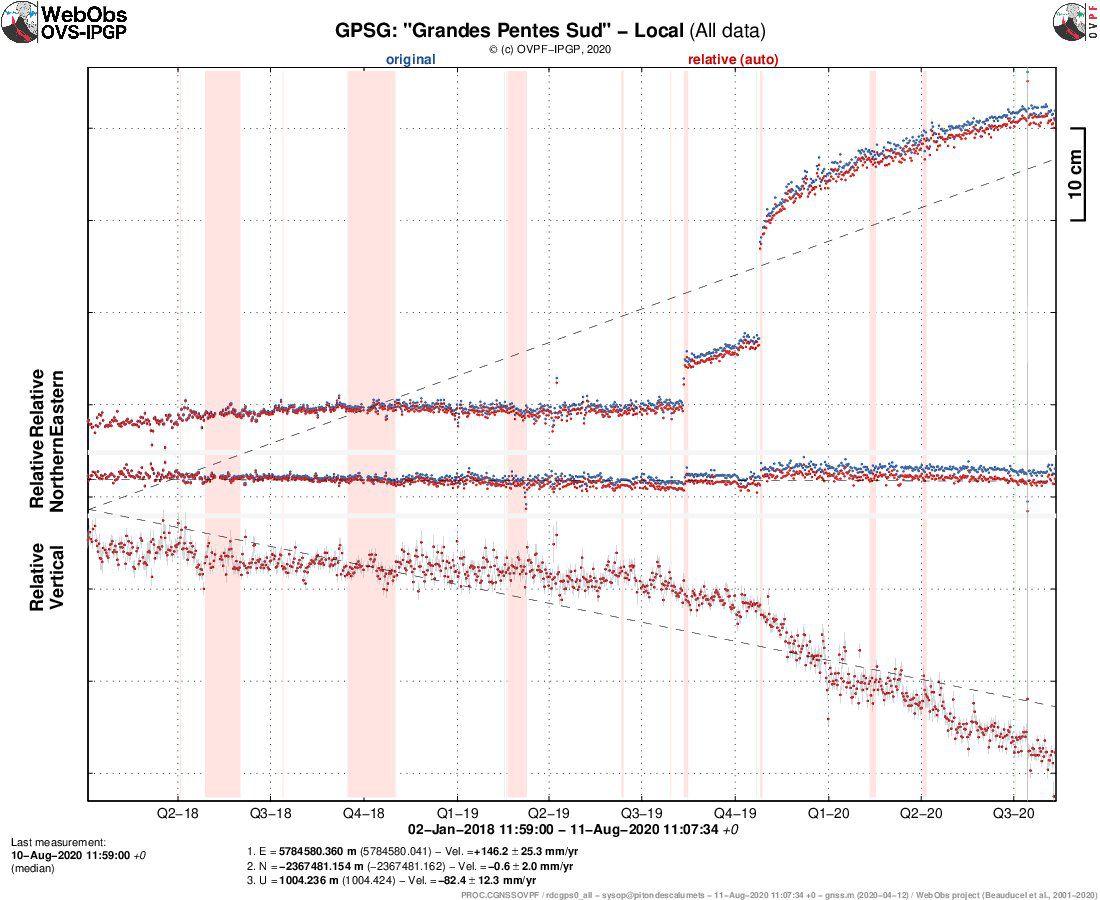 Piton de La Fournaise - GPS large slopes vertical and northeast movements between 02.01.2018 and 11.08.2020 - OVPF