Publié le par Bernard Duyck
To fully understand Meredith Stoudenmire's works, you need to know a little about her background.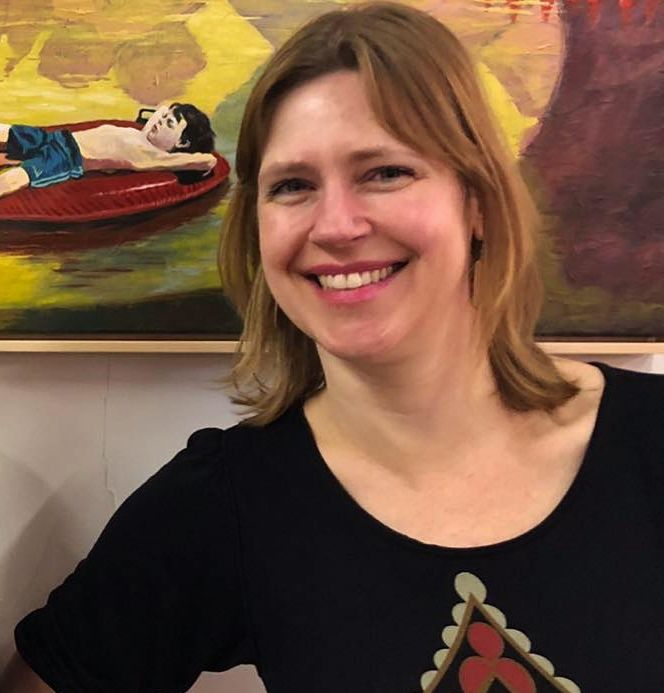 Born in Greenville in 1975, a city in South Carolina in the United States, where she still lives and works, she discovered volcanoes in a geology class at the University.
They have always fascinated her, although she branched out into the arts; She obtained a Bachelor of Fine Arts in printmaking, before moving into painting.
Her work remains symbolically inspired by volcanoes, and in his most recent series, by adventure and childish attraction to risk taking.
Although she has not hiked on all the illustrated volcanoes, she is documenting herself thanks to the photos found on the internet to feed her creative spirit.
Photos taken of his children have inspired several series of paintings.
Seeing her little girl hopping above crevasses filled with lava, in her series "Cracks are hot lava", we tremble for her safety and we hope that the adventure will end well for her.
She paints her little boy asleep on a raft on the "Yellow river", or canoeing on a river-volcano, and we sail with him towards danger.

She is currently working on a series of watercolors that will illustrate a book being written ... a volcano-dragon spits its ash plume while dragging its magmatic chamber, as if pulsed out of the ground, towards the lakes of Kelimutu, above the hot springs of Yellowstone, above Dallol or Crater Lake.
So many adventures in perspective !