Publié le par Bernard Duyck
In Fuego, Guatemala, the explosions follow one another at a rate of 4 to 6 per hour, accompanied by shock waves, avalanches of blocks in the direction of the Seca, Taniluya, Ceniza, Trinidad and Las Lajas drainages, some of which reach the limit of vegetation, and ash plumes at 4,500-4,700 meters above sea level.
Ash falls are reported in the villages of Panimaché I, Morelia, Finca Palo Verde and Yepocapa.
Incandescent pulses are observed during the night and early in the morning.
Source: Insivumeh
Fuego - explosion of 08/26/2020 / 2h31 - Doc. IDIS / Epcom / CRELOSA
VAAC Darwin reports discreet eruptive activity over Kadovar, Papua New Guinea; the ash can reach flight altitude 70, while the plume of sulfur dioxide moves far to the northwest.
Sources: VAAC Darwin and Sentinel-2
On August 26, 2020 at 4:15 PM, an M4.2 earthquake occurred about 10 km NE of Grindavík. Another M3.7 earthquake occurred in a similar location at 1:43 p.m. IMO has received many felt reports from the southwestern part of Iceland regarding these earthquakes.
At 5:06 am on August 27, an M2.9 earthquake was detected near Fagradalsfjall but a swarm of earthquakes is still in progress there.
In total, the IMO reports five earthquakes of magnitude equal to or greater than 3 over the last two days.
An intense seismic swarm began on July 19 in the Reykjanes Peninsula. More than 5,000 earthquakes have been detected since then. This seismic activity is likely caused by a stress change in the crust due to multiple magma intrusions on the Reykjanes Peninsula since January of this year.
Source: IMO
The fissured slope of the Irazú volcano, located on the western flank of the Carthaginian colossus, collapsed on the morning of August 26 at a rate that remains to be determined.
The event took place at around 4:10 a.m. when officials who were there began to perceive a seismic movement and vibration which, according to their reports, lasted for about a minute and a half.
Cyril Muller, an Ovsicori expert, told Costa Rica Noticias that just yesterday there were at least 100 small landslides; and that between Monday and Tuesday, the crack in the slope had moved 40 centimeters.
The displaced materials are estimated to be several million cubic meters of earth.
Alexander Solís, president of the National Emergency Commission (CNE) said in Repretel News that this event is a landslide and has nothing to do with volcanic activity.
The damage is material, and concerns telecommunications installations that could not be moved.
Sources : Ovsicori Videos and Media from Costa Rica
https://www.facebook.com/OVSICORI/videos/1410561832465897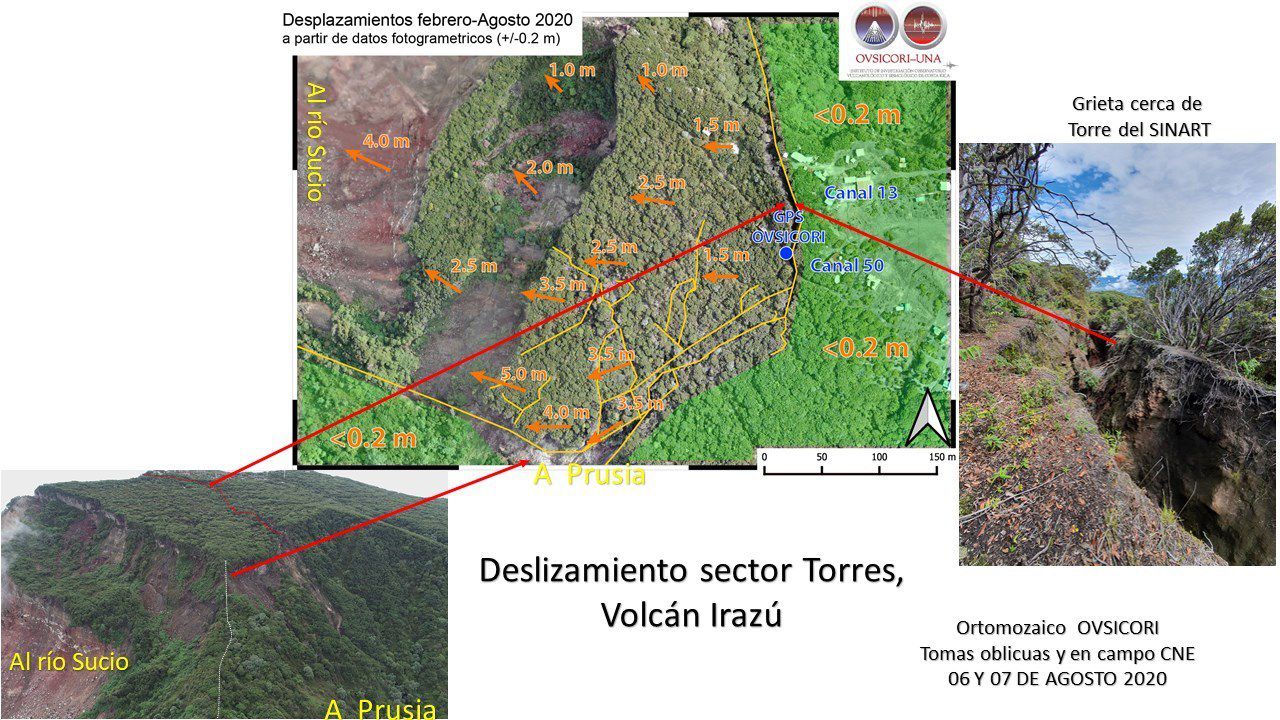 Irazu - the area affected by the landslide, and movement between February and August towards the NW - Doc. Ovsicori