Publié le par Bernard Duyck
The Geophysical Institute of Peru (IGP) reports that the eruptive activity of the Sabancaya volcano remains at moderate levels, with the continuous recording of explosions, at the rate of an average of 19 explosions of low to medium intensity, accompanied plumes of ash and gas up to 2.5 km high at the top of the volcano.
A total of 1,118 earthquakes of volcanic origin, associated with the circulation of magmatic fluids in the Sabancaya have been recorded. They were located mainly in the north and north-west of the volcano. These events had magnitudes between M2.1 and M3.8. The representative earthquake (M3.8) was recorded on August 8 at 7:06 am, 9 km northwest of Sabancaya and at a depth of 9 km.
The monitoring of the deformation of the volcanic structure, using GNSS data (processed with fast orbits), does not present any significant anomalies; however, a slight inflation was observed with an acceleration of the vertical component recorded since July 30 in the northern sector of the Hualca Hualca volcano and the south-eastern flank of the Sabancaya volcano.
Satellite monitoring has identified the presence of 5 thermal anomalies with values ​​between 1 MW and 9 MW, associated with the presence of a lava body on the surface of the volcano crater.
The volcanic alert level remains orange, with a prohibited area with a radius of 12 km around the crater
Sources: I.G. Peru & Ingemmet
Sabancaya - daily activity on 09 and 10.08.2020 - Doc. Ingemmet / Twitter - one click to enlarge the thumbnails
Two eruptions were observed at Sinabung during the day of August 10: the first accompanied by a plume of gas and ash from a height of 5,000 meters at 10:16 WIB and a second with a plume of 2,000 meters at 11:17 WIB . (see yesterday's article)
Some photos illustrate these eruptions.
Sources: IMA & Nachelle Homestay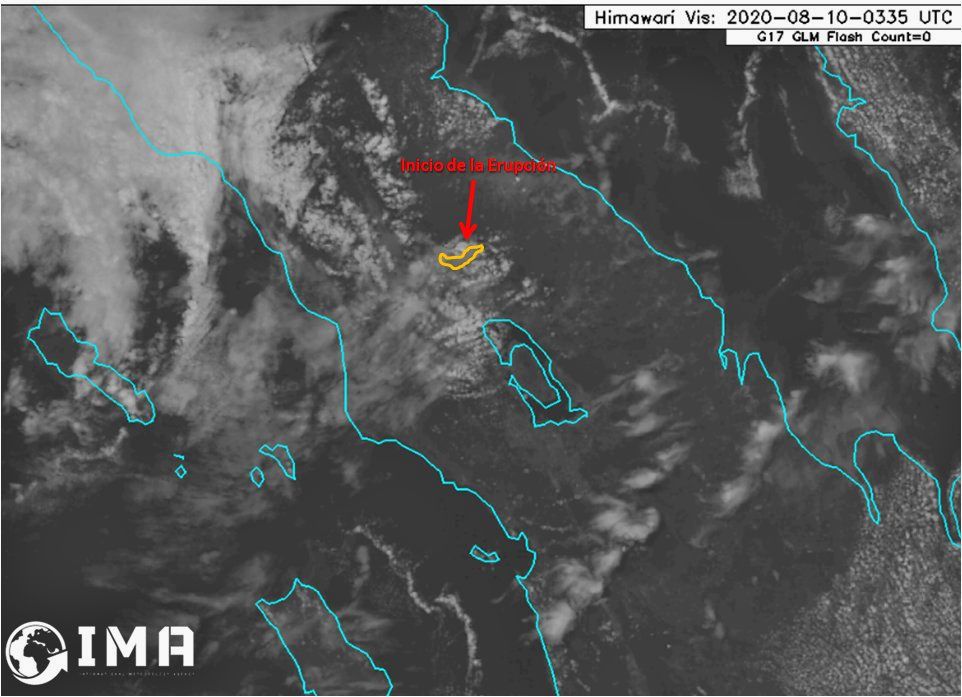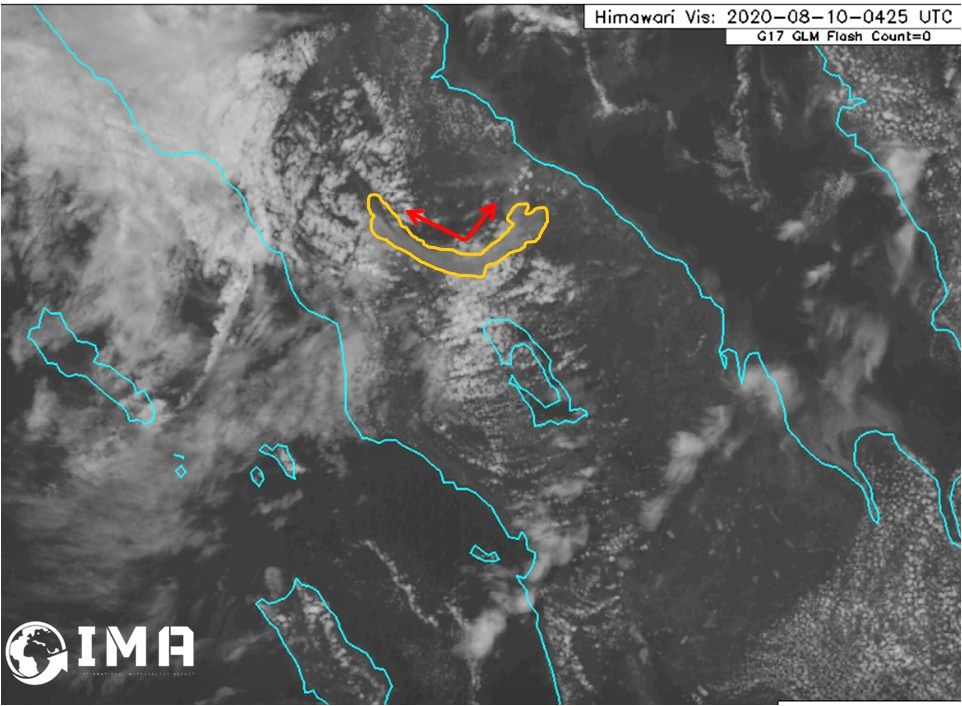 Sinabung - the eruptive plume at the start of the eruption on 08/10/2020 / 3:35 UTC and around 4:25 UTC - Doc. IMA (International Meteorology agency)
The eruptive activity has continued for months at Semeru, on Java.
The volcano remains in level 2 / waspada, with activity bans within a radius varying from 1 km to 4 km on the SSE slope, the active opening area of ​​the Jongring Seloko crater, where pyroclastic flows could flow.
Seismicity remains marked by eruption earthquakes; Magma Indonesia recorded 30 eruption earthquakes on August 10, with an amplitude of 12 to 22 mm, and a duration of 60 to 212 seconds.
Source: Magma Indonesia & Sentinel-2
Still in Indonesia, but this time between Sumatra and Java, at Anak Krakatau, where the latest satellite images show that the lake has disappeared; they make it possible to see the contours of the lava flow, and the contour of the intracratical cone, but old contours are more blurred.
The earthquake shows a dead calm since July 27, 2020
Sources: Sentinel-2 & Magma Indonesia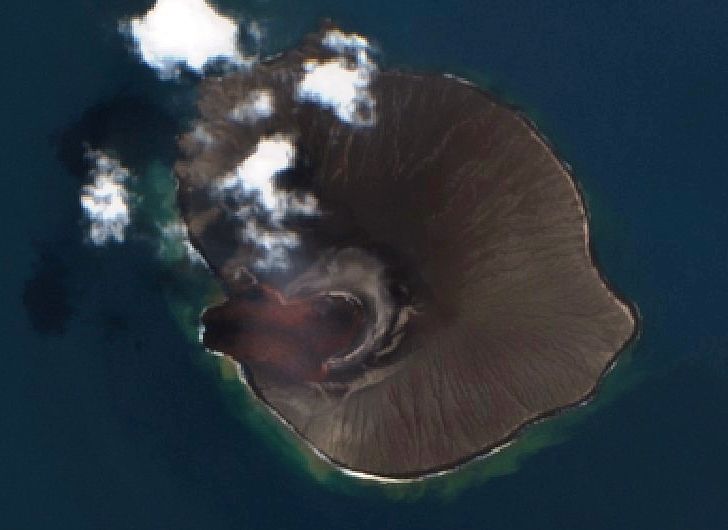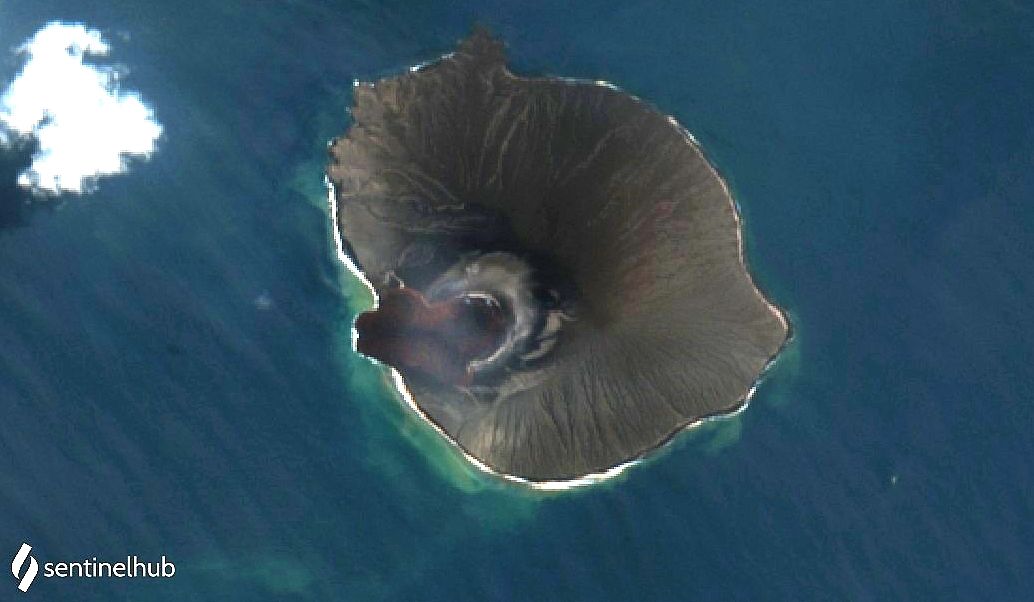 Anak Krakatau - no more traces of the lake, and contours of the lava flow, 03 and 10.08.2020 respectively - Sentinel-2 L2A bands 4,3,2 images - one click to enlarge