Publié le par Bernard Duyck
This August 20, the Sinabung was topped by a white and gray plume about 500 meters high, under cloudy to rainy weather.
Seismicity is characterized by
- 7 blast earthquakes, with an amplitude of 3 to 16 mm and the earthquake lasted 15 to 45 seconds.
- 64 low frequency earthquakes with an amplitude of 2 to 31 mm, and the duration of the earthquake was 8 to 45 seconds.
- a local tectonic earthquake with an amplitude of 11 mm, S-P of 5 seconds and a long earthquake of 18 seconds.
- 2 distant tectonic earthquakes, with an amplitude of 4-10.5 mm, S-P 17-43.6 seconds and the duration of the earthquake was 103-180 seconds.
- 4 continuous tremor episode with an amplitude of 0.5-18 mm, dominant 2 mm.
The aviation code has been changed from red to orange for the PVMBG, but remains red for the VAAC Darwin
The activity remains at level 3 / siaga.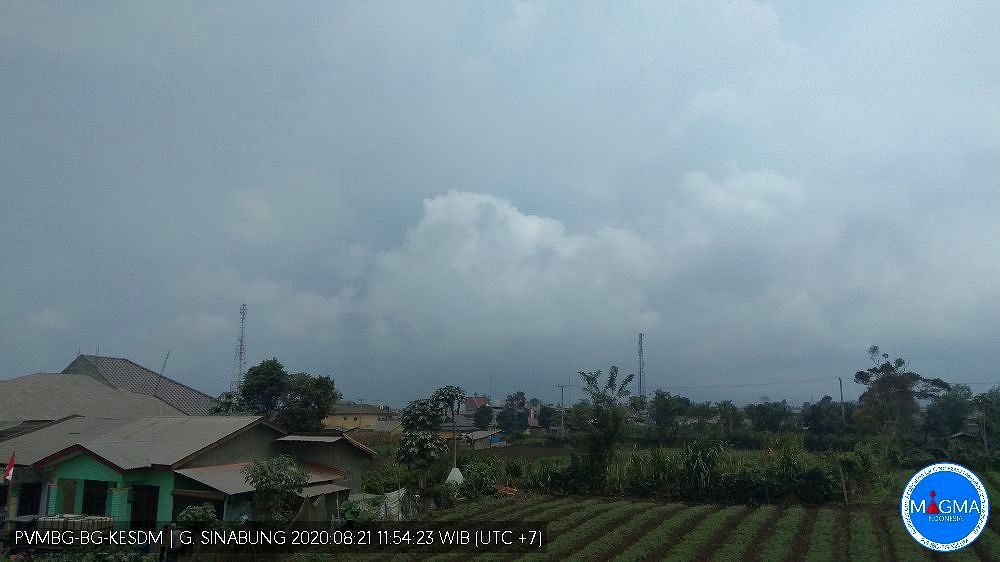 Sinabung - plume and clouds merge this 21.08.2020 / 11.54 am local - Doc. webcam PVMBG / Magma Indonesia
This Friday, August 21, 2020 at 05:17 WIB, an eruption occurred, without visual observation, but recorded on a seismograph with a maximum amplitude of 78 mm and a duration of 821 seconds.
From 6 to 12 p.m. local time, the volcano is covered by fog; no observation is possible.
The PVMBG reports a blast earthquake, with an amplitude of 15 mm, lasting 27 seconds.
Sources: PVMBG, Magma Indonesia and VAAC Darwin.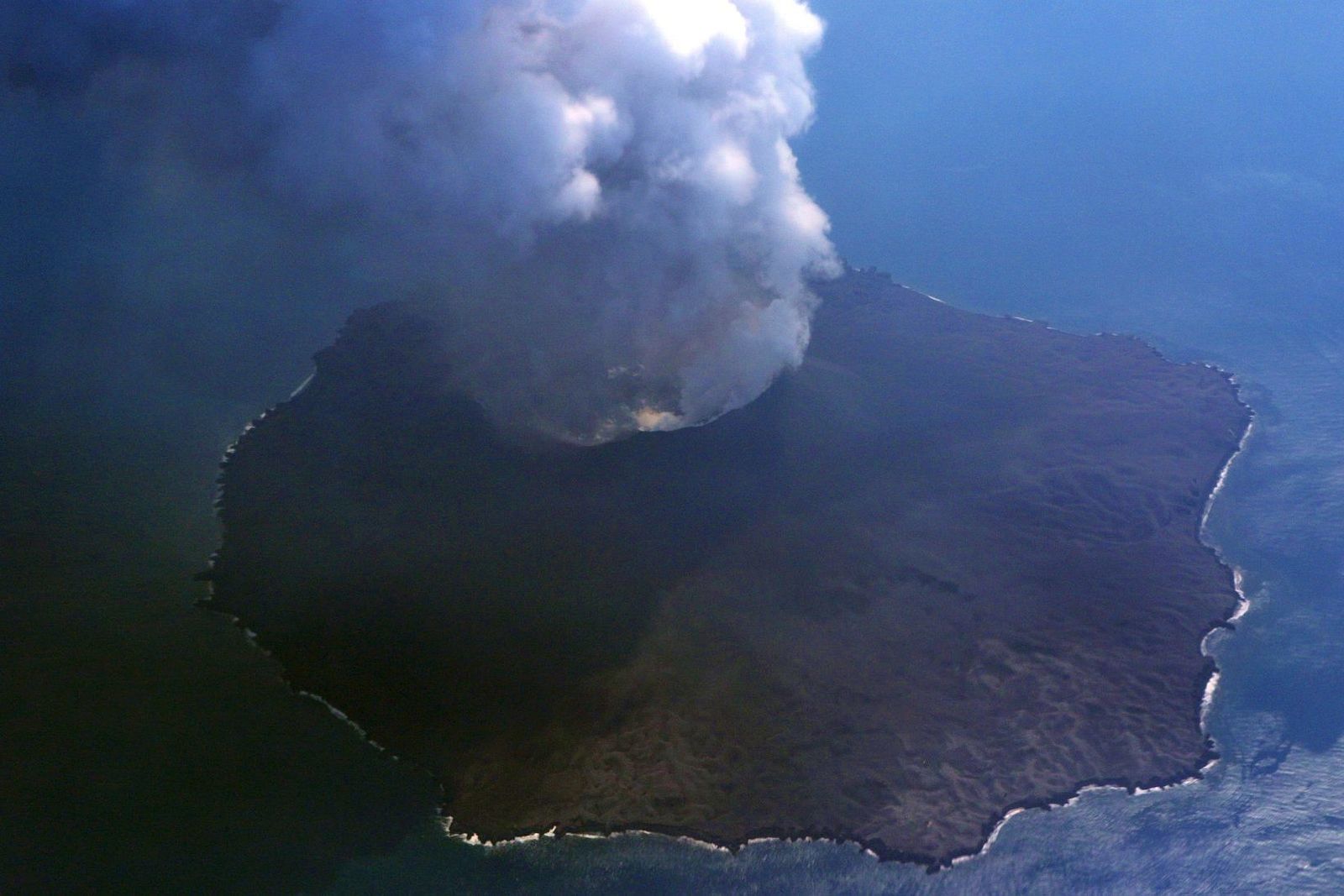 Nishinoshima - consequent widening of the pyroclastic cone crater - photo Japan Coast Guards 08.19.2020 / 1:25 p.m.-2:15 p.m.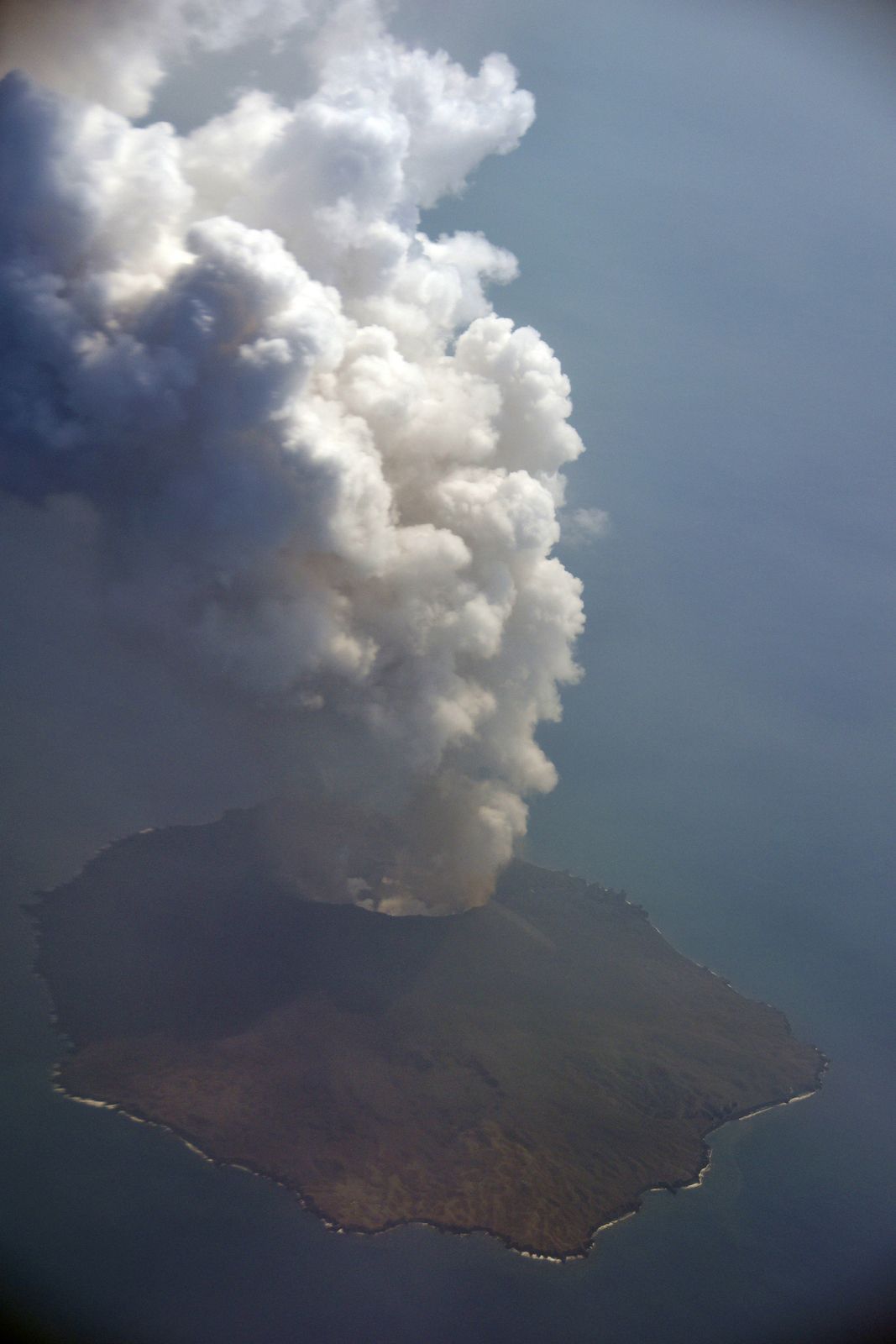 Nishinoshima - significant degassing, but low plume - photo Japan Coast Guards 08/19/2020 / 1:25 p.m.-2:15 p.m.
An overflight of Nishinoshima was carried out by the Japan Coast Guards on August 19 between 1:25 p.m. and 2:15 p.m.
Despite the veil of clouds, one can notice a consequent widening of the crater of the pyroclastic cone, already partly noticed on the satellite images of August 14 ; a strong diffusion on the infrared images testifies to the activity in the crater, and on a large delta at the edge of the sea.
Degassing generates a rather white plume, generous but not very high ... which is confirmed by the satellite images, on which the ash clouds are not identifiable.
Sources: Japan Coast guards, JMA, VAAC Tokyo, Nasa worldview.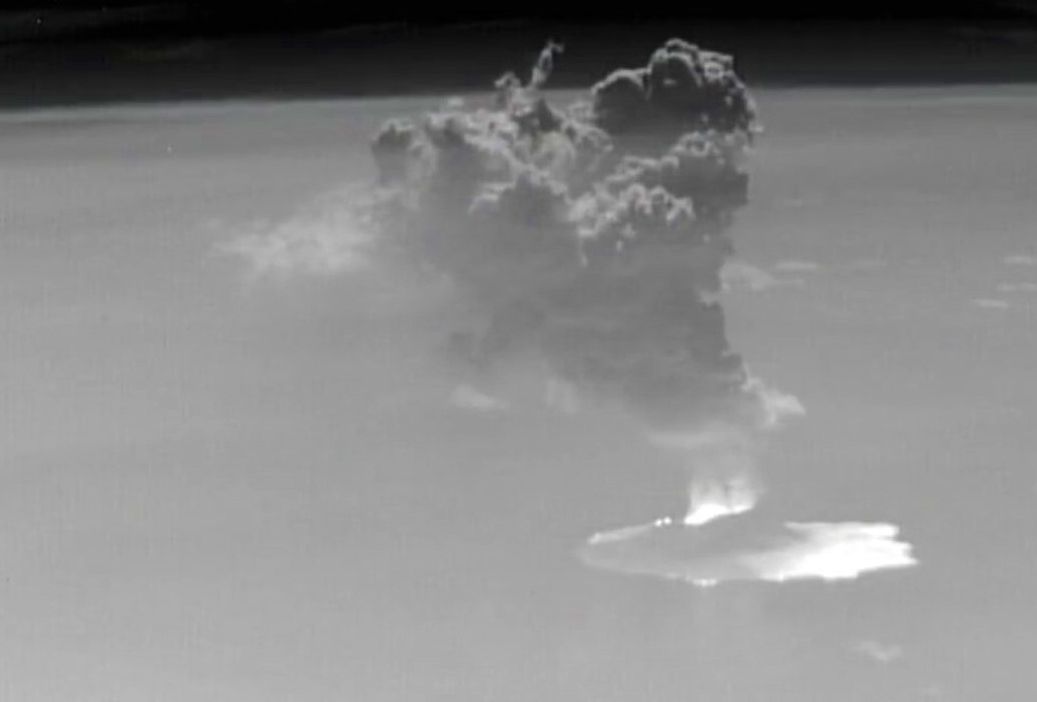 Nishinoshima - strong IR footprint above the crater and on a lava delta, weaker on a flow on the opposite side - photo Japan Coast Guards 08.19.2020 / 1:25 p.m. - 2:15 p.m.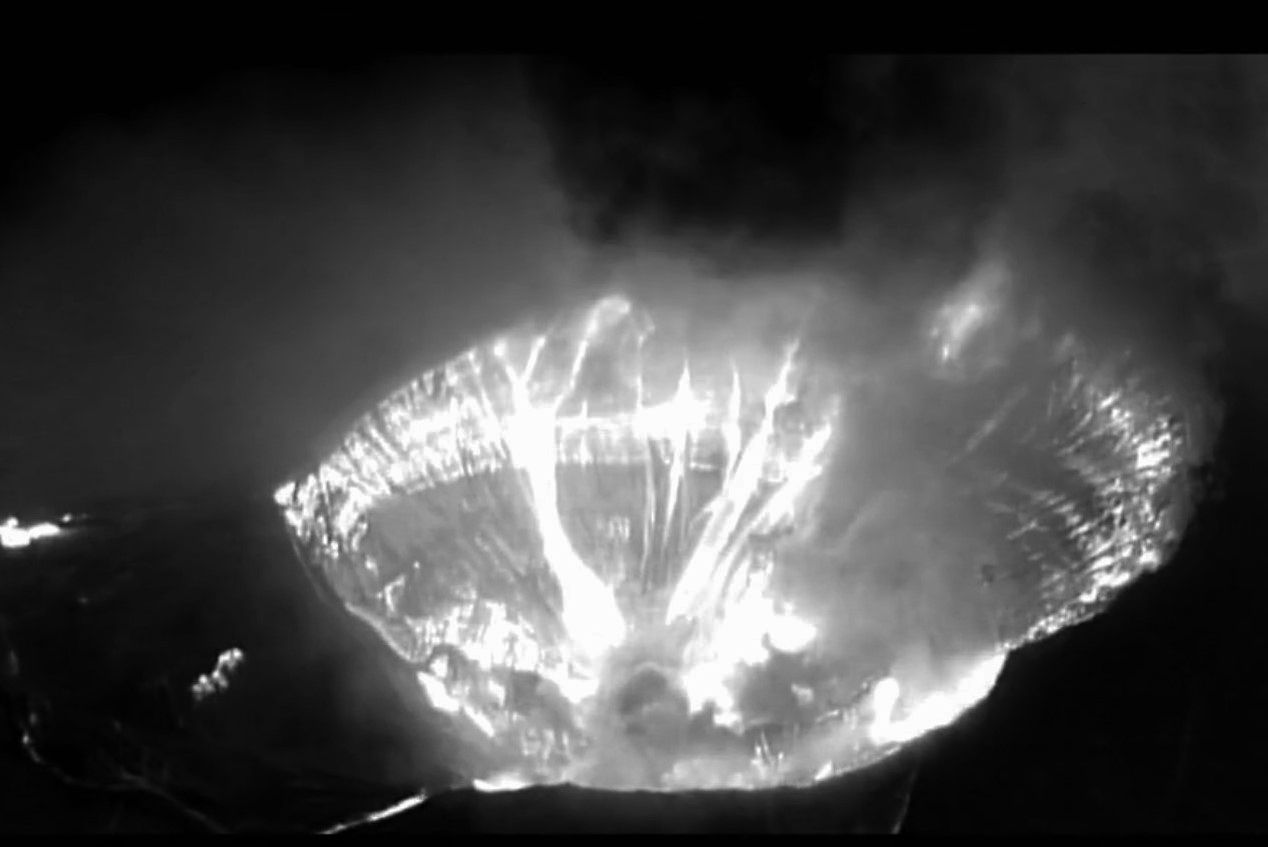 Nishinoshima - strong IR footprint in the crater - photo Japan Coast Guards 08/19/2020 / 1:25 p.m. - 2:15 p.m.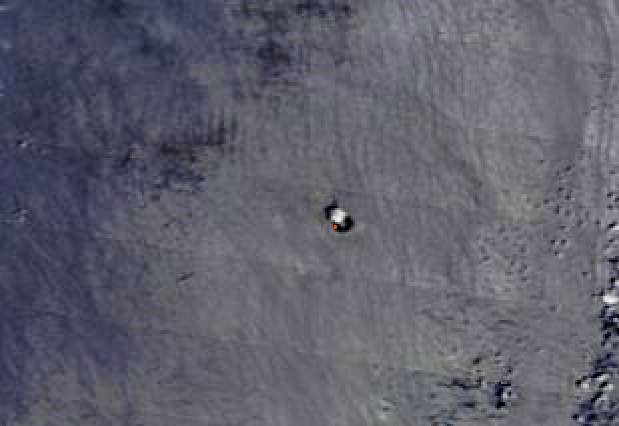 Nishinoshima - only a small degassing marks the volcano - snapshot 20.08.2020 Nasa Eosdis Worldview - one click to enlarge
In Iceland, a huge flood, which carried glacial clay, swept over the west side of Langjökull on Monday August 17 in the afternoon and overnight.
The flood took a channel to the Svartá River, which is usually a dry river channel, which flows south of Hafursfell, and from there into the Hvítá River, above the confluence of the Hvítár and Geitá rivers, au- above Húsafell.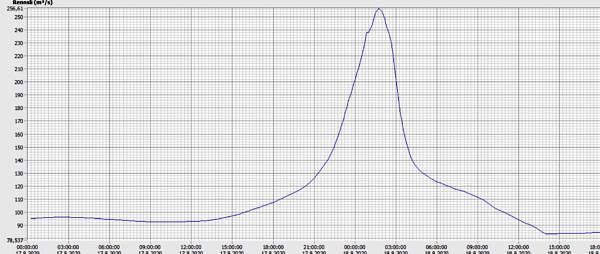 According to a flow meter at Kljáfoss by Hurðarbakur, the river's flow nearly tripled from 95 cubic meters per second by midday Monday to 257 cubic meters when the debacle peaked at 2 a.m. on Tuesday evening. . The river returned to a flow of over 80 cubic meters around noon yesterday, Tuesday. On the morning of August 18, the river was still the color of cement again and you could see mud and sand on its banks in many places. Salmon were found dead, covered with clay matrix.
"Since 2004, we have not seen such summer flooding in Hvítá" , confirmed Kristjana G. Eyþórsdóttir, an expert in the water department of the Icelandic Meteorological Office / IMO, in a conversation with Skessuhorn.
An overflight attributed this flooding to the retreat / retreat of the Langjökull, with the formation of a new marginal reservoir which emptied while flowing towards the south.
Sources: Skessuhorn Vesturlands Fréttaveita - https://skessuhorn.is/