Publié le par Bernard Duyck
In the state of Minnesota in the United States, on the north shore of Lake Superior, stand cliffs 90 meters high whose geology is linked to volcanism: Palisade Head and Shovel Point.
This rock formation is part of the MRS, the Midcontinent Rift System, one of the largest continental rifts in the world.
1,100 million years old, it stretches from Kansas to Michigan, and contains magmatic and hydrothermal mineral deposits.
MRS rocks are exposed at surface only in the Lake Superior region, a member of the group of five lakes located on or near the Canada-United States border. This group of freshwater lakes consists of Lake Superior, Lake Michigan, Lake Huron, Lake Erie, and Lake Ontario.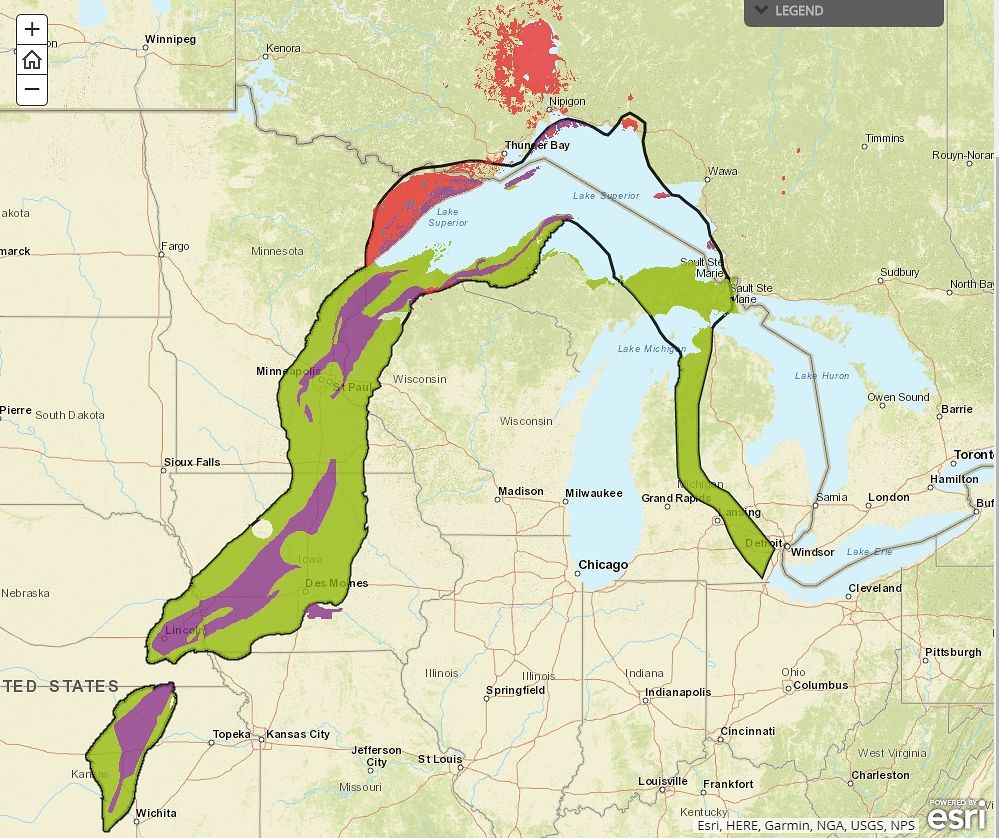 Geological map of the Midcontinent Rift System (the limits of the MRS: line in bold black), with intrusive units in red, sedimentary units in green, volcanic units in purple - Doc. USGS - one click to enlarge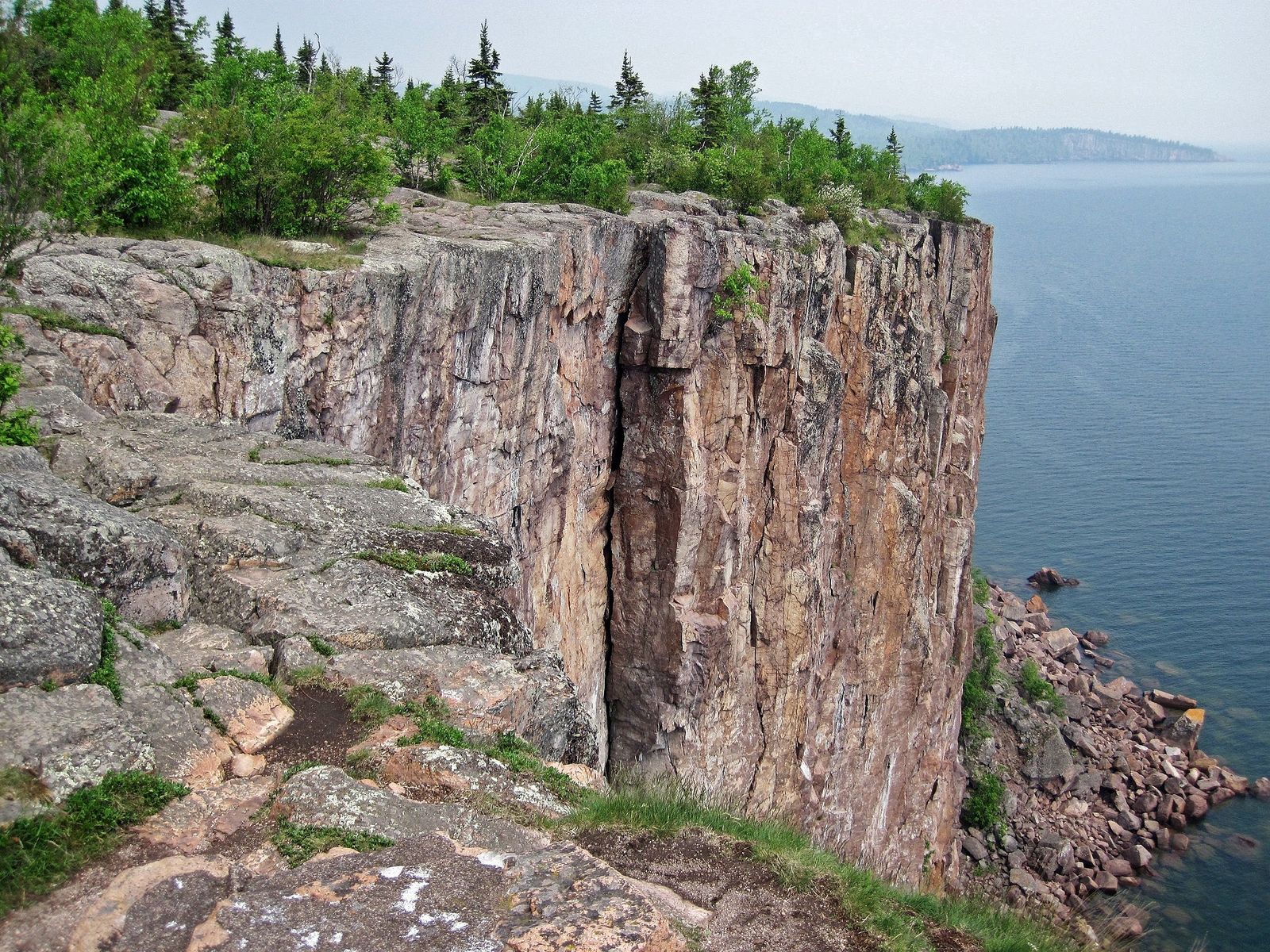 Rhyolite organs at Palisade Head - Lake Superior, North Shore volcanic group - photo James ST John / Flickr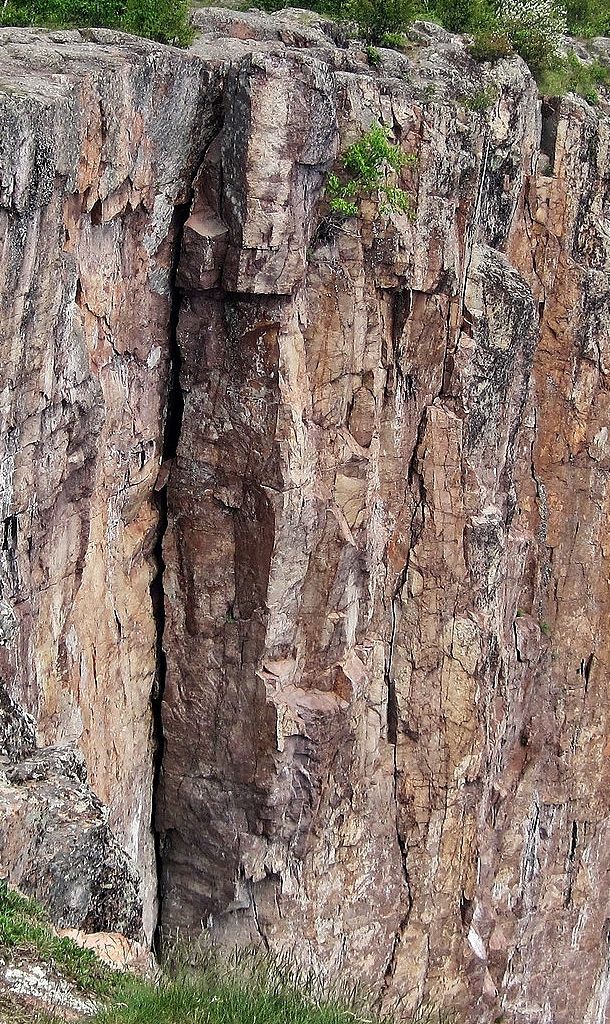 Detail on rhyolite organ at Palisade Head - Lake Superior, north shore volcanic group - photo James ST John / Flickr
Palisade Head and Shovel Point are formed by a rhyolitic lava flow, extruded 1.1 billion years ago.
Regional volcanism, under the influence of molten magma rising from a deep mantle plume, has resulted in large intrusions and surface eruptions of basalt and rhyolite flows, largely confined to elongated and sagging basins formed along of the rift system, in a relatively short interval estimated at 26 million years.
At the end of the major period of volcanism, around 10 million years ago, the basalt sections in the central basins of Lake Superior had a thickness of about 20 km.
After this major period of volcanism and rifting, the thermal and mechanical gradient of the mantle plume began to decrease, ending crustal extension and rifting.
The SRM then underwent regional cooling and subsidence, evolving into a series of sagging basins along the central axis of the rift system. Flowing waters and glaciers eroded the highland MRS rocks along the sides of the central basins and flowed to the center of the rift where they deposited clastic sediment. These clastic sediments, such as sand, gravel, and cobbles, accumulated over millions of years, creating layers of solidified sedimentary rock, eventually reaching a thickness of about 7 kilometers (4.3 miles) near the center of the rift basins in Lake Superior.
Around 1080 Ma, compression of tectonic origin shortened the width of the fault. The compression caused the central basins to heave along the faults bordering the basins. In parts of the rift system, this reverse movement placed older basalt on top of younger sedimentary rocks ... a huge upheaval.
Sources:
- USGS - America's volcanic past - Minnesota
- USGS - Mineral deposits of the Midcontinent Rift System
- Department of Natural resources - Tettegouche State Park