Publié le par Bernard Duyck
The Columbretes archipelago, located in the Mediterranean between the east coast of Spain and the Balearic Islands, 30 nautical miles from Grao de Castellón, is made up of four groups of volcanic islands: La Columbrete Grande, La Ferrera, La Foradada and el Carallot.
These islands are installed on funds 80 meters deep and cover a space of three nautical miles.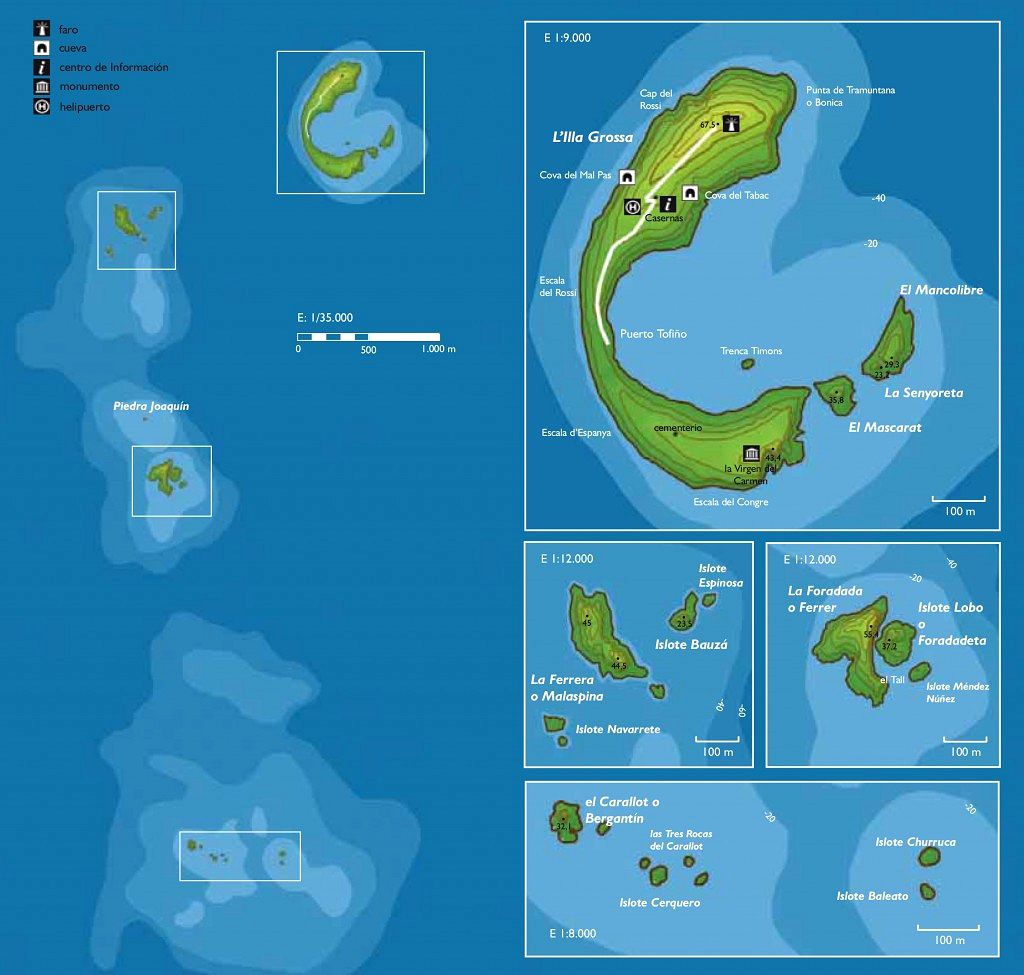 Columbretes Archipelago - the different island groups: insets on the right, top: Grande island group (or Grossa island) 14.30 ha - center: La Ferrera group 1.95 ha - La Foradada group 2.21 ha - bottom: Carallot group 0.49 ha - Doc. Parque Natural Islas Columbretes
The name of the archipelago comes from Roman and Greek navigators, who noticed that the main island was inhabited by a large number of snakes (Colubraria, on Latin maps).
These islands were visited only by fishermen and pirates until the middle of the 19th century, and the destruction of snakes by arson.
Colonization took place between 1856 and 1860, with the construction of a lighthouse to guide boats navigating near the islands.
The Columbretes Islands are now part of a nature reserve, and the number of daily visitors has been limited for this reason to 78 people, who must take the guided tour in groups of 20 and at specific times.
The volcanic origin:
The archipelago is located in the Gulf of Valencia, which is a rift formed before the oceanic opening of the north-western Mediterranean basin during the Lower Miocene.
Volcanism corresponds to two cycles of different ages and nature:
The first, from the Upper Oligocene to the Middle Miocene, is characterized by calc-alkaline materials (rhyolites, trachytes, dacites and rhyodacites).
The second cycle is alkaline and more recent, in the Quaternary (1 to 0.3 Ma on Grossa Island).
The interest, in addition to its difficulty of access and its low attendance, is mainly petrological and geochemical. It constitutes a unique and representative example of alkaline volcanism in the western Mediterranean. Basanites and phonolites predominate, accompanied by tephrites, tracytes, syenites, and intermediate terms.
At the morphological level, the archipelago reveals volcanic stratigraphy, coastal erosion and sedimentation, forms of wind erosion, landslide marks, and craters.
Sources:
- Instituto Geologico y minero de Espana - Volcanismo Cuaternario de las Islas Columbretes - link
- Reservas Marinas de Espana - Islas Columbretes
- Structure and volcanism of the Valence Pit - Agnès Maillard and Alain Mauffret / 1991 / Bulletin of the Geological Society of France
- Specially protected areas in the Mediterranean - SPAMI 2010 / SP7