Publié le par Bernard Duyck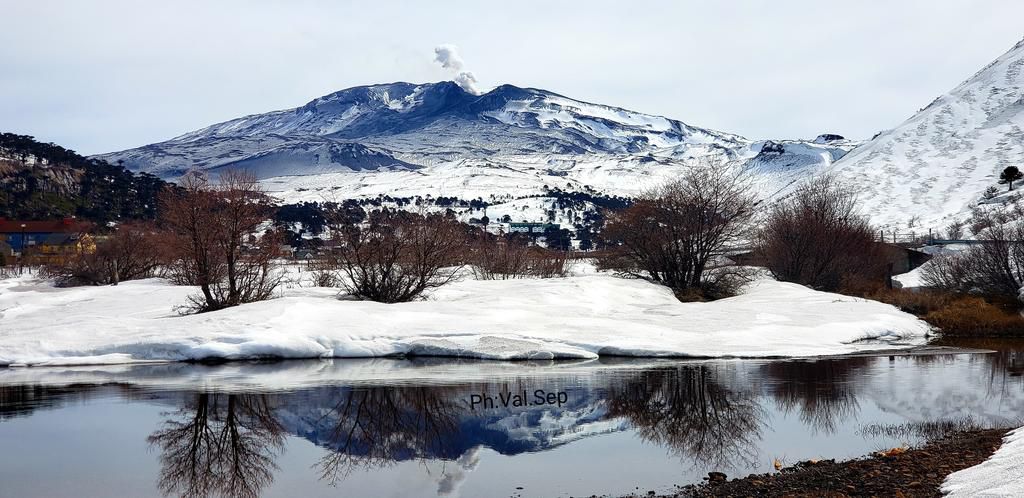 Copahue - ash plume and blackened tops on 05.09.2020 - photo Valentina Sepulveda / Twitter - un clic pour agrandir
The activity of Copahue remains, and characterized by continuous emissions of gray ash.
As evidenced by Valentina Sepulveda's photo of August 5, the ash plume rises above the summit, and the snows are colored by the fallout of ash and particles.
The seismic activity shows low levels, with occasional variations in the amplitude of the continuous tremor.
The technical alert remains in Amarilla / change in behavior of volcanic activity; the possible assignment area is set at 1,000 meters radius around the crater.
Sources: Sernageomin and Valecaviahue / Twitter
This Saturday 05 September at 09:31 local time (13:31 UTC), the monitoring stations installed near the volcanic complex of Nevados de Chillán recorded an earthquake associated with the dynamics of fluids within the volcanic system (long period) - Depth : 0.3 km - Reduced displacement: 597 (cm * cm)
Due to the weather conditions in the area, it was not possible to verify the surface activity of the active crater.
The volcanic technical alert remains at: Yellow
Source: Sernageomin
During the last 24 hours, 177 exhalations have been identified at Popocatépetl, accompanied by volcanic gases and sometimes small amounts of ash; that due to the weather conditions in the area, it could only be seen at certain times. In addition, 354 minutes of low and medium amplitude tremor were recorded.
The VAAC Washington issued an ash scatter advisory, with a plume reaching 6,100 meters above sea level, or about 670 meters above the summit.
Volcanic alert remains at Amarillo Fase 2
Sources: Cenapred and WAAC Washington