Publié le par Bernard Duyck
The explosive and effusive activity of Nevados de Chillan in Chile continues, with a continuous magmatic feed.
The latest estimates of the volume extruded by the dome of the Nicanor crater via the L5 flow reach 0.0004 km³, with a rate of 0.1 m³ / s.
On the N-NE flank of the volcano, the fourth block lava flow continues, according to José Faune / Volcanologia Chile.
The alert level remains at Amarilla.
Sources: Sernageomin & Volcanologia Chile.
At Pacaya, the Strombolian activity of the Mackenney is the cause of incandescence, weak explosions with projections 25-75 meters above the crater, and avalanches on the SW side;
it produces a southerly lava flow that stretches about 550 meters in length, with avalanches on the flow front.
The seismic stations record constant tremor, in relation to the rise of magma and gases towards the surface.
Sources: Insivumeh and Sentinel-2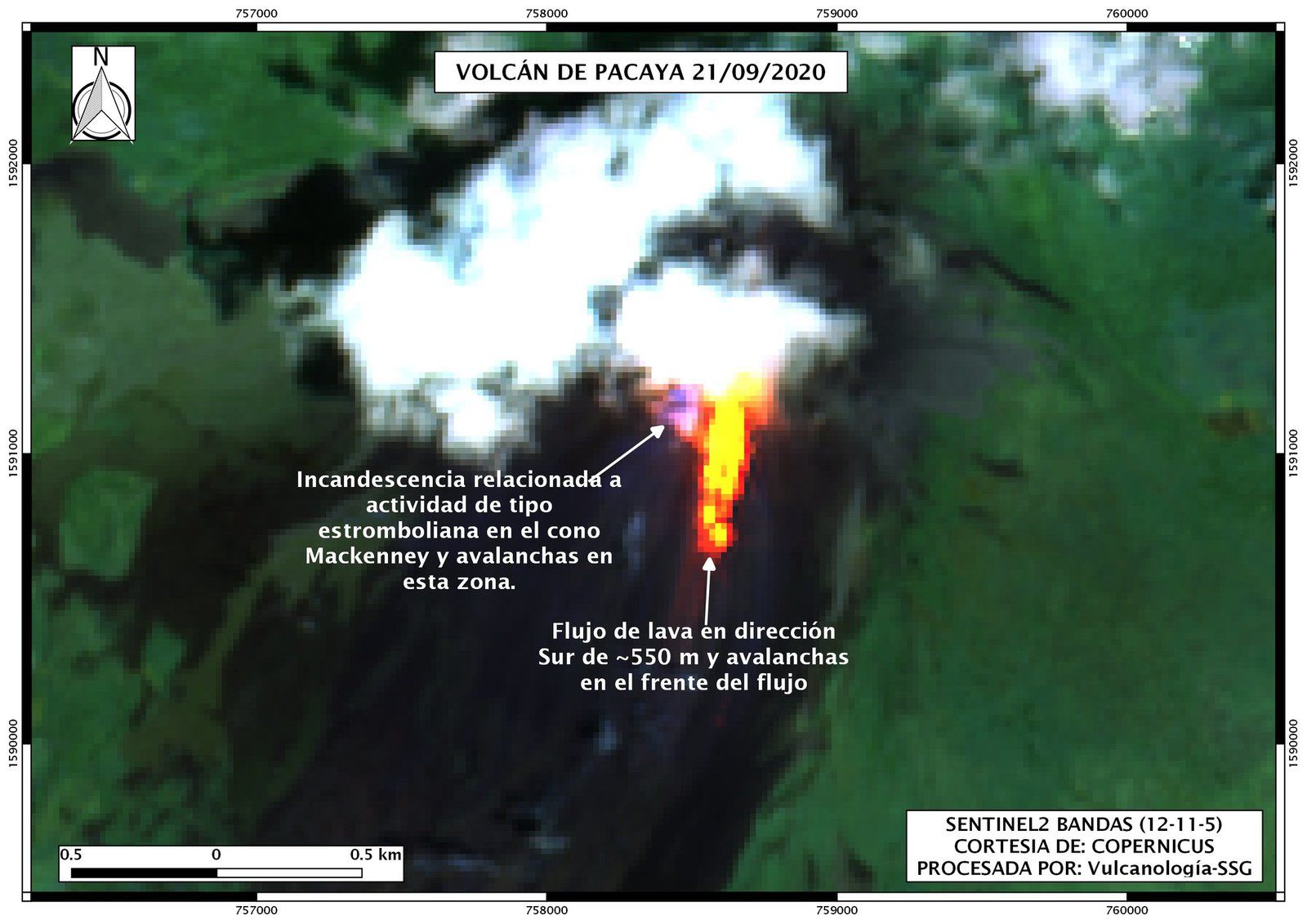 Pacaya volcano, southern lava flow about 550 m long and avalanches in front of the flow. Strombolian activity in the Mackenney cone. Sentinel 2 bands satellite image 12,11,5 of 09/21/2020
In La Reunion, after a magnitude 4.4 earthquake on Monday, September 21 at 9 p.m., here are the explanations of Aline Peltier, director of the OVPF:
"A fault opened 22 kilometers from the island, North, North / West side, in a particularly seismic zone. At a depth of 27 kilometers, this fault caused an earthquake with a magnitude of 4 , 4 on the Richter scale, and its opening was very strongly felt by the population.It is a fairly strong magnitude for Reunion Island, which is located in the middle of a plate considered to have a rather low seismic risk ... but it is an area which is affected by earthquakes on a regular basis. This area is therefore known to have faults which reactivate. It is one of the largest earthquakes recorded since the Observatory has existed, therefore since 1979. The censuses carried out with the help of the BRGM show that, since the arrival of man on the island, 14 earthquakes have been of comparable intensity. We are therefore in the top 14 of the largest earthquakes felt. by the population! "
Source: OVPF