Publié le par Bernard Duyck
The effusive strombolian activity of the Pacaya increased on September 26, 2020; it feeds two lava flows, a first to the northeast and 300 meters long, the second on the northern flank, divided into 2 arms reaching about 500 meters wide.
It is possible, despite the atmospheric conditions, to observe these flows from various places of the capital.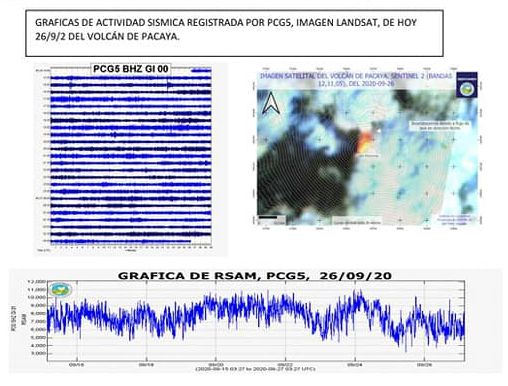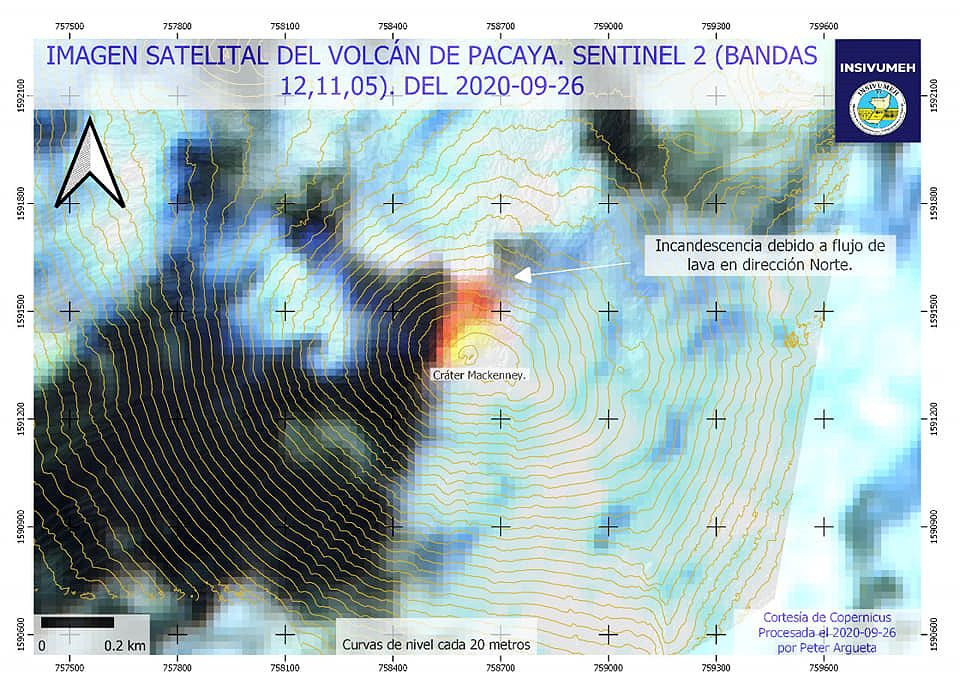 Pacaya - seismicity as of 26.09.2020 and Sentinel2 band image 12.11.5 (one of the flows masked by clouds)
The explosions remain between weak and moderate, and are between 75 and 150 meters above the Mackenney, accompanied by a plume of magmatic gases moving towards the west for a dozen kilometers.
The northern area and the plateau, as well as the climb to the Mackenney crater remain prohibited.
Source: Insivumeh - special bulletin of 26,09,2020 / 22h30 loc. & Conred
At Etna, the INGV reports that from 13:30 UTC, Strombolian activity at the new south-eastern crater increased slightly in intensity. The eruptive activity of varying intensity produced a cloud of volcanic ash that reached a height of about 4 km above sea level, dispersing eastward.
The amplitude of the volcanic tremor does not show significant variations, remaining on average values. Regarding infrasound activity, the current strong wind does not allow a detailed assessment of its performance.
The signals from the soil deformation monitoring stations show only a modest variation at the level of the tilt station of Pizzi Deneri and GNSS of Cratere di Nord-Est.
From 16:00 UTC, ash emissions from the new southeast crater ceased. There remains an activity of Strombolian explosions, sporadic and weak, accompanied by discontinuous and soft ash emissions, which are quickly dispersed near the area of ​​the summit of the volcano.
The amplitude of the volcanic tremor remains at average values.
Sources: INGV OE and EtnaWalk