Publié le par Bernard Duyck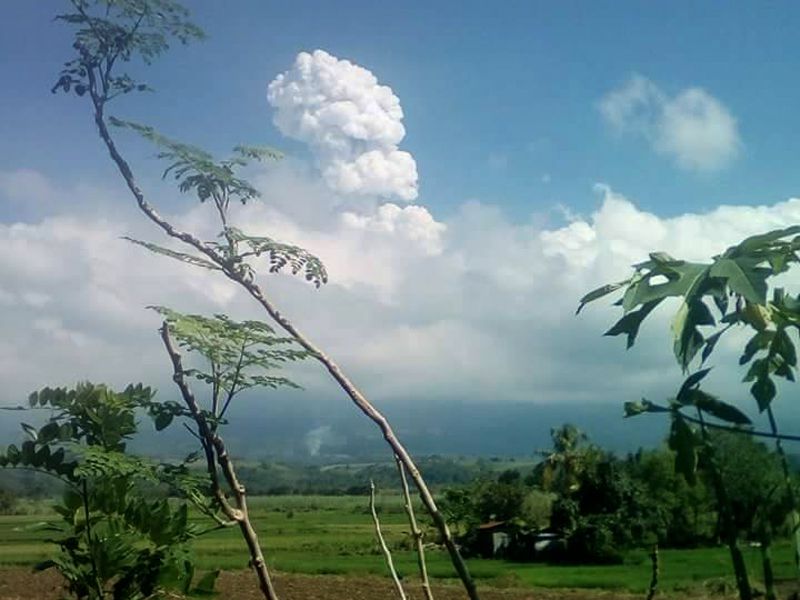 Kanlaon- photo of the last phreatic eruption of 09.12.2017 by Ms. Ritchel Demerin Villanueva via PHIVOLCS
The Kanlaon volcano monitoring network recorded fifteen volcanic earthquakes in the past 24 hours.
Moderate emission of steam-laden white plumes was observed which rose 400 meters before drifting northwest. Sulfur dioxide emissions were measured at an average of 686 tonnes / day on September 7, 2020. Soil deformation data from continuous GPS measurements indicate slight inflation of lower and average slopes since May 2020, while monitoring The electronic short-term tilt on the southeast flanks recorded inflation on the below average slopes that began on June 21, 2020. These parameters may indicate hydrothermal or magmatic processes occurring beneath the edifice. The last phreatic eruption is dated December 2017 (GVP)
DOST-PHIVOLCS reminds the public that the Kanlaon volcano is on alert level 1, which means it is in an abnormal state and has entered a period of unrest. Local authorities and the public are strongly reminded that entry into the Permanent Danger Zone (PDZ) with a radius of 4 kilometers must be strictly prohibited due to other possibilities of sudden and dangerous eruptions caused by steam or phreatic.
Source: Phivolcs
In the Ryukyu archipelago, the Suwanosjima continues its activity with an eruption on September 14 at 13:37; it was accompanied by a plume rising 1,200 meters above the crater. Volcanic ash is flowing east from Mitake Crater, and within an hour, a large amount of ash fell in Toshima Village, Kagoshima Prefecture.
The JMA also reports an eruption on September 15 at 9 a.m. local.
Source: JMA
On Java, the Merapi presents a very varied seismicity on September 13, dominated by hybrid earthquakes. The volcano is clearly visible today.
According to the Global Volcanism Program, its last eruptive manifestation dates from May 11, 2018 to June 4, 2020, still ongoing, and qualified as an VEI 3.
The BPPTKG report following the June 19-25 episode noted that the volume of the lava dome was estimated at 200,000 cubic meters on June 13 based on drone image analysis. The morphology of the summit crater area had changed slightly after the eruption of June 21. Based on photos taken from the Ngepos Post, around 19,000 cubic meters had been removed from the southwestern part of the summit, likely near or in part to the crater rim.
The alert level remained at 2 / waspada (on a scale of 1 to 4) and residents were warned to stay outside the 3 km exclusion zone.
Sources: BPPTKG and Global Volcanism Program