Publié le par Bernard Duyck
The good weather in the Sunda Strait region allowed for beautiful satellite images of the Anak Krakatau, and close-up photos of the active cone.
It occupies all the place of the old lake, has grown well and has white fumaroles.
The activity level remains at 2 / waspada, with a deprecated area of ​​2 km radius around the crater
Sources: Magma Indonesia, Sentinel-2, photos by Rizal / Twitter, KRAKATAU video 火山 You Tube
KRAKATAU火山 this video is taken in krakatau volcano in 29 AUG 2020
The activity of Copahue remains essentially unchanged, and characterized by continuous emissions of gray ash. Yesterday August 31, the ash plume is observed 500 meters above the summit, and the snow is colored by the fallout of ash and particles.
The seismic activity shows low levels, with occasional variations in the amplitude of the continuous tremor.
The technical alert remains in Amarilla / change in behavior of volcanic activity; the possible assignment area is set at 1,000 meters radius around the crater.
Source: Sernageomin
At Pacaya, the effusive-explosive eruption continues.
Of the two lava flows on the northern and northeastern flanks, only one remains active: the northeastern flow does not exhibit incandescence or degassing and is considered inactive. SE-Conred continues to follow the 450-meter-long north flow on August 31, 2020.
The Mckenney exhibits weak to moderate Strombolian explosions, with ejections 100-150 meters above the active crater, and prolonged degassing.
Seismic stations constantly record tremors, associated with the rise of magma and degassing.
Source: Conred
The Geophysical Institute of Peru (IGP) reports that the eruptive activity of the Sabancaya volcano remains at moderate levels, with explosions, at an average rate of 29 per day, which generated columns of gas and ash during this period that rose up to 3.5 km above the summit of the volcano and were scattered to the south, southeast and east of the volcano.
The IGP recorded and analyzed the occurrence of 2,063 earthquakes of volcanic origin associated with the circulation of magmatic fluids in the Sabancaya. During this period, Volcano-Tectonic (VT) earthquakes, with a magnitude between M2.2 and M3.7, were located mainly in the northwest area of ​​Sabancaya. The main earthquake (magnitude M3.7) was recorded on August 25 at 8:37 p.m., 14 km north of Sabancaya and at a depth of 15 km.
Seismic activity saw a slight increase last week, recording up to 41 explosions on August 30, 2020; however, this activity is within the parameters observed in the current eruptive process of Sabancaya.
Monitoring the deformation of the volcanic structure, using GNSS equipment and data (processed with fast orbits), recorded a slight inflation of the northern sector of Hualca Hualca and the southeast flank of the Sabancaya volcano. Satellite monitoring has identified the presence of 4 thermal anomalies with values ​​between 6 MW and 98 MW, associated with the presence of a lava body on the surface of the volcano crater.
The volcanic alert level remains orange, with a prohibited zone of 12 km in radius
Sources: I.G. Peru / Ingemmet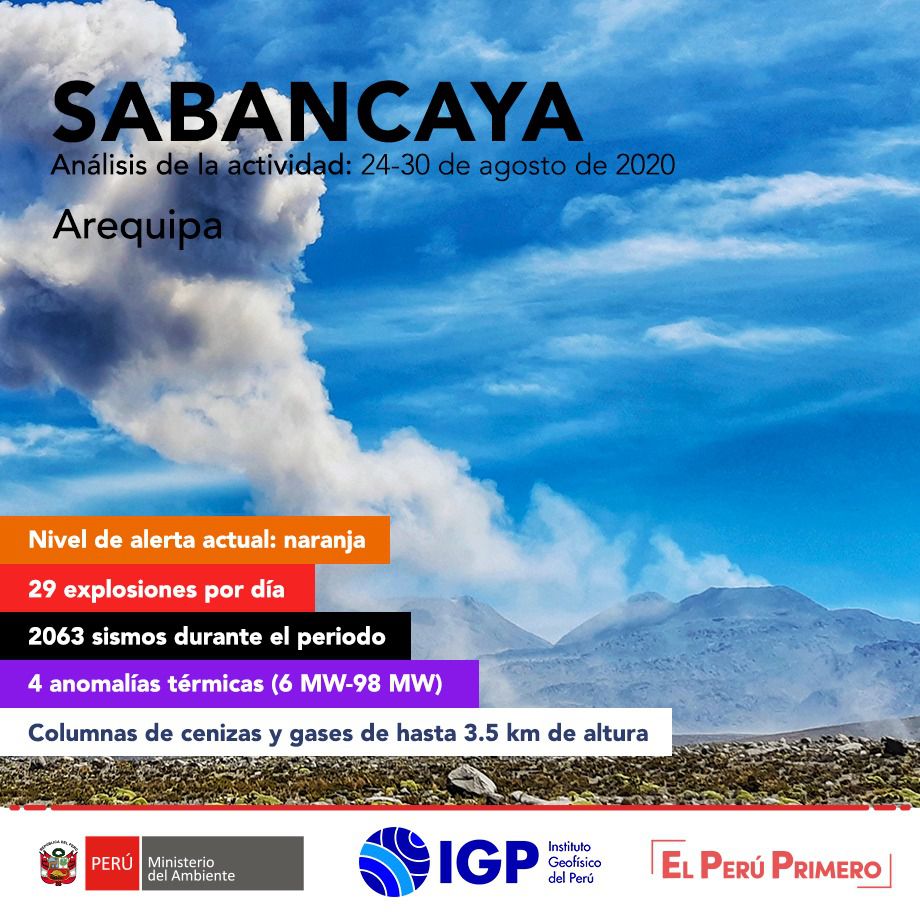 The Geophysical Institute of Peru (IGP) reports that the eruptive activity of the Sabancaya volcano remains at moderate levels, with explosions, at an average rate of 29 per day, which generated columns of gas and ash during this period that rose up to 3.5 km above the summit of the volcano and were scattered to the south, southeast and east of the volcano. The IGP recorded and analyzed the occurrence of 2,063 earthquakes of volcanic origin associated with the circulation of magmatic fluids in the Sabancaya. During this period, Volcano-Tectonic (VT) earthquakes, with a magnitude between M2.2 and M3.7, were located mainly in the northwest area of ​​Sabancaya. The main earthquake (magnitude M3.7) was recorded on August 25 at 8:37 p.m., 14 km north of Sabancaya and at a depth of 15 km. Seis