Publié le par Bernard Duyck
During the morning of October 18, the Nevado del Ruiz presented plumes of gas and vapor, dense and white, reaching a height of about 1,400 meters, dispersing in a WWW direction.
The activity level is 3 / amarillo, marking a change in the behavior of volcanic activity.
Source: S.G.Columbiano
The JMA reports a new eruptive episode in Suwanosejima, in the Ryukyu archipelago, this October 20 at 8:56 am local time; an ash plume developed up to 1,300 meters above the crater.
Source: JMA
The Geophysical Institute of Peru (IGP) reports that the eruptive activity of the Sabancaya volcano continues at moderate levels, explosions, on average 34 daily, with plumes of ash and gas up to 3 km high at the top of the volcano, followed by ash falls in the districts of Huanca and Madrigal.
The IGP recorded the occurrence of 1858 earthquakes of volcanic origin associated with the circulation of internal magmatic fluids.
During the period, Volcano-Tectonic (VT) earthquakes were localized mainly to the northwest and east of Sabancaya, with magnitudes between M2.0 and M2.8.
The monitoring of the deformation of the volcanic structure, using GNSS techniques (processed with fast orbits), has shown since October 11 a slight process of deflation of the south-eastern flank of the Sabancaya. Satellite surveillance identified the presence of 7
Thermal anomalies with values ​​of 2 MW and 25 MW, associated with the presence of a lava body (in the process of destruction) on the surface of the volcano's crater.
The volcanic alert level remains orange, with a prohibited zone with a radius of 12 km around the crater.
Source: I.G. Peru
At Piton de La Fournaise, an inflation of the summit area and in the far field is still recorded, testifying to a pressurization of a superficial and deep source.
The OVPF informed, for this 19 octobre, 9 landslides and 4 VT earthquakes.
Carbon dioxide emissions are stable or increasing at all stations.
Source: OVPF / Preliminary Bulletin.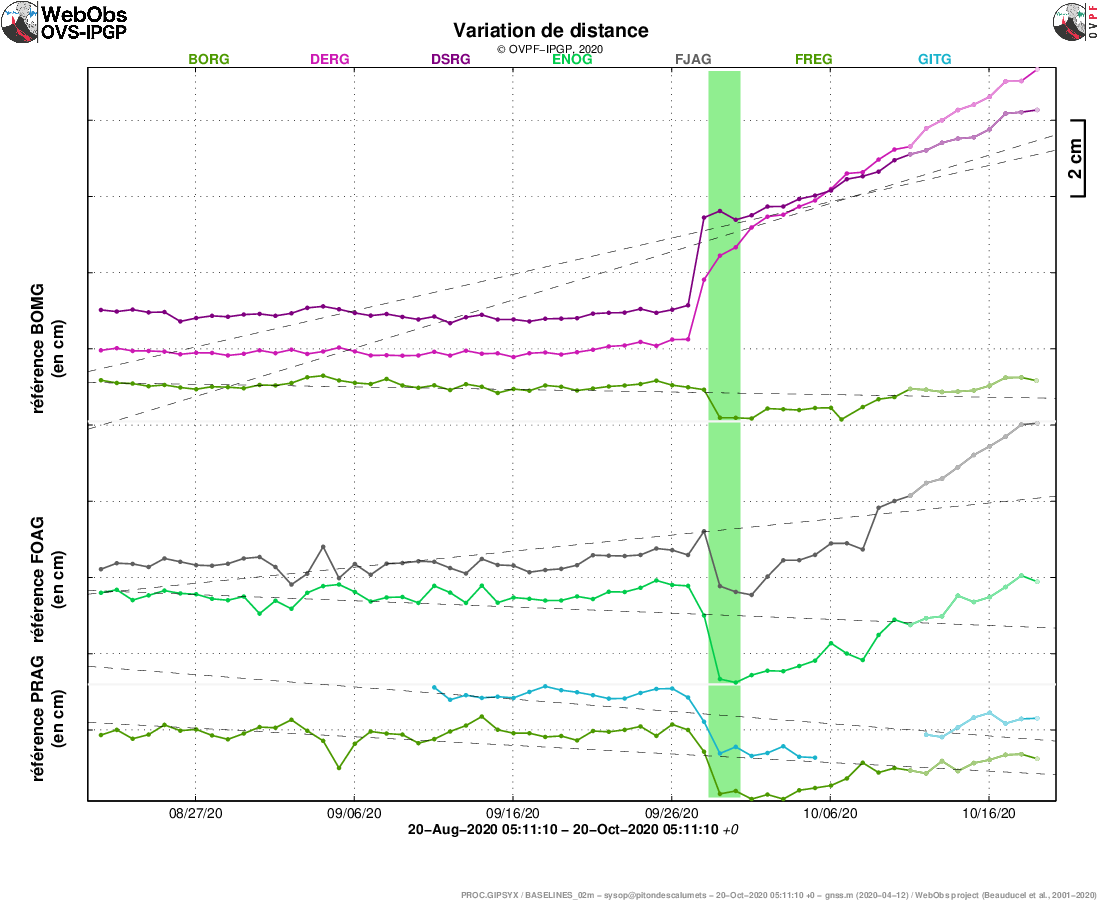 Piton de La Fournaise - Illustration of the deformation over 2 months. The baselines (variation in distance between two GPS receivers) crossing the Piton de la Fournaise building, at the top (top), the base of the terminal cone (in the middle) and in the far field (bottom) are shown here. ) (see location on the associated maps). An increase is synonymous with elongation and therefore swelling of the volcano; conversely, a decrease is synonymous with contraction and therefore deflation of the volcano. The possible periods colored in light pink correspond to the eruptions. - OVPF