Publié le par Bernard Duyck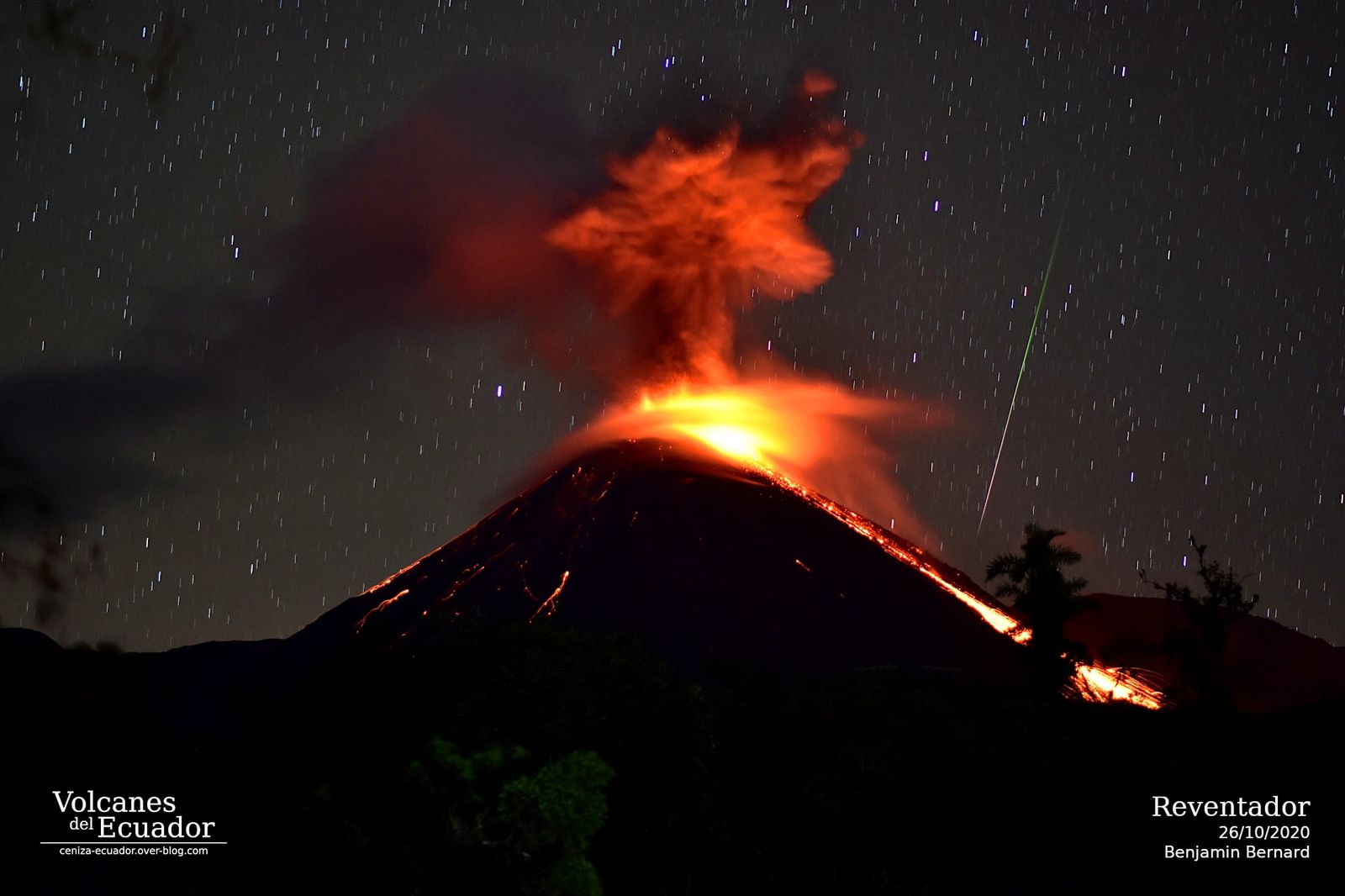 Reventador - explosion and passage of a shooting star of the Orionids (the Orionids are shooting stars, coming from Halley's comet, which appear every year in October-early November) The green color left by the trail indicates the combustion of copper - photo 26.10.2020 / 04h15 by Benjamin Bernard via Volcanes del Ecuador
At Reventador, the IGEPN reports several gas and ash emissions, reaching up to 1000 meters above the crater level, for the day of October 26 - 27.
VAAC Washington reported 2 emissions observed by satellites at altitudes up to 1000 meters above crater level and with a north-west and south direction.
FIRMS records 8 thermal alerts in Reventador in the last 24 hours and two moderate thermal anomalies (15 and 25 MW) are detected by MIROVA.
During the night, explosions, incandescence were observed in the crater.
Boulder falls are observed up to 600 meters below the summit on the northeast flank. The lava flow is still active (~ 400 m) to the northeast.
Sources: IGEPN, VAAC Washington & Volcanes del Ecuador.
Reventador - explosion on 10/26/2020 / 9:37 p.m. LT with infrared camera - Doc. Dr. Benjamin Bernard
In Kamchatka, after the eruption of October 21, 2020, KVERT reports the occurrence of a small pyroclastic flow on the northern flank of the Bezymianny.
A faint glow is visible at night at the crater, where the lava dome continues to grow; the process is accompanied by a strong fumarolic activity and a thermal anomaly.
A photo taken by Yury Demyanchuk, on Volkstat, on October 25, shows a new viscous flow, of andesitic to basalto-andesitic nature, which begins to descend on the side of the volcano.
Sources: KVERT & Volkstat.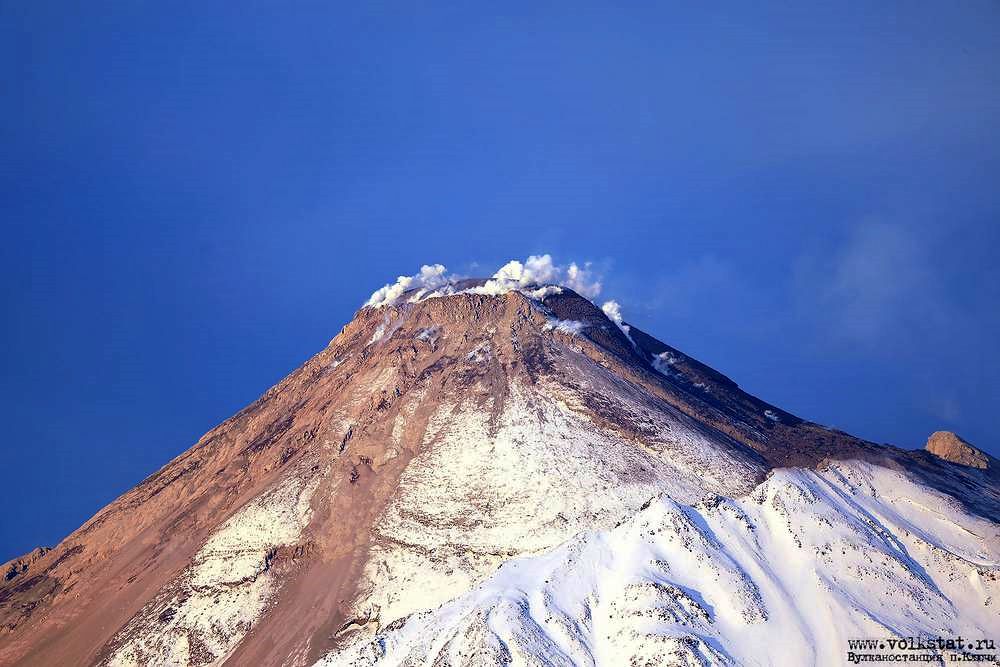 Bezymianny - viscous lava flow starting to descend the side of the volcano (to the right of the photo) - 25..10.2020 / Y.Demyanchuk / Volkstat.ru
The activity of Etna between October 19 and 25, 2020 remains similar and continues in alternating phases since mid-July of this year.
It consists of strombolian activity of varying intensity at the New Southeast Crater (NSEC), which produced discontinuous ash emissions and the ejection of lava shreds; a deep intracrater Strombolian activity is observed at the Northeast crater (NEC) and degassing at the Voragine (VOR) and Bocca Nuova (BN) craters accompanied by rare and light ash emissions.
A helicopter flight on October 23 allowed
- detect apparent temperatures between 200 and 250 ° C at the bottom of the crater of Bocca nuova.
- The measurement of the mouth of the NSEC Saddle is 190 m. on the major NW axis and 140 m. along the small axis elongated in NE direction.
- A vast field of large fractures persists on the northern edge of the northeast crater, about 90 by 35 m. in a NS direction.
Source: INGV OE
In Sinabung, the growth and collapse of parts of the dome cause pyroclastic density currents.
After the flow that developed on October 26, news was observed on October 28 at 8:51 am WIB; it slipped over 1,000 meters towards the SEE, with a seismographic trace of max. 120 mm for 166 seconds.
Source: Rizal